My baking skills have a very poor reputation amongst my family. It took few batches of sub-par chocolate chip cookies years and years ago, and I have been unable to prove myself worthy of bringing anything other than a veggie tray to Christmas dinner. So when people say they cook with their kids, I cringe. But, with another 30 degree day making for a long afternoon indoors, I decided to give it a try. Hey, at least I would have someone to blame if they didn't turn out great. I decided to go with muffins. My boys (husband included) love these muffins from Trader Joes:
They are tasty, filling and convenient, but I have noticed they are always sort of damp on the top and it pretty much grosses me out. In an effort to replicate the store bought version, I stumbled across this recipe for no flour, no sugar oatmeal banana muffins made with Greek yogurt for that extra dose of protein… figured it was worth a shot! I decided I could make this recipe idiot proof by pretenting I was one of those chefs on tv who has everything pre-measured and just throws everything into a pot and it turns out just right. While the boys were preoccupied, I did just that. Everything was measured and placed into kid-friendly bowls that they could just dump into the blender (recipe called for a food processor, but people who are only in charge of veggie trays most likely do not have food processors). Here is my Today's Show-like spread of ingredients:
The boys had lots of fun taking turns dumping each ingredient into the blender. They smelled, tasted, and touched, but didn't even make that much of a mess. Yes :)….. I can do this! 
Muffin liners were in place and batter was poured… even remembered to preheat the oven. However, as I was opening the oven door I saw two bananas laying on the floor. Two bananas for my BANANA oatmeal muffins. Seriously!!?? I looked up to see the guilty smile on the face of son #1.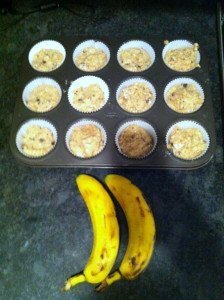 I contemplated throwing the muffins in the oven sans bananas, but suddenly had flashbacks to my years of chocolate-chip-cookies-gone-wrong. I realized through a few sessions of self-reflection/pity that my poor baking skills can be attributed to skimping on key ingredients… like who needs baking soda/powder anyway. However, moments later I was scraping the batter out of the muffin liners, pureeing those two blasted bananas, and remixing the batter – determined to rid myself of this "bad cook" stigma. Ok so maybe this activity was more about me than the kids, but in the end the muffins were pretty darn good so I guess we all win!
           Yup, we all shared one hot out of the oven.