I mentioned in a previous post that our new home is not much bigger than our first home. However, I come from a family of 7 people (4 sisters) and I know from experience that square footage doesn't really matter. Growing up we lived in a fairly large house, yet we had a formal living room that collected dust, a dining room that only had visitors on major holidays,  and bedrooms that stored clothing, but had no nighttime occupants because, as we all know, sleeping in numbers keeps the monsters at bay. When it comes to entertaining, we have all entered the "how-many-people-can-we-fit-in-the-kitchen-at-once" contest at some point in our life. So when we bought our quaint little home, I wasn't bothered by the size, but I knew we would have to be smart and make good use of space. I am certain that every inch of our house is used on a daily basis and I take comfort in knowing that our kids will grow up in a cozy/close-quarters environment. My boys WILL be close to me whether they like it or not 🙂
The previous owners had their master bathroom on the first floor. While having a shower next to the den where kids could be playing/watching cartoons would likely maximize my shower-taking capabilities, we decided to rip it out.
Here was the shower. We actually sold it on Craigslist! Who knew you could sell showers?!
And next to the shower was a stackable laundry unit (sold that as well!) because I really wanted the laundry to be on the second floor.
We were left with a little empty room with a loo in the corner. We decided to wall off the toilet to make a powder room and use the remaining space for a mini-office area. These pictures below were my very first two pins on Pinterest approximately 16 months ago. Inspired by the "once was a closet, now an office nook" description, I knew we could do something great with the small area that we had to work with.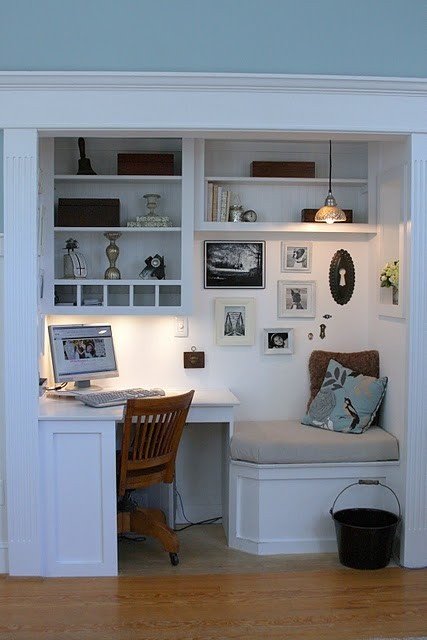 After LOTS of waiting and lots of explaining to family and friends that this little space would eventually be an office… it's done!
The room is so small, that it's hard to get a shot of the whole thing in one frame.
We decided to add a second desk for the kids along the back wall:
And after a fresh coat of paint, it is really finished!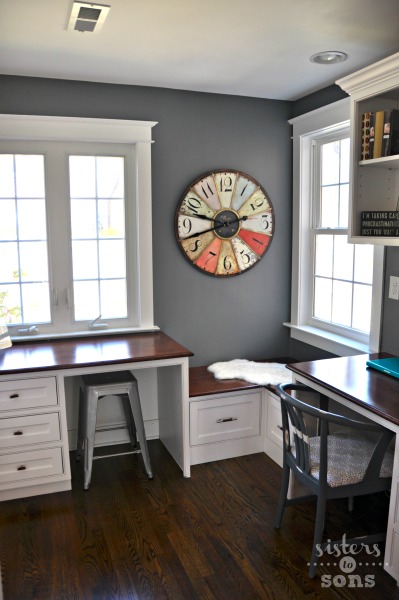 I chose Steel Wool by Benjamin Moore. Yes, I went bold… and it was a little scary. In fact, this was the most scared I have ever been to paint a room because the color is darker than anything I have in my house. We get a ton of sun light in this room and the cabinets are bright white so I figured I could get away with a darker color. What do you think about how it turned out?
For other paint colors in my house you can click here.
I get a lot of questions about where I got this clock, and the truth is, my mother-in-law bought it for me at a local flower shop! Great taste, right?! I did find the link on Amazon, though! Check it out:
Creative Co-op 29-Inch Vintage Fleur De Lis French Country Tuscan Style Paris Wall Clock
And, check out how many (little) bodies can fit inside this little room! Case in point that size doesn't really matter.
Here is one more fun use of typically wasted space. Shockingly this was not a Pinterest find, but an idea given to me by a friend the day before our basement was framed out. It was fate that we had to have this playhouse under the stairs!
We stuck the little kitchen inside to make more space in the remaining basement area.
Note: Back corner is not pictured because that is where we throw all the toys for easy clean up 🙂