1. Favorite Returnee
My husband. He was gone all week for work, but is now home and I am VERY happy about that.
4 days + two crazy boys + 9 months pregnant – wine = one burnt out mama in need of relief pitcher
2. Favorite Way to Kill an Hour
Boys were up from their nap (or should we say non-nap for the older one) and just as we thought the sun was coming out, we spotted drizzle on the driveway. Had to think quick to occupy the time until dinner. Last year my older son and I did a mommy and me art class and I remembered this magical substance that he absolutely loved to play with – goop. It is a mixture of cornstarch, water, and food coloring and it totally confuses the brain because one minute it is a solid, but the heat from your hands quickly turns it to a liquid. Well, at least that is my scientific interpretation. I whipped up two separate batches in a tupperware container, one for each boy, gave them a car and a digger and they sat for almost 45 minutes quietly playing. I even like playing with this stuff! I found the actual recipe here, but I just slowly added water to the cornstarch to make it the right consistency.
Note: Cleans up super easy, but have a pack of baby wipes handy!
3. Favorite Indulgence
I am not typically a vanilla girl, but this vanilla ice cream is so amazing! I read some article about how the Whole Foods brand won a vanilla ice cream taste test so of course I had to try it. You have to get the Whole Foods brand – not 365 brand. Sent my husband to the grocery store to get it the first time (there was my first mistake) and he came home with the wrong one. See the picture below. Get that one. I think I go through 2 per week by myself.  I just placed my second order with Fresh Direct, but will still go to Whole Foods to get me my ice cream.
FLOP!
Last week I decided it would be nice for my older son and I to have a mommy/son date. I spend a lot of time solo with my little guy when my older one is at school and I thought we could use some bonding time before the new baby arrives. I had my husband take my younger son to a make-up gym class and geared the big boy up for his special morning with mom. Only problem – he was totally not having it. He saw my husband drive off to the gym class and from that moment on it was mope-city. I finally lured him into the car and told him we were going out for a delicious breakfast and then maybe to one of those pottery painting places. I pulled into the Farmer's Market and as I parked the car he said, "Mom, this is NOT a date." Head down. Shoulders slumped. One word interactions. He wanted to be with his daddy and brother. I kept my smile, tried to play up how cool it was that he was out with mommy alone etc, etc… I ordered us this to share, plus a "homemade chocolate milk"… to die for!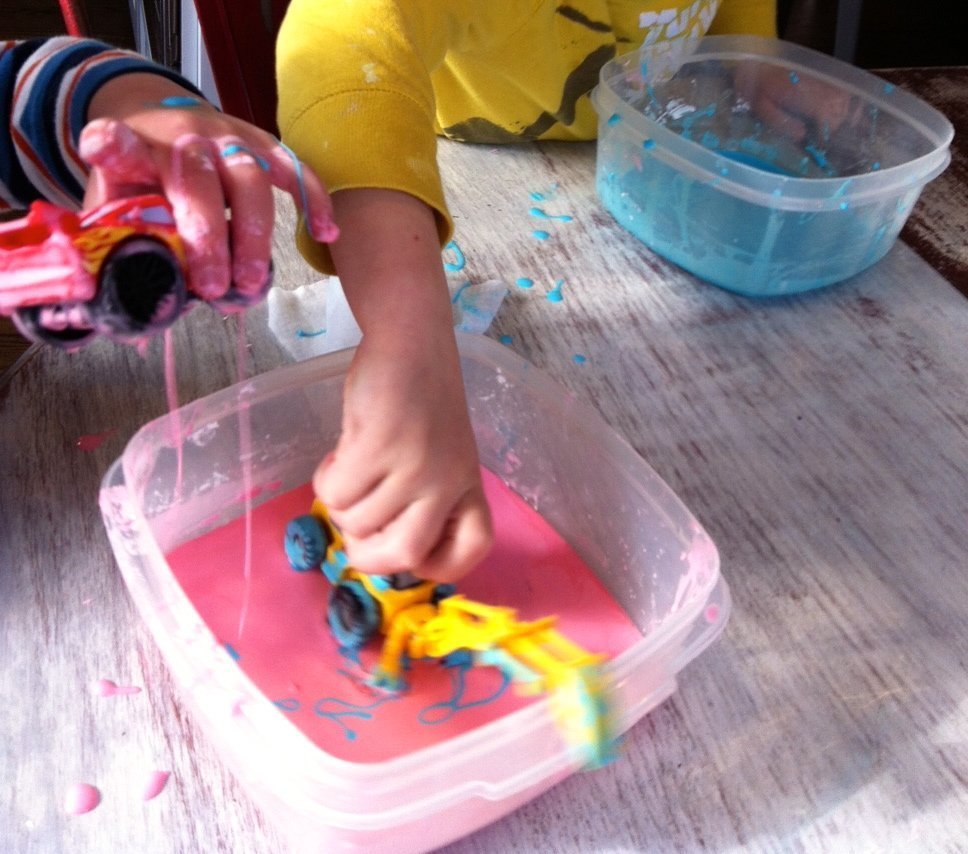 Still no reaction. He wanted to go home. Okay, I get it.  In retrospect I can see how this portion of our date would be much more appealing to a ravenous pregnant lady than an almost 4 year old boy who knows his brother is at a gym class with his dad. Do I get points for trying? He didn't want to go to the pottery place because his "hands might get dirty"???? Since when does the kid who takes his pants out of the dirty laundry care if his hands have paint on them? He just wanted to go home. I could NOT let this date be a total flop!! How could I get him to smile before returning home? How could I prove that I can be a fun mom too? Got back in the car, floored it toK-Mart, bought the kid a Power Ranger and you can bet I got that smile. Not the proudest mom-moment I have ever had, buying my son's affection, but I promise to try again with a plan more appealing the the little man. Ideas welcome!