Well, it is STILL cold outside… and I am STILL pregnant. Doctor says I am "not having a baby this week"… not so fun to hear. Luckily I have the boys signed up for some activities that keep us busy – the big guy had swimming lessons this morning and then it's back to school tomorrow (silent, hooray!) and the little guy has a sports class tomorrow thanks to a great deal I scored on LivingSocial.
Now that I think of it,  those activities will consume a whooping 4 hours over the course of 48 hour span. When all I can think about is having this baby, how am I going to keep them entertained while maintaining everyone's sanity for the remainder of the day(s)? I feel like I need to flip into teacher-mode and  break out my lesson plan book so our days are scripted and full. These days leading up to D-Day remind me of  those last few days before summer break when I was teaching elementary school – curriculum has been covered and grades completed, teacher is fried, kids are completely checked out and out of control, they see right through your thick packets of less-than-thrilling crossword puzzles and brainteasers, and your are totally pushing the acceptable limits on extra recess and movie versions of books read throughout the year. These last few days of pregnancy feel eerily similar – just trying to pass the time when it just does not seem to be going fast enough. My boys sense this and are definitely testing my limits and acting out. But let's be honest, I am not scoring many points for "mom of the year" in this late stage of pregnancy:
"Mommy hold me!"…. ugh, I can't sweetie… my belly is too big and your 30 pounds plus my extra 30 pounds do not feel so good on this frame.
"Mommy play basketball with me!"… ugh, I can't little buddy. I can barely walk, let alone jump.
"Mommy, let's wrestle!"…ugh, I can't do that either. You'll smoosh the baby.
"Mommy read me a book!"… ok that I can do, but we need to read it on the couch because I'll need a fork lift to get myself out of your little bed.
My poor babies. Can't we just sit on the couch and snuggle all day? My saving grace is that I have 3 younger sisters and I don't remember my mom ever even being pregnant.  Hopefully my guys will block this time period out of their memory as well.
Ok enough pity-party… here are some things we have been doing to keep busy.
1. Water play in the sink
Bucket, warm water, soap suds, measuring cups, cars… lots of paper towels. My little one could sit here and play all day.
2. Hitting up my Pinterest board for boy-friendly activities. Stumbled upon this fun way to spice up coloring time: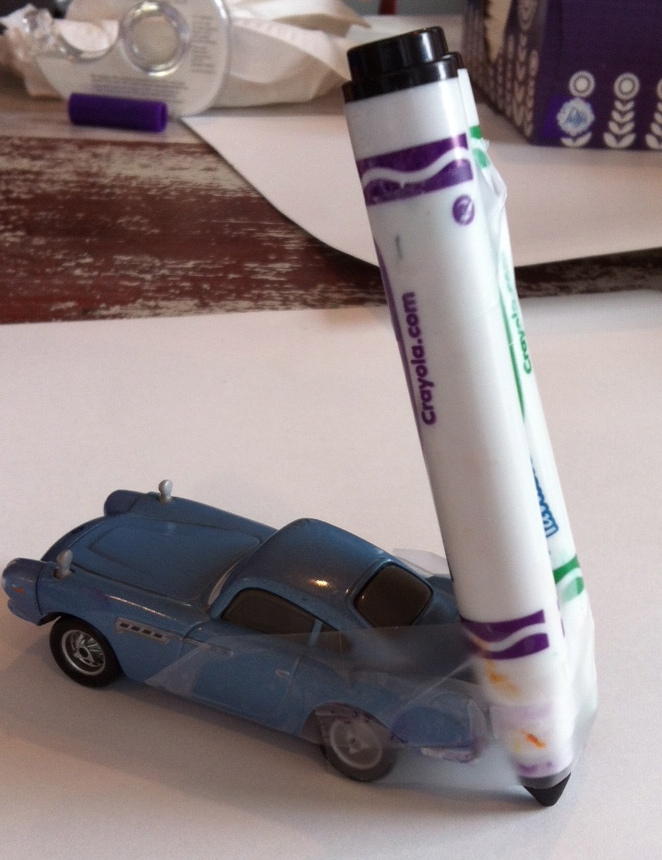 3. Unstructured free play. This is so important for kids…. although 9 out of 10 times our play times end in sharing wars and brotherly battle wounds. And when that happens we…..
4. Go outside. Let them run, let them ride, let them (and me) get some fresh air and tire out.
5. Pray my husband comes home early from work.