My husband is one of those people who doesn't like any attention on his birthday. He is also the type of person who says "no gifts" (especially from me) and he genuinely means it. One year for Christmas his mom begged him to tell her what he really wanted and his answer, "We need a new toilet." Her response, "Now there's a sh*tty present." Anyway, my point is…. he makes it impossible to get him anything good and god forbid I spend too much money…. So I decided to get creative this birthday. Here was my train of thought:
Hmm, what is something that I want for our new house? – a kid picnic table for our backyard, preferably one that is not plastic and aesthetically pleasing.
How could I make this into a birthday present for daddy? – I'll buy him the supplies to make it himself, get him a design plan, and pawn it off as a father/son project. We all win. Genius.
So two weeks before my due date, I schlepped by big body to Home Depot and gave my supply list to a nice man who hooked me up with everything I needed. Forty dollars and two car seat rearrangements later, I had everything loaded into my mom-car and was all set to go. If only I had a picture of my very pregnant self unloading the stack of 2x4s into my shed in the pouring rain…the things we do!
On his birthday, the boys walked my husband out to our shed and there was his stack of wood with a big bow on top with a note saying that the design plans were waiting in his inbox. Here is the link to the design plans I chose. Ana White is an awesome mom blogger from Alaska – the queen of DIY and she includes all of the plans on her site:
Build a Bigger Kid Picnic Table
My husband loved it and was totally in his "I want to quit my job and build things with my manly, bare hands all day" glory.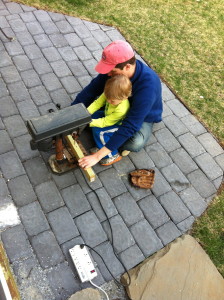 The boys definitely bonded while working together on it ;)… (and I had time to bond with our newest addition while the big boys were all busy!)
No one lost a limb in the process.
And, I got the non-plastic, easy-on-the-eyes kid picnic table that I'd been hoping for.
(don't mind the caution tape around the trellis…remnants of my son's construction bday party where our little table got it's first use!)
Already thinking about next year's gift. Maybe adirondack chairs??