The honeymoon is over people. With the exception of a lasagna in my freezer that I am saving in case of emergency, I am wiped clean of dinners that friends and family so graciously made for us after having our baby. I am not sure how I milked it this long. I must have made dinner a few times, but as I come out of the "infant fog", as I like to call the first 2 months, I have absolutely no recollection of what I fed my family on days that a dinner was not prepared by someone else.
Alas, we survived.
Last night the little guy slept from 8pm to 5am and after my sweet celebration for getting such an amazing stretch of sleep, I accepted the fact that I no longer have an excuse for take out. So back to the drawing board with "what should I make for dinner?"
The past two nights I made dinners that are totally doable for someone like me – minimal chopping, and minimal clean up, and minimal time. I feel like I have to share because I know that everyone is not as culinarily gifted as my sister, Little Mrs. Bossy.
Tonight I made this One Pot Wonder… too good to be true!
You literally throw all of these ingredients into one pot, bring to a boil, simmer and DONE! No strainer required.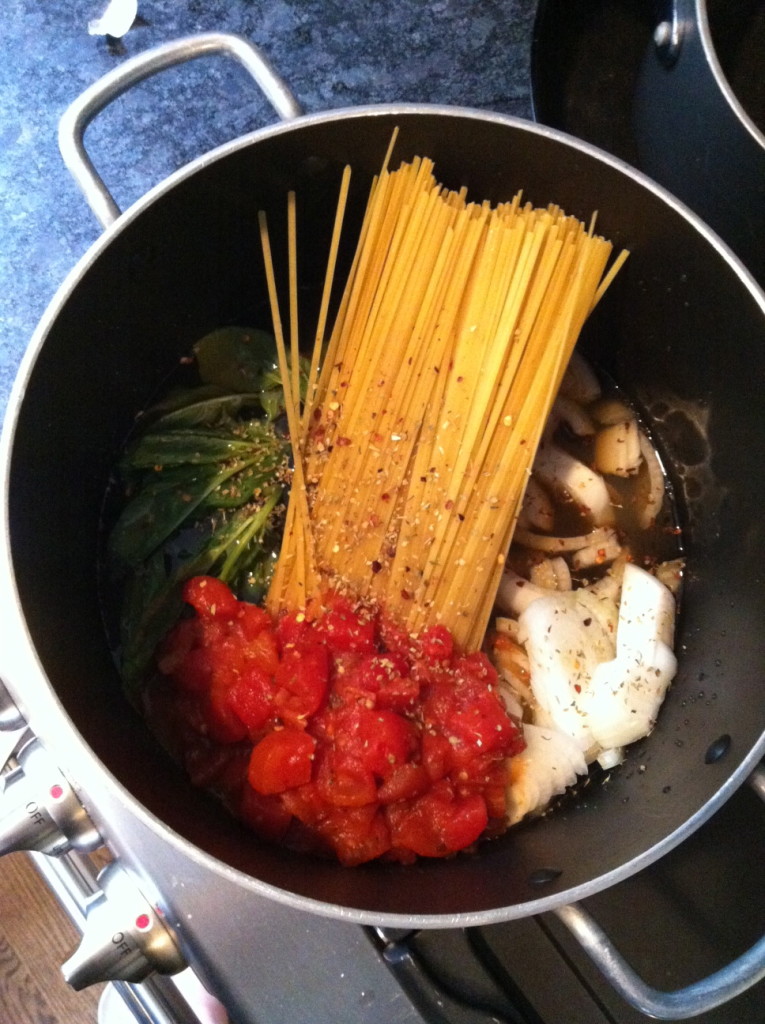 After 5 mins:
After 10 mins:
I decided my dish needed some more "green" so I added half a bag of wild arugula:
And done!:
I will definitely make this again. It was like a science experiment gone totally RIGHT!…. served with parmesean cheese and some meatballs that I had in the freezer because I fear that if I don't give my kids a little protein at dinner they will wake up in the middle of the night hungry (that has never actually happened, but I am not willing to take the chance!!)
… And I'm proud to say that I made this dinner with one hand and a baby on the opposite hip. Because we all know that kids like to see how much patience and talent their mommy has when it's time to make dinner. I used to be proud of things like my master's degree or being a member of my state championship relay team, but today, I am proud of this accomplishment. And for people like my sister who is beyond gourmet and has FOUR kids, you are an Olympian in my eyes!