We took a late vacation this year and all the moms that ventured into the world of sandcastles and swimming pools before us, returned with a mutual warning: "Go alone, leave your kids with the grandparents, I need a vacation from vacation." It makes sense that I entered my vacation with hesitance, waiting for the ticking time bomb that is my 3 wild child boys to explode and plummet us into vacation doom. As we stepped onto the airplane, my 2 year old clinging to the leg of the infant I was holding, shrieking uncontrollably with a newfound fear of flying (gosh, he was so much braver when he was one….), I knew. I just knew those moms were all right. Why do we do this to ourselves when it is so much easier to just stay home? After soothing his fears with a chocolate donut – no judgement please – it worked, my boys were glued to the windows bouncing with excitement and anticipation about the coolest and fastest ride on which they were about to embark – an airplane ride! And then, just moments later, I knew something different. I knew that this is why we take our kids on vacation. So in honor of all the kids that had the best vacations ever this summer, I present you with a list:
10 Reasons Why Vacation with Kids is Pretty Awesome:
10. Kids are SO excited to go on vacation. It's like Christmas. So treat it like it, parents!  "Oh, you were mean to your brother? I hope you remember that Santa and Vacation Fairies are watching you!"
9. No need to spend a lot of time packing. My kids alternate between a swim suit and a pair of tighty whiteys.
8. Cheap thrills. Daddy "rocket-shipping" the kids across the pool is just as fun as a $200 jet ski rental. (I have no clue how much jet ski rentals cost, but just assuming they aren't cheap.)
7. If you go to visit grandmom or great-grandmom you will make her eyes twinkle, you will move up in the rankings of favorite grandchild and she will reward you by rocking your baby to sleep with her grandmotherly superpowers.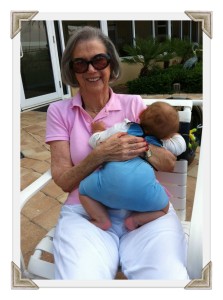 6. When else are you going to take the cliche vacation pictures where all your kids appear to be happy, but in reality its only because you are dancing like an idiot behind the camera and bribing them with M&Ms?
5. If the kids want you to lie with them during nap time you can do it and ACTUALLY FALL ASLEEP! No laundry or cleaning to do now – remember, you're on vacation!
4. You save money not going out to dinner like you may do if you were alone. Taking kids, or maybe it's just my kids, out to dinner is just bad. We regret it every time and promised ourselves we wouldn't do it ever again… like ever. Or until they are 12 or something.
3. 5 o'clock happy hour coincides perfectly with 5 o'clock witching hour. Coincidence? I think not. There is not a whine in the world that a Pina Coloda can't drone out.
2. Wait a minute, my day job duties just got cut in half! I have 2 extra hands, 2 extra eyes, one extra set of patience…. welcome to my world, dear husband! Now go grab the sunscreen, lather the boys up and make yourself useful!
1. Your kids actually want to be with you. They want to spend all day with you. They want to eat, swim, run crazy circles on the beach, jump waves, cross monkey bars, ride bikes, hide from the scary sharks in the water (a.k.a. daddy), pick flowers… all with YOU! I know this will change one day. Those people at the supermarket are still reminding me of this. That is why, today, being the apple of my children's eye is the number 1 reason that vacation with them rocks.
Yeah, yeah, yeah. The kids still wake up at the crack of dawn and you can kiss sunbathing good-bye. But worth it? Wouldn't trade it for the world. Even Bora Bora.
RELATED ARTICLE: Travelling on an Airplane with Kids