It's true that not everyone has talents like Beyonce. I'm not talking about her singing and booty shaking talents… She has yet ANOTHER talent that we can all be jealous about. She can carry a baby in 6 inch heels: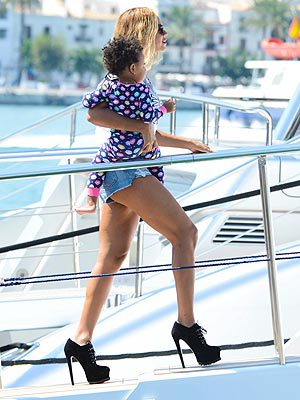 And Kourtney Kardashian is equally talented in being able to find the time to secure 57 buckles before walking out the door with her two kids:
I'm lucky if I can find my flip flops…
And because I will never have comparable "talents" to these two women, I will stick to what I know. And what I know is THE YOGA PANT. I know I have a post on how to actually look cute in real clothes that don't involve stretchy material, but let's be real… Mommy-ing is a sport and activewear just makes sense (no offense, B and K). That is why I love Anthropologie… they 'get it'.
Moms across the nation rejoice! Anthro has answered our prayers and has successfully cute-ified the yoga pant. Do you realize how huge this is???!!!
Here are my 5 fave things from their new activewear line:
1. A cute running skirt.. I thought that was an oxymoron?
2. Lace Bra.. feminine and functional, done.
3. Yoga Pant that I don't feel bad not doing yoga in, check.
4. Oversize cardigan, this girl can never have to many.
5. Yoga mat that may actually make me want to do yoga, I die.
Oh, and I'm giving away this Cheetah Spotted Active Headband… you know, just to get your feet wet in this Anthropologie Awesomeness. Here are the rules: write a  comment expressing your excitement and/or other thoughts on this new line. Comment can be directly on this post or under my link on Facebook. Winner will be chosen at random next week.
Start making your Christmas lists, ladies….