You would think moving an elf from one spot in the house to another spot on a nightly basis wouldn't be such a hard task. Right? WRONG! Despite the millions of Pinterest pins inspiring parental creativity in their elf-ly duties, moving this 12 inch little bugger every night  to ignite the Christmas magic in our innocent children isn't as simple as it seems. I'll be the first to admit that my husband and I can't get our act together. Today is December 5th and thus, far we have had 4 elf fails in the 5 days that "Franklin" bestowed his magical presence upon our house as Santa's #1 look out man. Here is a recap.
Day 1: So far, so good.
Children wake up and race downstairs to see if the elf had arrived. He did, indeed, and was peering at them like so when they entered the kitchen:
We read the Elf story, we named him Franklin, we explained the "rules". Day 1 = success. Since then, we have totally sucked at this elf-moving business.
Day 2: The Decoy.
At 6:18am I hear footsteps running towards our room. Crap! I elbow my husband to wake up, "Did you move the elf last night?"
"No, I thought you did?"
"Well I didn't. Quick, run downstairs and move him before they go down and I'll distract them."…. My husband rolls out of bed, ushers kids toward me as I bribe, "Come here little guys whooooo wants to get some extra snuggles with mommy????!!!!!!" (Thank god they still love stuff like this. Worked like a charm.)
Day 3: The Guilt Trip.
6:45 am the kids skip coming into our room and run straight downstairs to find the elf in the same exact spot. "Mommy! Mommy! Franklin didn't move!!"
"He didn't?????"…..pause…..think of an excuse…..curse the damn elf…. curse myself for forgetting…..and say the only logical thing I can think of…"Well, he must not have moved because you were mean to your brother yesterday. He probably wanted to give you a second chance to behave better today before he reports back to Santa."
"Really?"
"Yeah, he didn't go back to the North Pole last night, but he is going back tonight so you better be good."
Seriously…. now I am guilting my own child at something that was clear my fault. Nice.
Day 4: Lies. 
6:36am the boys run into our room. "Good morning little buddies!" Elbow husband… "Psst, the E-L-F… did you M-O-V-E?"
"Ugh…no"
… and as he starts to roll out of bed so I can distract the boys (again) while he moves the elf my older son says, "Mommy we already went downstairs and Franklin STILL didn't go back to the North Pole?!"
Sounding as astonished as I can possible sound at this hour of the morning I reply, "He didn't????! Hmmm… well that must have been because your brother touched him yesterday and he lost some of his magic. He probably didn't have enough strength to get back home."
…. hmmm, yeah it's pretty sad that I am getting so good at coming up with these excuses… not to mention passing the blame to my children.
Big brother proceeds to punch little brother in the arm. "See. I told you not to touch him!"
Okay husband.. We can do better than this. We need to keep the Christmas magic alive. I dug deep and sent my husband this list of ideas…. and told him that he was in charge of Franklin from now on because clearly hoping the other one would remember wasn't working.
Day 5: The Fumble.
Dearest Daddy didn't disappoint. This morning my kids ran downstairs and found Franklin doing acrobatics in our kitchen like so: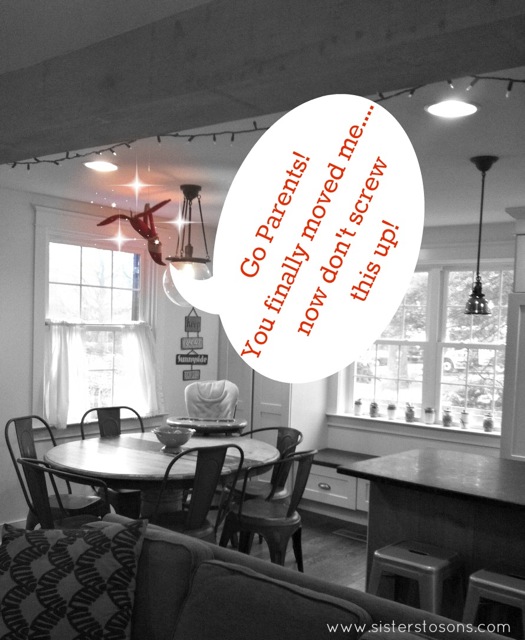 Yes! We can do this!! One point for moving him and and another point for it being semi-creative. But just wait….
"Mommy how did Franklin get up there like that?"
"Daddy did it."
Yep. Epic Elf Fail.
Without thinking those were the words that rolled right off my tongue.
"Daddy did it?"
"I meannnnnn, Daddyyyyy(crap think!!)yyyyyyyyyy, left out his fishing wire last night and it looks like Franklin decided to tie it up to practice his circus act."
"Oh. Daddy goes fishing?"
"Yep, sometimes when you are sleeping at night he practices and stuff…"
"I wanna go fishing with Daddy! With Daddy and Franklin!"
Yeah, so we aren't doing so great with this whole elf thing. And then I read this post about Elfing for slackers and realized that I am not alone.
So what are your elf fails?… Or wait, maybe you are too busy to read this because you are staging something like this:
Well, Bring it! Game on for December 6th-25th!