I decided my window needed a little narcissus love this winter. You know, so when the lights and brights of the holiday season are torn down, my flowers will bloom…. and then there will only be like 79 days until spring. Plus, the urge to paint some mason jars struck so I just went with it.
First thing first = supplies. I went to A.C. Moore and grabbed a case of Ball® Regular Mouth Pint Jars $12 (but now that I check, Amazon has them for a few bucks less), Folk Art Enamel Paint (apparently these are the ones to use to paint glass), and some twine. When I was at Terrain a few weeks ago I filled a bag of paper whites for around $1 each, and some marble chips from Home Depot…. so all in all, this was about a $30 project.
I used a foam brush and painted the inside of the mason jars. I'm not sure if a bristle brush would have worked better? There were visible brush strokes so I just did a few coats to make it completely opaque. Then I followed the directions on the enamel paint bottle and baked the jars to cure the paint.
Next, I enlisted some help from my favorite little men to fill the jars with marble rocks. This was messy, probably should have been done outside, but very, very fun. In case you didn't already know, boys <3 rocks.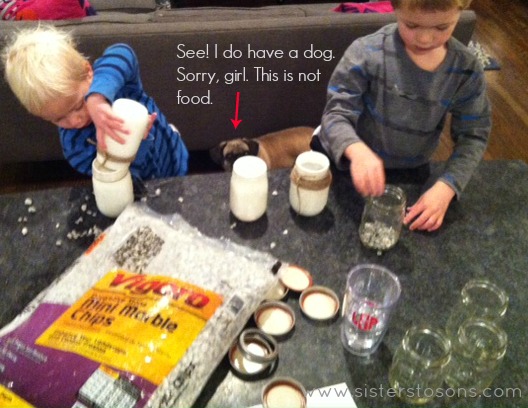 We filled the rocks about 3/4 to the top, added water so it covered all of rocks, then placed the bulb on top so only the bottom was touching the water. I have never planted paper whites before, but in my extensive  2 second research, I read that the bulb should not be soaking in water… just enough to cover the bottoms.
I wrapped the jars in various lengths of twine because, well, twine makes everything better, don't you agree? And viola!
And even if they don't grow and I totally messed this up, at least I have pretty jars to look at… and the holiday cards help, too. 
Have you ever grown paper whites? Can you believe my kids haven't dumped out the rocks yet? The chances of these growing are about as likely as these jars surviving the wrath of my sons…. but this post is proof that I tried!