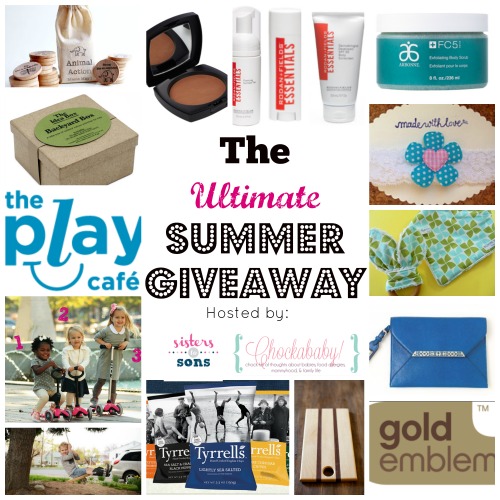 You guys. YOU GUYS!!! Summer is here! We have been waiting for this all bloody winter long! Vitamin D all around… and BBQs, and Coronas, and beaches, and vacations, and flip flops and ….oh wait. This means school is out too. For me this means 3 kids at home all day long and one vacation at the tail-end of summer. You too? No worries, cause we gotcha covered. Carrie from Chockababy and I, Sisters to Sons, are hooking you up with the ULTIMATE SUMMER GIVEAWAY! This is our biggest giveaway ever! You are going to be  SET this summer – from outdoor games to toys to accessories to FOOD and more…. ONE LUCKY READER IS GOING TO WIN IT ALL!   Yes. You read that correctly. Every item you see in the pretty picture above could be yours.  Over $500 of amazing summer products! All you have to do is enter below. The more awesome companies you follow, the more entries you receive, and the more chances you have to win EV.ER.Y.THI.N.G. Why you ask? Because Carrie and I… (or is it me and Carrie?) ….. anyway, WE love our readers and wanted to kick off the best summer ever with some of our favorite things. No hooks. No strings. Just love. (Okay if you really wanted to you could share our blogs with all your friends and we wouldn't hate you for that). But really, we are grateful for all of you and so without further adieu we present to you the ULTIMATE SUMMER GIVEAWAY!!!
Play:
1.  Explore Nature ($29) and Animal Action ($29) by Mama May I: Summer is the perfect time to explore and learn about nature. The Explore Nature set  comes with 13 wooden scavenger hunt cards, a moleskin journal to jot down adventures and items you can't find, mini pen for doodles. and a muslin pouch for easy toting and treasure collecting. The Animal Action set includes 25 coins of endless fun! Each coin includes a printed animal verb for charades or guessing games or like Jessica, the shop owner and creator says, "This game was inspired by my little ones who are always more cooperative getting from point A to point B when they pretend to be an animal". So keep it in your bag and use it when you need optimal cooperation! Be sure to check out Jessica's shop, Mama May I for all of her Montessori toys and games!
2. The Backyard Box by The Idea Box Kids ($17.99):
Are your kids "so bored"? Not anymore. Choose a coin from the box and your kid will become one with nature right in your very own backyard. Finding bugs, drawing pictures in dirt, creating leaf rubbings – 60 activities that will never get old. And pssst. Jennifer, the creator,  has a Quiet Time box too. Boo-yah!! Check them all out at her Etsy Shop,
The Idea Box Kids. 
3.  1 month membership to Play Cafe ($45):
Beat the heat in this amazing indoor play space.   Come to The Play Café for music, art, yoga + science. Their Summer Enrichment Schedule will be posted soon so be sure to check out their website. For now, mark your calendars for these upcoming events:
Friday June 6th:
Final Mama Mac concert
at TPC. $5 per family. 12:30 p.m….and…. 
Friday June 20th
–
Summer's Eve.
The Play Café will be open until 8 p.m. for family fun. Feel free to BYO dinner + beverages (or they can order for you).
Move:
4.  Micro Kickboard  Micro Mini 3in1  ($114.99):
Micro Kickboards are the ULTIMATE scooters for kids. If you haven't heard about this company yet, just wait. They are the new big thing! With Swiss design and cutting-edge technology, your kids will maneuver like a smooth machine on the scooter that every body is talking about. Micro Kickboards has offered to give away their
Micro Mini 3in1
to the winner of this giveaway! This scooter grows with your child with by changing from a ride-on, to an O-bar short handle, to a T-bar longer handle. Check out all the Micro Kickboards 
here
and save 20% through May 26th during their Memorial Day Sale!
5. O'Shea Woodwork Wooden Swing ($15): Swing into summer with this handmade wooden swing from Lititz, Pa. Childhood is not complete without a tree swing! You supply the branch, O'Shea Woodwork will supply the swing for endless hours of fun.
Eat:
6. Tyrrell's Chips ($5.19 each): Every summer BBQ needs Tyrrell's Chips! These hand cooked English chips come in a variety of flavors (Sea Salt and Black Cracked Pepper, Sweet Chili and Red Pepper, Beetroot Parsnip and Carrot with a pinch of Sea Salt….just to name a few) to accompany any meal, or any craving! Check out Carrie's full review here and the lucky winner of this giveaway will receive one bag of each flavor!! You'll be stocked for summer!
7. Hickory Cheese Board from O'Shea Woodwork ($25): What's a party without some cheese! Serve it up on this classic, handmade cheese board from O'shea Woodwork. Made from hickory and walnut – simple and stunning!
8. CVS Gold Emblem Assortment: GE Peanut Butter Sandwich Crackers,  GE Greek Yogurt Covered Pretzels, GE Sesame Sticks, GE Butter Flavored Popcorn, GE Salt & Pepper Natural Pistachios, GE Classic Blend Trail Mix, GE Deluxe Mixed Nuts, GE Belgian Milk Chocolate w/ Almonds, GE Cereal Bars….Yes! All of these sweet and savory snacks will be yours! Consider your pantry stashed! Packed and ready for any impromptu summer gathering!
Accessorize:
9. Stella & Dot Avalon Bracelet Clutch ($69):
 Why is it so much more fun to party in the summer? Maybe it has something to do with the combination of being warm and fun cocktails? Whatever the reason, the Avalon Clutch is that versatile pop of color (Colbalt Blue!!) your party outfit has been waiting for. Chevron interior? Check! Detachable wristlet strap that doubles as a bracelet? What will they think of next? Interested in hosting a party or need help getting styled for a summer event? Contact Suzannah
here
for your Stella & Dot needs!
10. Bloom Woosie Bandana Bib ($9) and Teething Bunny ($14):
Just because your little one soaks all of his outfits with drool, doesn't mean he can't make a bib look sharp! Bloom Woosie's bandana bibs are the perfect outfit accessory for summer! This neutral/mod print is backed with cotton sherpa with an inner flannel layer for extra absorbency. Paired with this adorable teething bunny that your babe can gnaw the heck out of and still keep his outfit in tact. When you LIKE
Bloom Woosie on Facebook
 you'll get 10% off your next order!
11. Libby Wynn Simply flower headband and clip set ($9):
 Spice up your little one's look with a little hair candy. These simple, handmade embellishments by Libby Wynn are the sweet, simple, chic, comfortable accessory you have been searching for. Each item is "made with love" in Brooklyn, NY. And A LIKE on her Facebook  page will also score you a special discount. Go ahead and check it out!
Primp and Protect:
12.  Arbonne Body Scrub from Consultant Jen Richford ($32)
 – Let it glow! Summer can be rough on the skin. Exfoliate, polish, and hydrate baby! This item is currently backordered, but not for the winner of this giveaway! Becoming an Arbonne junkie as you should be? Email Jen for the hook up at
[email protected]
She is waiting to answer all your Arbonne questions!
13. Rodan + Fields Summer Essentials from Consultant Becky Anthony – (Sunless Tanner ($24), Broad Spectrum SPF ($24), and Lip Shield($16): Get Summer Ready with Becky's ultimate summer essentials package. We are all looking forward to some fun in the sun, but treat your skin right and apply that SPF.  Use Rodan + Fields Foaming Sunless Tanner to get that summer glow while using the Broad Spectrum SPF 30 Body Sunscreen to protect your skin from those harmful rays.  Don't forget about your lips and protect them with the ESSENTIALS Lip Shield SPF 25. Have questions about your skin? Becky is here to help! Contact her anytime at [email protected]! Rodan + Fields = Amazing products and an amazing business opportunity. Email Becky and find out how you can join her team!
14. Arbonne Bronzer from Consultant Sara Tilles ($36)
– Get that sun kissed look without the sun! This silky powder gives a flawless finish – a summer essential for all skin tones! I (Lindsey, from Sisters to Sons) started using this bronzer over Mac and Bobbi Brown and will never go back! To shop for more Arbonne products from Sara use ID#13457709 on Arbonne's
website
, but contact Sara first at 
[email protected]
 or 215-480-5541 so she can help you find the best deals!
So what do you all think? A pretty sweet summer round up, right? Remember, you can gain more entries by completing more steps on the entry form! This could ALL be YOURS! Enter away and have a safe, happy summer!!