Nope. I can't seem to recall the last time I had a drink with an umbrella garnish. You neither? Ok well let's change that. I can picture it now…..Bob Marley blasting from my backyard, kids banging on steel drums, me lazing in lounge chair with my toes in the sand table, frozen drink in my hand. Umbrella and all……Are you picturing this people??? Ok, maybe not. But this Pina Colada cocktail recipe, submitted by Julia from Wine in Mom, definitely has the potential to take you there….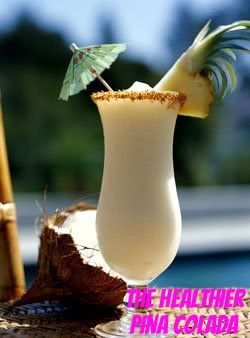 Name: Julia
Location: Sea Isle City, NJ
Six Word Story: Jersey Girl Gone Mom
Recipe: Pina Colada
Why is this recipe totally awesome? This is a healthy take on a pina colada! By using Greek yogurt, it keeps the recipe under 100 calories.
Ingredients:
1 Container Chobani Greek Yogurt "Coconut"
1 Cup Coconut Milk
Ice
Captain Morgan's Parrot Bay to taste
Directions:
Combine all ingredients in a blender. Blend. Enjoy.
Thank you, Julia from Wine In Mom, for this mouthwatering cocktail recipe!
Want more Summer Foodie Recipes? Check out the first one here!
Do you have an awesome summer-ish recipe that you'd like to feature on the blog? Don't be shy! Fill out this form here!
<<<<Psst….The ULTIMATE SUMMER GIVEAWAY ends at midnight tonight! This is your last chance to enter to be set for summer. >>>>