These days I am all about the graphic tee. Throw on a pair of jeans or cut-offs and the mom uniform is done. My kids are beating the crap out of each other, er, I mean, wrestling each other on the floor as I write this and I've come to realize one simple truth in these childrearing days: You can't take yourself too seriously. Gone are the days of perfect hair, polished looks, and pedicures….. Life is messy and exhausting, so why not have a little fun with it? And if nothing else, these tees are a great conversation piece – that is, if you can actually hold one….
So here they are, my favorite graphic tees for moms: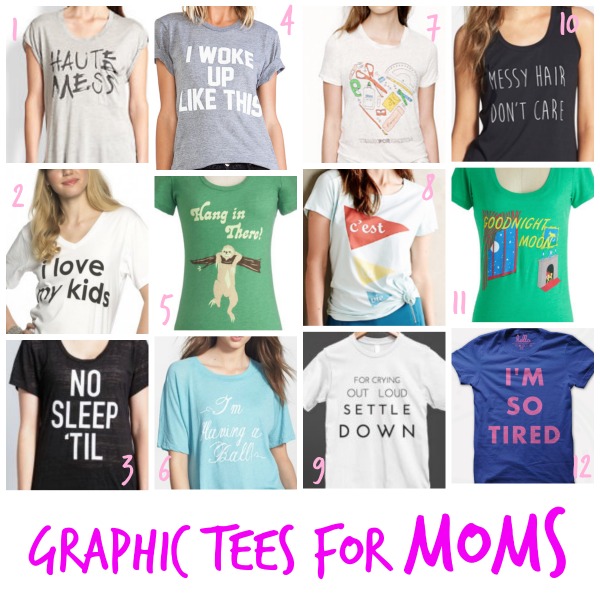 1.  Haute Mess – Insanely overpriced, but how I feel 6 out of 7 days per week.
2. I Love My Kids White V-Neck Tee
 – Truth. (Or tongue in cheek for when they are driving you insane.)
3. No Sleep 'Til – Because if you are a new mom you won't have the energy to explain your zombie-like state. Wear your excuse on your chest.
4. I Woke Up Like This – Can't think of a better shirt to wear to the bus stop…. or even better is this rebuttal tee.
5. Hang in there – Because we need this reminder daily. Hourly…..Minutely……
6. I'm Having a Ball – The perfect shirt to wear to the grocery store with your kids.
7. Teach for America – J.Crew has done it again. Love this playful design.
8. Cest la Vie – Because spilled milk happens. That's life.
9. For Crying Out Loud – I need this in every color.
10. Messy Hair Don't Care
 – Because if you have time to do your hair you either a. Got up at the crack of dawn to do it or b. Let your child completely destroy your bathroom while you did it. I choose neither so messy hair is the natural consequence. … Also found here, but at 3 times the price!
11. Goodnight Moon – Because no matter how many times we read this, can we ever get sick of it?
12. I'm So Tired – Obviously.
So what do you think ladies? Would you sport any of these? If so, which one??
Sisters to Sons is now on Instagram! Be sure to follow along HERE!