You guys! I am honored to introduce you to Phoebe Schuh, interior designer and founder of Philadelphia design firm, PS & Daughters. Many Sisters to Sons readers are new moms or moms-to-be and we can all appreciate the importance of "setting up the nursery". As we wait (im)patiently for 9 months (or is it 10 months?) for the arrival of our new bebe's, we occupy our time by stressing over paint colors, crib sheets and gliders. Phoebe is here to share some inspiration and help all the new mamas think outside the box when it comes to creating a living and (hopefully) sleeping space for our littlest loves.
But first, who is Phoebe Schuh and what is PS & Daughters?
Lemme explain….
Phoebe Schuh, is anything but a rule follower. She named her Philadelphia design studio PS & Daughters, because, well, why should all of the "McCormick & Sons" of the world have all the fun? And for another rebellious twist, she named her company, PS & DAUGHTERS before having any kids of her own, let alone any daughters. But luckily the name can stick around for a while because Phoebe is pregnant for the first time – and, yes, it's a girl! Coming soon…. like any day.
Whether it was dumb luck or stealth strategizing, we will never know. But Phoebe may have consulted with Google for a few tips on how to conceive a girl:
Eat your veggies. Stick to missionary. Take a hot bath. Avoid the big O!…. just to name a few.
And with a little baby girl on the way, you can be certain that the design maven mama-to-be created a little girl's nursery that deserves a double take. Breaking the rules, yet again, Phoebe's baby girl nursery is (gasp!) BLUE!
While blue is considered a non traditional baby girl's nursery, Phoebe finds the color "more soothing and livable than a conventional rosy pink". The color is the perfect backdrop for the modern, yet eclectic design.
Come join me on a tour of her baby's future room in Northern Liberties…..
Adding warmth to the room is a faded yellow baby blanket laying on top of the Eames Molded Plastic Chair by Design Within Reach. The blanket, originally belonged to Phoebe's husband, Matt, but Phoebe's mother in-law revived this old keepsake for her soon-to-be granddaughter. The blanket has been tailored to a smaller size and piped in simple, white lace.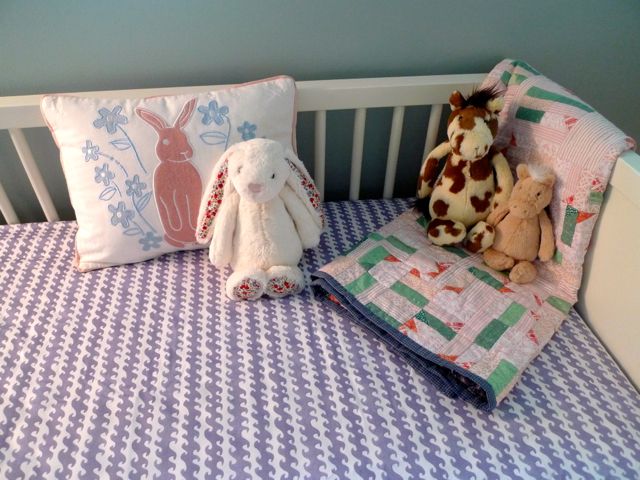 The lighthearted blanket and Serena and Lily Wave Crib Sheet accent the white, mid-century Dwell Studio crib, making the adorable print-on-print nursery an absolutely original design.
Hanging from the ceiling is an Etsy find – a handmade collection of dessert plants. Why? Because what is more mesmerizing than arid plants?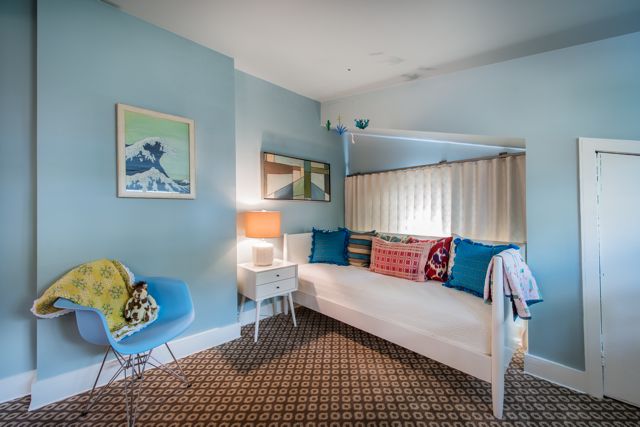 Phoebe has highlighted the interior with a collection of original artwork, including an abstract oil painting by Matt's college roommate, and a Kozyndan "bunny wave" print. Closer inspection of the print reveals that the foam of the falling wave is actually composed of fluffy, white bunnies, making the perfect splash of charm in a little girl's room.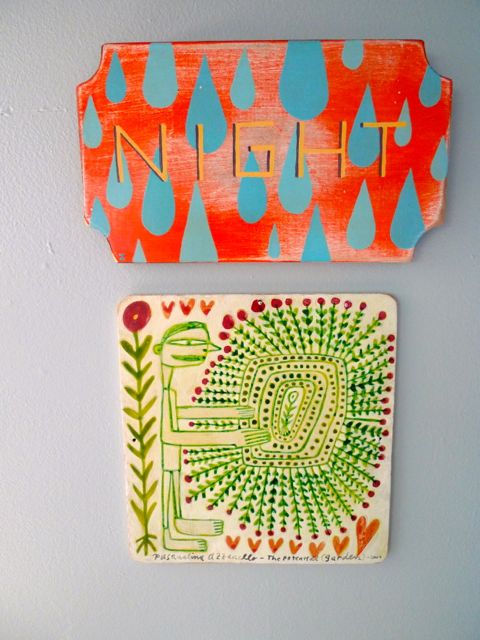 Adding more color to the walls (and a perfect reminder for baby girl) is the "Night" painting by local, Philadelphia artist, Andrew Zangerle, who showcases his hand painted signs at Art Star Craft Boutique.
The second piece is named "The Potential Gardner" and is painted by a Brooklyn based artist, Pasqualina Azzarello.
A Calypso St. Barth Piggy Bank and "Rodeo Booties" by Frye adorn the mid-century 6 drawer dresser by West Elm.
The pillows on the daybed add a complimentary blend of colors and patterns. The turquoise, striped, pink and red pillow are all hand embroidered textiles that were purchased on a trip to Anguilla, Guatemala. The other ikat patterns were custom made to accent the the blue and pink.
"The nursery, like my life, has been a journey," says Phoebe." I've studied cave drawings in Belize, absorbed color in Tuscany and found patterns in Azerbaijan. I've learned from some of the best designers in Los Angeles and discovered something simple and profound in the desert outside of Tucson. But right now I'm a little girl from Wayne, PA, who cannot wait to meet her daughter."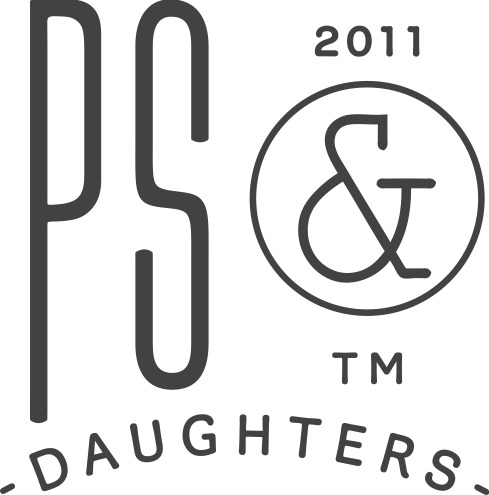 Thank you to Phoebe for giving us just a small glimpse of her talents as an interior designer by sharing her non traditional baby girl nursery. We wish you the best of luck as you prepare for your new role as a mom! And Sisters to Sons readers can look forward to hearing from Phoebe again in the future with more design tips and tricks – stay tuned!
The award winning PS & Daughters team provides full service interior design, remodel and design management, and decor/fine arts consultation.  Phoebe and her team have been transforming the way their clients live and work since 2011. To see more projects by PS & Daughters you can check out their profile on HOUZZ, and also visit their website, www.psanddaughters.com. Be sure to follow along on Facebook and Pinterest for more inspiration! Questions/inquiries can be emailed to [email protected].
This post was sponsored by PS & Daughters. All opinions are my own – including the fact I'm dying to see Phoebe's kitchen now that I've seen her nursery. Just sayin'.