I just received a new Stitch Fix for some fun fall wardrobe updates! This was my favorite "Fix" yet. I've learned to be very specific with the stylist – i.e. "I want a military jacket"… and it I think that really helps. What I like even more is that I don't need to use any more brainpower after that and then and it is delivered to my door. I sort of get butterflies when it arrives. It might be worth it just for that. I love fun mail. Here is a preview of my style box….. I can't decided what to keep and what to send back. I'd love to hear what you think!
Look 1: Splendid West Village Leopard Shirt Dress  (get 25% off with code: WELOVEYOU) // Joie Dalton Booties
Look 2: 41 Hawthorn Moni Chain Stud Detail Blouse (Stitch Fix brand) // Liverpool Mira Skinny Pull On Jean (similar here and another one here, and they even come in white here!!), and Melissa Button Frye Boot (my favorite boots ever)
Here's a closer look at the jeans! They are SO comfortable with this thick, pull on waist band. Perfect for early stages of pregnancy and postpartum days……Or Thanksgiving 😉 You can take a look at all of this brand's latest pull-on styles here! Or these from Nordstrom look amazing!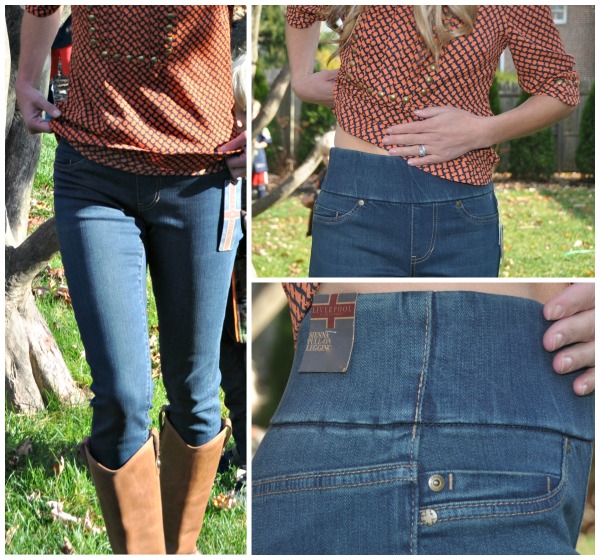 Here is a round up of similar pull on jeans with great reviews:

~ Follow on Facebook for more fashion, parenting and lifestyle fun! ~
Look 3: Brixon Ivy Adrian Plaid Blouse (trying to find this one with no luck, but according to Free People's latest email, Plaid and Lace is a great combo. Who knew???) // BDG  Twig High-Waisted Jeans // Old Navy Booties (old; but cute ones here)
Look 4: Olive & Oak Knit Sleeve Utility Jacket (found for less $$ here) // Anthropologie Moth Sweater 
I think my stylist nailed it this time and now I have some great fall wardrobe updates… Now, what to keep??!! Help! Tell me what you think!…. please!
Want to learn more about Stitch Fix? Read my previous posts here and here or fill out a style profile and try it out for yourself. If you schedule your fix now you could get some fun outfits in time for the holidays and New Year's!