We are not that family that has a perfectly decorated, fancy tree. Our is, for lack of better words… eclectic. It's homemade and full of lots of hand-me-down ornaments. And while I can appreciate trees that have uniform ornaments and are all matchy-matchy, ours is sentimental. We are starting to grow our collection of the sweet, handmade ornaments that the boys bring home from school. And although I've been eyeing up this garland for a few years now (seriously, how cute is that), I've come to appreciate the decorations that have meaning. It was obvious that a DIY garland was in the cards – anything else just wouldn't make sense on our tree.
My sister suggested that we spray paint old toys and string them together. Over the weekend we whipped up this toy animal garland made from little animal figurines. It was so easy and turned out great so I had to share.

Materials:
– a set of toys (I used 12 plastic animal figurines) – other ideas include legos, action figures, doll clothes/shoes etc…
– metallic spray paint (1 can of silver and 1 can of gold)
– sparkly string
– a drill
How To:
First we took these little guys and drilled holes through the center of each animal (obviously my husband did this part…. if you know my recent rant on Facebook about power tools, you know this is not my area of expertise)
Next we spray painted half silver and half gold using the end of a paint brush to get full coverage.
When the animals were dry we strung them together, tying equally spaced knots to keep distance between the herd.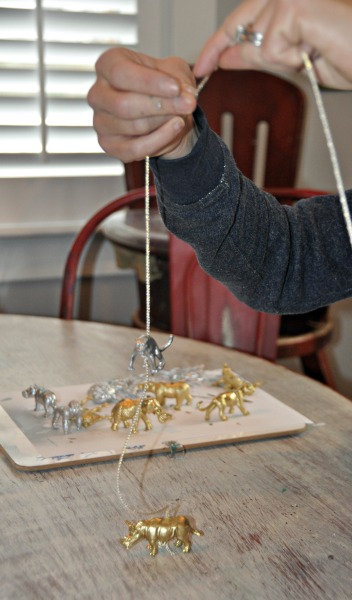 And that's it! When they were all strung we had this sweet, DIY garland.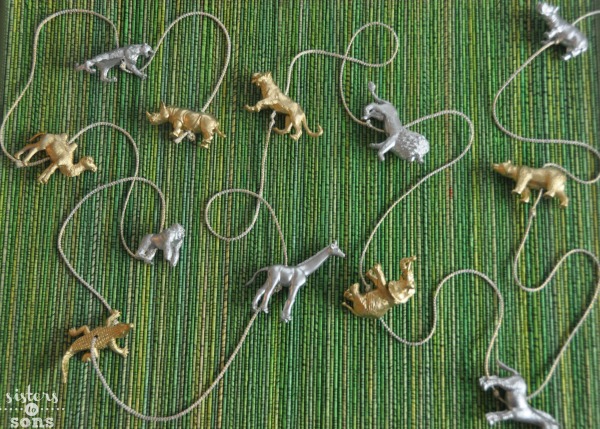 Now all we need is a tree!
In the mood to make something? Check out these other handmade holiday ideas from other Philadelphia area bloggers: