…. must be shared with the world!…..(because it's that good).
My sisters (some of them) and I decided that we were all due for a little morning out. My husband looked at me strange when I was taking a shower for the THIRD morning in a row. When he asked why (because apparently this is a rare occurrence), I just smiled without wanting to reveal my big morning plans….Because my sisters and I were going to a place that warrants a shower, a place that makes all of our eyes twinkle…………Anthropologie. And we had waayyy to much fun trying tons of things on….(Ok. Obviously we don't get out much)…. But whatever. You guys. They had SO much good stuff. And apparently there was a trend in our dressing room – sweaters and holiday tops. Here were some of our favorites!
Sweaters with a little something extra…

We both loved the Lace-Parted Pullover. It comes in a a few colors (the black is really pretty online, but they didn't have it in the store) First of all, who doesn't love lace elbow patches, and second….the back (!!!)… dare I say it's a little peek-a-boo sexy??!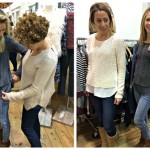 Cabled Ella Pullover – I love when you just have to wear one piece but it actually looks like you are a layering queen. Supersoft. I'm wearing a small and my sister an XS for reference. (comes in a few other colors)
Holiday Parties, Here We Come!
If you're like me and always freezing, it's hard to find winter "fancy clothes" because so many of them are sleeveless. I loved this tunic because it has coverage, but the lace overlay dresses it up. So easy to wear! I couldn't decide which color I liked better in the Capriccio Lace Tunic?? I ended up going with the black (safer with three messy boys). I'm thinking it would look great with vegan leather leggings!! (obviously not with my "bus stop" Uggs…. but hey, the photo shoot was an afterthought.)
We fought over this Embroidered Tulle Tunic (my sister won). It screams holiday party and can be easily accessorized…. even though its detailed enough to stand alone. //  The Shimmer Stitch Pullover is on sale (only a few left)… It hangs perfectly! It's hard to tell in the picture, but it does have a little shimmer so another option for a casual holiday gathering (my sister wore it to Thanksgiving) or even dress it up with black pants and heels. It comes in silver as well and is equally stunning. Another great holiday top option is the Embroidered Mesh Tee….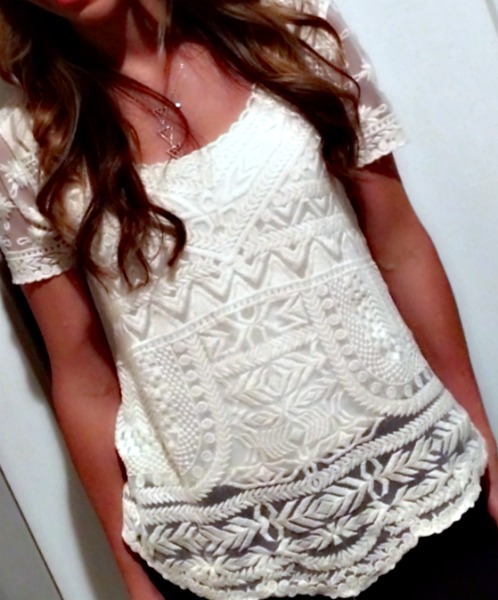 Wore this to a holiday part last night so, yes, this one was a keeper! (also comes in navy)
Did Someone say Vest?
Apparently we heard it! So then we had a little vest party…The picture doesn't do the Lacy Sweater Vest justice. It is really a great statement piece without being over the top. Would look great over a dress too. (and on sale which means extra 30% off right now).
The middle is the Lavena Vest which I wasn't crazy about when I tried it on, but like how it moves in the picture.
Ha! And this Lightcatcher Vest on the right is actually really a great piece (with something worn under it of course). Perfect for my sister who's family is a little bit country…
How gorgeous is the Coira Sweater Vest on my sister (who JUST had a baby!)? Handknit, chunky (but soft) wool blend. And yes, that is the baby in the background (only 7 weeks old!). He was the only kid invited. One who sleeps can come shopping.
And here I am channelling my inner Rachel Zoe with this First Frost Vest. I have to admit. I kind of love it. My husband probably wouldn't… One of those #manrepeller pieces, and something he would say is "ridiculous" but he's already married to me……and so……
Cozy Cardigans
This Sherpa Waterfall Cardigan was on the "last call" rack. Obsessed! Literally feels like you are wearing a snuggly robe. And I sort of have a thing for elbow patches. If a sweater has them, I have to at least try it on.
Another beautiful (warm) option is the Elise Blanket Cardigan. And my other sister is wearing the Stitch Mix Pullover – its short in the front and longer in the back for a little butt coverage.
So yeah…who knew a dressing room could be so much fun?  See anything you like? Happy holidays, everyone!
Shop the Post here: