Alright everyone. Are you ready to get crafty? I do have a section (if you haven't noticed) called the un-crafty mom. It's just not my "thing". Crafts sort of make me cringe. But when it's 33 degrees outside, it's kind of  inevitable that I'm going to have to attempt a few this winter.  So I did what any busy mom does when she has a task at hand that isn't her forte……..I outsourced. No, I didn't hire someone to come over and do crafts with my kids (then clean it up), but that would be nice…… I emailed an old friend who is…. wait for it…. a real, live, elementary school art teacher (!!!!) and she gave me some amazing kid-friendly ideas. As a boy mom herself, she understands short attention spans and the fact that making a mess is more fun than the project itself. Without further adieu…..
Meet Kassie. Art teacher by day. Mom to 2 adorable boys. Artist behind KD Studios – custom art that you need to check out. (If anyone needs custom nursery art, Kassie is your girl!)
Here is her first of several ideas to come!
Air Dry Clay Projects
Air dry clay is a great way to make clay art without the hassle of having to fire it in a kiln, or pay a ton of money to a spiffy clay studio to have your child scribble three lines onto a pre-made pot. Saving money is key, and here's an easy project for you and your child to do that's pretty much disaster-proof:
1. Purchase air dry clay at an arts and crafts store (michaels) or for even cheaper, on Amazon. I like Crayola Air Dry Clay.
2. Choose a container that you'd like to re-create. This could be something as simple as a tupperware bowl, or a textured dish, etc. I chose the lid to a pre-cut fruit container from Acme, and a container that held tomatoes.
3. With a rolling pin, have your child roll out the clay. Try not to make it super thin, the thicker the better and the easier it will be to manage. Yes it will have lumps, these are fine. They will add to the uniqueness of your fresh new ceramic piece.
4.  Once you've got a pretty decent sized pancake, have your child lay the pancake inside of your chosen container. Press around, get all up in there.
5. Then, have them add some texture! You can press in some doilies, take the cap of a marker and stamp in circles. For a cleaner look, leave out this step.
6. Let your creation dry overnight. Tomorrow, pop it out of the bowl and you've got a brand new bowl! One that your child can now PAINT!
Painting
Any type of paint works! I recommend acrylic, tempera, or watercolor. Let your kid have at it. Give him/her some different size paint brushes. Let them stamp a marker cap into the paint and make circles on their bowl. Give them a sponge or a loofa and see what awesomeness they create when sponge- painting.
For a final snazzy touch, snag yourself some glitter glaze. Seriously, I live by this stuff. It turns any piece of art into a beautiful masterpiece. It's worth it's money in gold for any art project you may attempt. Come to any one of my art shows and you are gonna see it all over the place.
Once your bowl is dry, have your child paint the glitter glaze over the entire thing. And voila! Set this puppy on your coffee table, or give it to your husband to use as a paperweight.
Texture Pendants
Make some sweet necklaces while learning about texture! This is a quick and easy craft for you and your child that's pretty much fool proof. Using air dry clay, squash it into a pancake. Then, cut out a circle using a cookie cutter or a plastic glass. Next, have your little guy or gal STEP on it with their shoe! The texture from thebottom of your shoe transfers into your clay. Poke a hole at the top and let it dry. Then paint it! These were painted with watercolors and glitter glaze. Pull through some yarn or string and you've got yourself a sweet new accent piece of jewelry, or a present for a teacher/friend!
~~~~
Ok you guys… so I tried these air dry clay projects out for myself, and Kassie is right! These are pretty much fool proof. Since its the holiday's I took her ideas and gave it a festive spin. Here is what I… er, I mean "we", my kids and I that is, came up with.
We just rolled out the clay (and it is a bit sticky so it worked best with a sheet of plastic underneath), and then used cookie cutters to make the various shapes. Then we used various things around the house to add texture. Legos were seriously fun.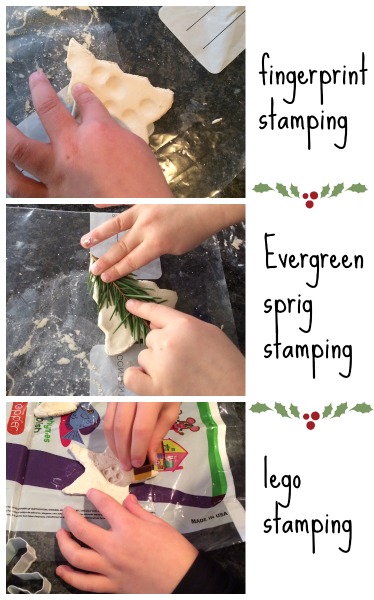 Of course my favorite was the evergreen. I know, I was pretty impressed with that idea myself. But hands down the kids loved the legos. I'll give it to them, it did turn out pretty cool.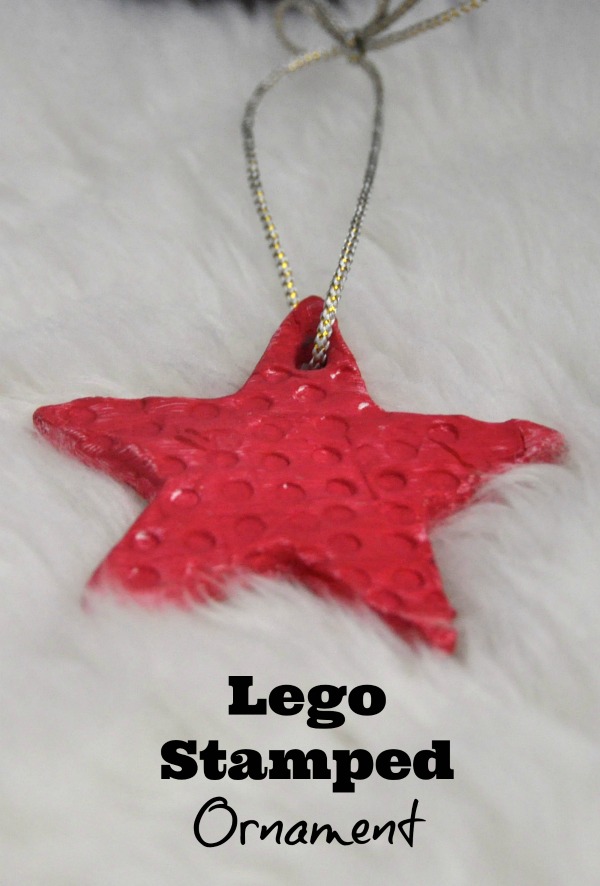 Thanks SO much to Kassie for her amazing air dry clay project inspiration! Stay tuned because I have many more of her ideas to share!