What to Wear New Years Eve
My husband loves New Year's Eve. Every year I secretly hope that the holiday will slip away before we have time to make grand plans and he'll be content cooking at home while we watch that stupid ball drop (I would say a year in review of Fashion Police but I'm trying to be realistic). He thinks that New Year's is one of the best holidays to share with friends – find camaraderie in your mutual goal to embark on your best year yet. He gets all "Auld Lang Syne"… he actually has the perfect bright and optimistic disposition for a sparkly holiday like New Years. Gotta love him. He also likes drinking with friends, so there's that.
Unfortunately I'm the bummer of our twosome (or as I like to say, the realistic one) – forgetting auld acquaintance is all well and good but I just don't think overpriced drinks, prefixed dinners, inflated covers and horrendous cab lines in the cold are going to be the encouragement that pushes me to fulfill my new goals the next day. It's just not my thing; generally I'm a happy person, I promise.
The problem with New Year's Eve – much like the Restoration Hardware outlet and the Philadelphia Eagles – is that it can never live up to expectations we've built in our head. Every year we have the same hopeful exchange with friends, "So, what are your plans for New Year's Eve?" Every year we're optimist that this year, this year will be different. We hold on to that one, or two years (if your anniversary is on New Year's Eve you're excluded from this statistic) that despite the odds held against them, somehow fell into the perfect mix of fun and spontaneity, and we hope that this year will find that stroke of luck again as the clock strikes midnight. But unlike your favorite bottle of red, New Year's fails to mature. It doesn't improve – it peaks – at like 18 when your friend with the "cool" parents let you have a party in their basement.
It's more realistic that you'll be watching the clock above your increasing cab toll anticlimactically change from 11:59 to 12 while you're sitting in traffic (me in 2011) than that you'll find yourself in a passionate embrace amidst twinkling lights and flurries of snow at midnight (maybe some variation of this happened in 2013 but I'm pretty sure it was an embrace amidst many drunk people and flurries of ripped cocktail napkins). Apparently I'm just not a romantic.
Of course though if we're being optimistic (it is a time for resolutions after all), my husband's insistence to socialize on the eve of our next year does have one major perk – "permission(?)" to buy a new outfit without feeling guilty. It's really the only redeeming quality I can find in the holiday and so, I plan on taking full advantage (even if I can convince him to stay close to home).
Below are 12 of my favorite looks for counting down the hours until midnight.
It's slightly overwhelming, but so is New Year's Eve. The back is amazing, which means you're going to look darn good from behind as you strut into 2015 with confidence, and the sequins are much more "Rainbow Fish" than disco ball, which is obviously a win if that wasn't clear. If I was going somewhere fancy this would be my first choice.
It's nothing uber fancy, but it's the perfect NYE pallet to spice up a little with some great accessories, dancing shoes, and dramatic make-up. Plus it's on sale. (Unfortanuately it just went out of stock, but this one, also from ASOS is sort of amazing for NYE. Free Shipping both ways…)
I'm kind of obsessed with the sheer layering look but I never know exactly how to make it look good (Abby gave the best recommendation here). This dress is the perfect way to get your toes wet and Free People currently has a million intimates that are worthy of sharing a little sheer. I'd throw this one underneath.
This is adorable and could totally be revisited again after the ball drops without looking out of place in a non-tinsel filled world. If I was being a romantic optimist, the sheer crewneck and bulby print would be exactly what I'd like to wear during my midnight kiss when balloons fell from the ceiling and fireworks bursted in the background (of course I wouldn't notice any of this, because ya know, the kiss).
This is the ultimate party dress… and the back is amazing. Lindsey's sister wore this dress to her rehearsal dinner which is justification enough that it is worthy of epic celebrations. I love it in black for New Years Eve.
 Nothing actually encourages me to shake my booty more than fringe. Plus, the elastic band back on this makes it look surprisingly comfortable.
These are dying to be worn with a black backless romper or high-wasted shorts and a tucked-in blouse. They told me so.
I'd pair this with skinny leather pants and a strappy heel and call it the perfect mix of sexy/silly/structured (it's a thing, I just made it).
I'm actually a sucker for a corny New Year's Eve tiara (surprising, I know.), but I have to say I think this one will outshine it.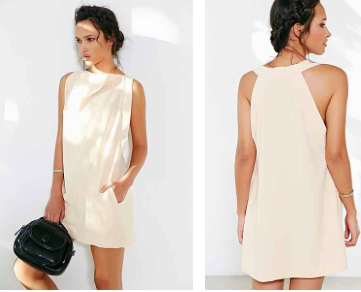 Let's face it, everyone will be in sparkles. I think this dress is the perfect way to stand out from the crowd. It's timeless and just a tiny bit revealing, kind of like the holiday itself (the exact opposite of the holiday itself).

 I've said it before and I'll say it again, I will wear a good jumpsuit any time that bathroom breaks are not instrumental in the food intake of my night (basically just not on Thanksgiving).
+1 because it's a New Year —
 I'll actually be wearing these paired with a black cotton tank top and a leather jacket this year. My husband has to kiss me at midnight – sequin sweatpants or not – so I'm going to crazy comfort route.
So what are you wearing New Year's Eve? Shop the post here: