Ok so I have this problem. I have a LOT of clothes. And no, that is not my problem. My problem is that I don't know how to wear them. I buy a top. I wear the top. Does it look cute? Yes. But styled or finished….. no. Not unless I copy something that my stylish younger sister was wearing to the tee (literally). I decided it was time for a lesson so I called upon my fashion idols, little sis Abby and contributing writer and second cousin in law (???) Kaytlynn, and begged them for a little style sesh. Actually, there wasn't much begging required… Abby had the prosecco chilling the moment she replied to my email. These two live for this stuff and they shared their secrets with me and, guess what, now I can share them with you.
Let's start with the basics.
Where are we going: supermarket, playdate, soccer practice.
Mission: Kick the "mom" outfit up a notch
How: Update your look with layers
Ok so let's start bare bones. Jeans and a tank. And if you've never bought anything through this blog before, now is the time. This tank is an essential for every wardrobe. It's seamless and reversible. Actually, I think that's what it is called "seamless reversible tank". Yep. Confirmed. I literally wear this every day. (I have a few to rotate, thank you). I don't care what shape your body is, this keeps everything where it needs to be, smoothes everything out, and in the winter, it's a thin extra layer. Advice? Buy it in every color.
Now let's add a flannel button down and here you have my standard mom uniform. Blah bitty blah. (And now would probably be a good time to mention that I am an extremely awkward model so just bare with me. We needed prosecco for a reason. Ab, next time, chill a second bottle.)
And now it's time for A and K to work their magic.
Step 1: Add a long cardigan, booties and sunnies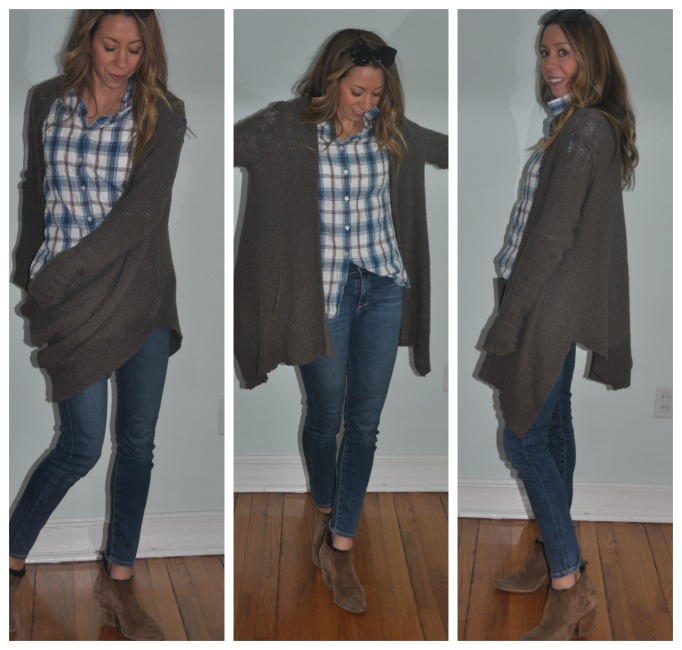 These finishes touches made me perfectly happy as is. I felt updated and finished. We are good, right? Oh no. "The girls" were not done with me just yet.
Step 2: More fluff. Like this vest. There was some mumbling about varying lengths and different textures…. I'm just going with it!
Step 3: The Finishing touch… wait for it….
Here it comes….. (ahhh don't fear it, embrace it)
Bam.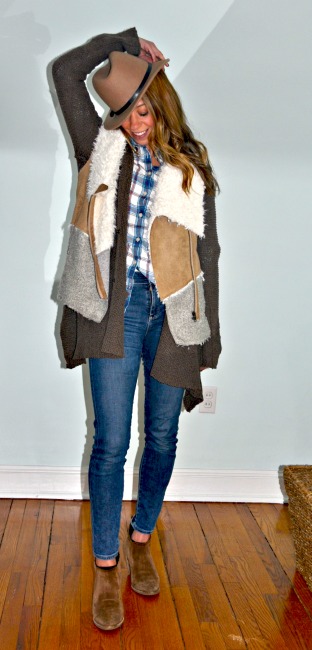 Lesson of the day: Do not fear the hat.
Let's recap:
Wearing:
High Waisted Pilcro Jeans (on super sale) – these are also great (on sale) and Gap sounds pretty confident in their new jeans – this wash would be my pick.
Horny Toad Flannel – but some other favorites are this and this.
Free People Cardigan – other options are this (on sale) and loooove this (but pricey).
Anthro Vest (old) – but this is amazing and so is this or this Ella Moss Sherpa is 50% off.
Booties (old) – Also love these and can't beat the price on these or these for that matter. Oh, and seriously loving these.
Hat – This is also cute, but if a hat-hat is not your thing, how about this one??
This is fun, right?
Ok you pulled their leg.
One more option. Actually two. Lose the cardi, do that half tuck thingy with the shirt ORRRRR, find a fabulous belt and wrap yourself up.
Take that supermarket.
Get this look here:


Next week? It's Valentine's Day so you can bet on a date night option. And we are tackling leather, so you might want to snag these, these or these (all on major sale) and I can guarantee you have everything else you need already in your closet.
Is this type of post helpful? Inspiring? Fun?….or is it just a lot of pictures of an awkward model? Let me hear your thoughts so I know if it's something we should keep going with! Happy weekend!