This week's featured recipe is one I completely forgot about until last week. It's a sweet and savory pork tenderloin recipe that is unbelievably easy to make. It's also full of flavor and won the "make this dinner again, mom" seal of approval from my kids — so take that for what it is worth 😉 Don't be fooled by the unconventional list of ingredients. It has the perfect balance of flavors and if you like pork, this is an easy dinner to add into the rotation.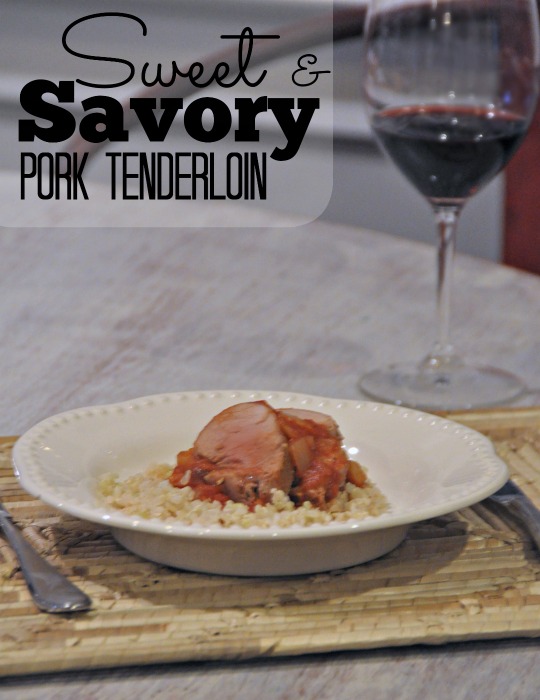 Sweet and Savory Pork Tenderloin Recipe (and Weekly Meal Plan)
Prep time:
Cook time:
Total time:
Ingredients
Pork tenderloin
1 tsp Garlic powder
1 tsp Seasoned salt
1/2 tsp Cayenne pepper
28 oz. can Crushed tomatoes
Mushrooms, sautéed and drained (optional)
1 small onion, chopped
Jar of Fig Preserves
Instructions
Mix the garlic powder, seasoned salt, and cayenne pepper together in a dish and sprinkle the mixture evenly on all sides of the tenderloin. You may need more/less seasoning depending on how much meat you have.
In a small bowl, mix together the tomatoes, onions, mushrooms. It is important to sauté the mushrooms first so they don't make your sauce runny when baked.
Pour the tomato mixture into the bottom of a casserole dish and place the seasoned tenderloin in the tomato mixture.
Using the back of a spoon, smooth a generous amount of fig preserves on top of the tenderloin.
Bake covered at 350 degrees for about 1 hour. (Use a meat thermometer to be safe – temperature should read between 145-160 degrees based on your preference)
Allow pork to rest for a few minutes when desired temperature is reached. Then remove pork from sauce, slice into medallions, and return to sauce.
Serve over brown or white rice.
Pork tenderloin is not the "prettiest" cut of meat so I spared you the pictures of the preparation, but this is what it will look like before you bake it:
Serve it over your favorite rice or pasta and enjoy!
Weekly Meal Plan:
Monday: Sweet and Savory Pork Tenderloin
Tuesday: Better Than Takeout Chicken Fried Rice (I made this last week and it was so easy and kid-friendly. I used frozen rice so basically it was a one-wok-wonder, well, minus making the chicken)
Wednesday: Taco Salad (I'll probably make up my own recipe, but this one looks delicious if you need some more inspiration)
Thursday: Chicken Noodle Soup
Friday: PIZZA NIGHT!
For more dinner ideas you can follow my What's for Dinner board on Pinterest or check out the #REALFOODRECIPES link up on Jo-Lynne Shane's Blog.
Follow Sisters to Sons's board What's for dinner? on Pinterest.