Is it just me or do warmer temps cause you to start doing at least one of the following things:
1. Decluttering everything in sight.
2. Dreaming about margaritas.
3. Being a nicer person in general.
4. Thinking about getting a facelift. For your home. Not your face. I mean you can do it to your face if you want, but I'm talking about giving your home a little "work".
All of the above?
Me too.
Don't worry guys. It's normal. It's  allll normal. Spring is a a time for blooming, and whether it be your general demeanor, your face, or your kitchen, I say go for it. Life is too short to live with cabinets that you hate, trim that needs a makeover, and backsplashes that only your tacky aunt once removed can appreciate.
I've teamed up with Duddy Construction to give you some inspiration about how simple "facelifts" in your home can transform it into a place that you love, not just a place that you live in.
Raise your hand if you are a visual learner? Ok me too. Let's exemplify with a visual then shall we? We will be sharing some projects that Duddy Construction has completed along Philadelphia's Main Line. You ready? This is what I am talking about:
Kitchen Facelifts:
Ahhhh. Isn't that after a million times better? And want to know the best part? Those are the exact same cabinets. It's amazing what a professional spray paint job can do, right? Appliances and flooring were also swapped out, new backsplash installed, updated moldings and there you have it. A facelift. Starting to make more sense?
Let's take a look at another kitchen that has gone under the knife.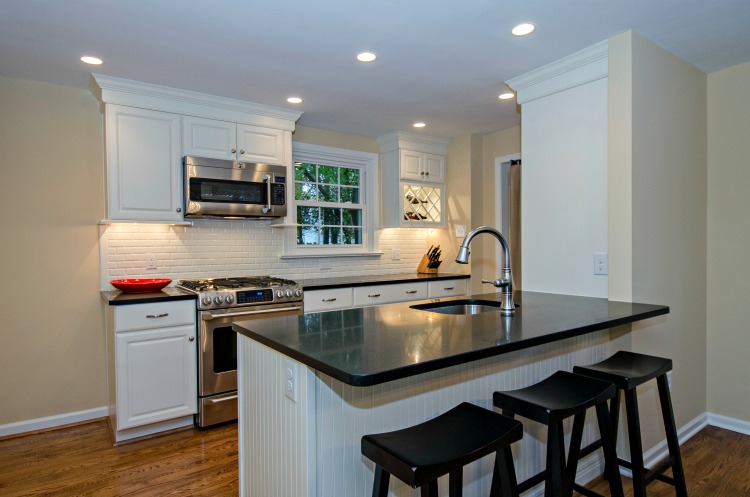 Sadly I don't have a before picture of this one, but this is actually my neighbor's house that was likely built somewhere in or around the 1940s. The kitchens in our houses are tiny and walled off – the flow is just all wrong. To achieve more of an open concept to suit the modern family, the wall was taken down between the kitchen and dining room. Okay, you got me, this kitchen went under the jack hammer, a bit more intense of a facelift, but the outcome is simply stunning. Open, airy, and fresh.
If we back up a bit into the dining room you can see how this home that was once boxed off, is suddenly perfect for entertaining.
I have one more kitchen because the before/after of this next one is too good not to show.
Yep. You guessed it. Those are the original cabinets. They were professionally spray painted to achieve that factory finish look, appliances, floor, countertops and center island were all replaced to achieve an updated look.
Ok so maybe you are good with your kitchen, but your home could use some improvements in other areas, say like your outdoor living spaces?? It is spring after all, and the best place in the world to be after a winter like we've had is outside! How is your exterior holding up these days? Is it margarita-ready?
Outdoor Facelifts:
Adding a patio or deck adds, essentially, another room onto your house. And who couldn't use a little more square footage? Especially one that doesn't require vacuuming.
Another beautiful option is to add a pergola. Not only are they easy on the eyes, but they avert the sun's rays (I think) so you can maintain your view of those blue skies without being blinded by direct sunlight.
Transitional Facelift:
One more idea for a spring home facelift is to think about transitional spaces in your home. Installing sliders or French doors to an outdoor patio or deck allows for more light in an indoor space and allows the outdoors to become part of the living area.
This was actually one of the first things we did when we moved into our home – transformed a window into sliders – and I can't imagine the room any other way.
Anyone inspired to do a little facelift? Call me a home renovation enabler if you must….. You can blame it all on me.
All photos are courtesy of Duddy Construction and are products of their work.  Duddy Construction is a full service renovation firm based in the Philadelphia suburbs and formerly known as "Patrick Duddy and Son General Contractor". Their relentless commitment to quality, craftsmanship and customer service has built their reputation as the area's trusted residential contractor. Additions, renovations, and remodeling are the core of Duddy Construction but they can assist you with any home improvement project. You can also find them on Facebook for updates and photos of recent projects.
This post was sponsored by Duddy Construction. All opinions, including the importance of facelifts and the purpose of pergolas, are my own. Thank you for supporting the businesses that support this blog.