Ok so it's been mentioned in a few posts here recently that fringe is pretty huge this spring. It was all over the runway at New York Fashion Week and it has overtaken Pinterest with a vengeance.
Fringe is everywhere, but if you are not ready to buy into this trend, I have a quick and easy way you can incorporate fringe into your wardrobe without shelling out major $$. I mean this bag is amazing, but will fringe even be in next year? Only time will tell.
Ok.
Step 1: Steal a pair of your husband's socks. Black works best.
Step 2: Cut along the seams about 3-4 inches deep.
Step 3: Slip those babies on under a pair of booties and consider yourself #trending.
I get it. You might be hesitant to try out "fringe socks" at first, but look at what they do for this basic outfit of black t-shirt and jeans.
They add a subtle flair that whispers, "I am up with the current styles, just not going overboard."
And for the more daring "soles", these socks are pretty awesome with a pair of birks. (see this post on socks with sandals)
Again, other basic outfit of jeans and sweater, but the socks add in that extra element of playfulness.
And what can I say, even my kids loved them.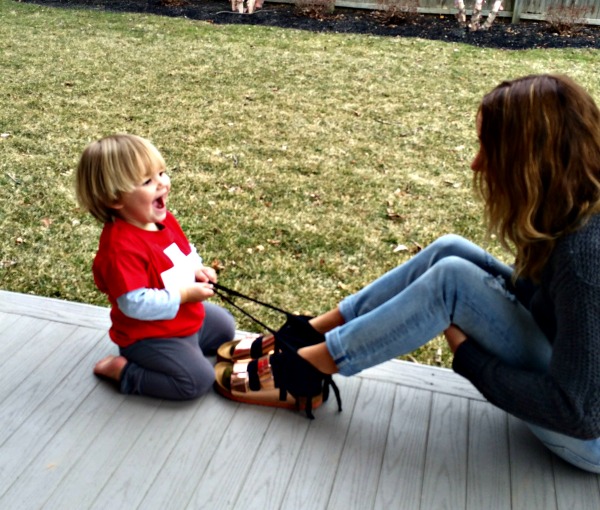 Ok, I guess I can say one more thing…… April Fools. 😉 Please, for the love of fringe, don't ever, ever do this. Ok, you have my permission to share this with a friend and tell them they will totally rock this look. Then we can all have a good laugh 😉
Wearing: 
Outfit 1: Stitch Fix Jeans (kensie brand), Mouchette Tee (now on sale), Joie Dalton Boots, good old fashion Gold Toe Socks – "fringed"
Outfit 2: Gap Destructed Girlfriend Jeans, Urban Outfitters Cable Knit Sweater (old), Birkenstocks (Arizona Copper, old), good old fashion Gold Toe Socks – "fringed"
Happy April to all! xo