I realized a few years ago how drastically the weather impacts my mood, but it wasn't until more recently that I came to understand this is the case because the weather entirely controls what I wear. Why would I wake up fifteen minutes early to do my hair if it's raining? The promise of a good hair day (and the opportunity to wear suede shoes) dies with the first drop of water from the sky. And when it's cold – am I really focused on looking half decent when it's cold? My only goal in winter is to cover as much skin as possible still maintaining my ability to breath and see (smell is irrelevant, smells die in the winter). At the first signs of spring though, hallelujah, I can exchange my bulky black Northface for a jacket that actually makes me feel a little bit more like a girl and a little bit less like a camper stuck in my sleeping bag.
It seems like that stubborn Mr.Winter might have finally gotten the hint that we're over him after our eyes have been ogling spring for at least a month now. Since the temperatures are rising above freezing, it's time to ditch the puffers and parkas for something light and bright. Below is a roundup of the spring jackets I've been eyeing while the last of our snow melts here in Philadelphia.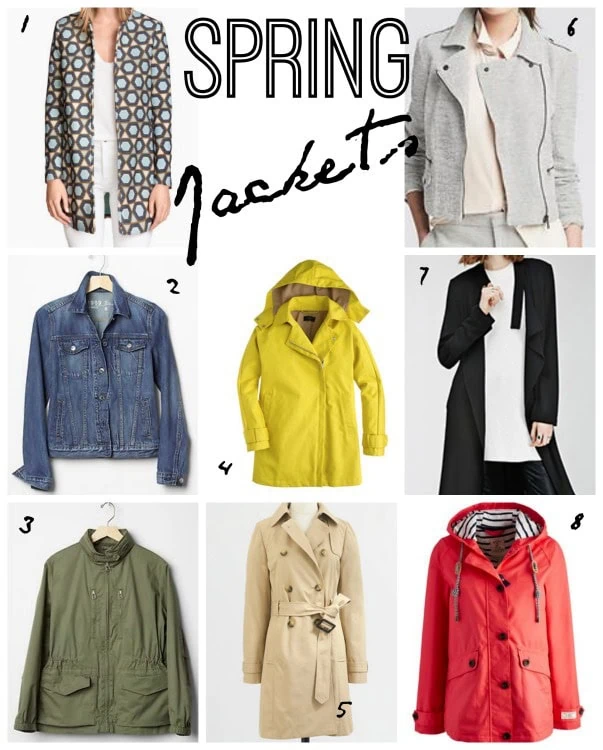 one / Textured-weave coat: Black patterned might be the safest bet for getting the most wear but for $49.95 why not get crazy with the dark blue patterned? I love it with jeans and a t-shirt.
two / 1969 denim jacket: Kind of like a chambray, a denim jacket is just one of those items you need to have in your wardrobe arsenal. It adds the perfect touch of tomboy to your favorite sun dress or white jean outfit. This one is also a fun spin.
three / Utility hooded jacket: My biggest dilemma is whether I like this better in army green or navy blue. Both options are perfect for the first spring days of flips flops right through to the first fall days of boots. This similar one is also very cute.
four / Swing trench coat: Guarenteed to make April showers all the more enjoyable. Love this more affordable rain option also.
five / Factory trench: Just about everyone says that a solid white button down, a decent pair of jeans and a classic trench are three of those most important things to invest in. I bought this exact trench two years ago and it's so often my go-to – can't recommend it enough especially for the price tag.
six / Textured Moto Jacket: Something with a little edge but the pale shade helps keeps things light for spring.
seven / D-Ring Collar Coat: Long and loose jackets are all over this season but I'm not sure how long they'll stick around. This one has a pretty reasonable price tag so if I'm going to test the waters on the trend then this might be my perfect compromise.
eight / Waterproof Hooded Jacket: This is an adorable way to brighten up your basic t-shirt and jeans for running errands. The big pockets and waterproof fabric also make it super practical.
Statement Coats:
Statement coats are my kryptonite. Buy them all.
Pale Pink //  Mint Green // Stripey Stripey
P.S. These jackets over any of these dresses/rompers from Old Navy would be a killer combo. And you can take 40% off the listed price right now for the next couple hours with code: FROCK …… #nobrainer

P.P.S. There is a new SHOP tab added to the menu bar. You know, just a collection of some of our favorite finds in the world wide web. Feel free to check it out.