Ok not to jinx the forecast, but I am thinking we might be in the clear. Like I can banish my Uggs to the attic type of clear. Now it is officially time to break out the spring mom uniform.
a.k.a this:
My "girlfriend jeans", white tee, and flips. It's THE official spring mom uniform in my book. Comfy. Easy. But, cute? Eh. Mediocre at best.
In an attempt to salvage the mom uniform, I'm doing three things to make it look a teeny little bit more styled. (And I'm doing this without the help of Abby and Kaytlynn so take it for what it's worth.)
Okay.
Step 1: The Tuck
Yep. That's right. Just give the old tee a little tuckity tuck. (This guy takes his tucking very seriously.)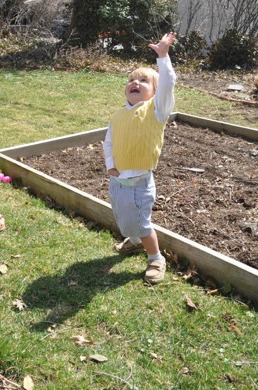 I get it, little man. It's totally something to celebrate.
A little in the front juuuust like that.
Now see that? My cool factor just went up like 10 points. How do I know, you ask? The J.Crew models told me so. (Click here  then scroll down and observe all the front truckage going on.)
Step 2: The Pendant
Ok besides the fact that they are hot right now, the pendant necklace gives the outfit a little oomph. Still simple, but now it's more of an outfit than simply just "I rolled out of bed" and threw this on. Which basically, yes, you did with this outfit, but now no one has to know.
Step 3: A fun flat
Ok flip flops are the obvious choice, but not the only choice. Let me introduce you to my new friends:
A fun sandal is an easy finishing touch and makes a simple outfit less, well, boring. My take is a sandal that feels like a flip flop. Yes, these guys are rubber (and only $30).
Nothing earth shattering. This I know. But a slight improvement, right?
My husband can't tell the difference, but we didn't ask his opinion now did we? So tell me what you do to kick your blah outfits up a notch?
The goods: