OK. I get it. You probably hear "high waist" and immediately think this:
Mom jeans, right?
So let's just all watch this, and then erase it from your memory because the modern high waisted jeans are anything but mom-ish. Not that there is anything wrong with moms. Or their jeans. I'm just flabbergasted by how they got their butts to look so, uhhh, long?
Now let's turn our attention to the high waisted jeans of today. These, my friends, have got it all right. They keep everything contained, accentuate the waist, and plumber cracks are no longer a concern…. do I need to go on? High waist flares are a truly flattering jean and a might I say, a breathe of fresh air after the era of the skinny jean – she quite possibly over stayed her welcome, no?
So here is the story behind these jeans. I was in Anthroplogie in Center City with my husband and without my kids. Let's call it a date. Don't all dates warrant a little once-over in your favorite store sans kid? You almost just have to do it because you can, right? But I digress, I tried on a pair of high waist jeans and walked out of the dressing room truly feeling like I was walking on stilts. What the heck happened to my legs? Did they triple in length?!! I almost felt like I had to put my hands out for balance lest I tip over with my newfound stems. And I kid you not, a few other women in the dressing room area slowly crept up behind me. "Excuse me, where did you find those jeans?", "I need those", "Can someone find them in my size?" I know.
What is it with this cut???
They are sort of…..magical…..
They are, however, not necessarily an every day jean because to get the full effect, you really need to wear them with wedges or mules. I had mine hemmed a bit and can only wear them with a few inches under my soles. Not gonna happen with kids, but now specially reserved for date night/girl's night out type of thing.
Here are a few ways to style/wear high waist jeans since they do take a bit more thought than your average denim.
One. Casual t-shirt with front tuck.
Burnt out daisy floral // Pilcro High Waisted Flares // Splendid Wedges // Hat // Necklace (sold out), but love this // long chain
Two. Blousy top. Full tuck.
Top (old anthro), similar here // Pilcro High Waisted Flares // Splendid Wedges
Three. Tie it up.
Gap Chambray // Pilcro High Waisted Flares // Splendid Wedges
Four. Lacy Overlay.
Top (old anthro, sold out I think) but this will work with bottom layer tucked in, or this is amazing // Pilcro High Waisted Flares // Splendid Wedges
Five. Belt it.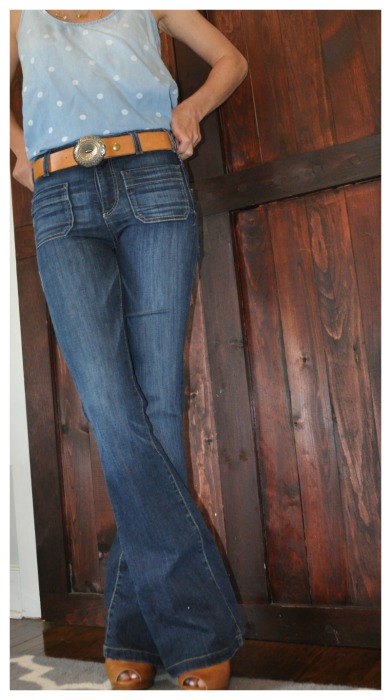 Chambray scoop tank // belt (my grandfathers:)) // Pilcro High Waisted Flares // Splendid Wedges
Six. Crop top (sort of). Despite the fact that they are "in", I'm not going there. Here is my take:
Foil Dot Graphic tee (on sale!) // Pilcro High Waisted Flares  //  Splendid Wedges
And the recap:
Your turn! Build your own outfit here. Grab one of each and you are set.
The High Waist Flares:


The Top:


The Shoes:


Finishing Touches: