How to pack a bag? Hmm. When it comes to packing, I'm kind of useless. I've attempted making lists of outfit ideas in advance of the actual practice of packing, I've tried saving photos of some vacation ensembles to replicate and of course, I've resorted to the tried and true method of dismantling every drawer and closet to compile my favorite staples in an overwhelming heap on the floor. Ultimately I end up with a little headache and a lot clothes that don't make sense for a quick getaway.
I'm such a packing procrastinator in fact that I told Lindsey I would write this post in March, and here we are in May just trying to salvage some decent advice.
Since carrying a suitcase heavier than your own body mass will never make for easy travel and (as hard as I may try) packing in the form of wearing everything on my person is just horribly uncomfortable, I've attempted to compile a list of a few suitcase essentials for quick more popular Memorial Day destinations.
I once read that the best way to simplify your packing is by sticking to one color scheme – this will make mixing and matching your goods a lot easier and still allow you to change things up with fun accessories. Blue and white is my favorite summer combo and so I'm giving it a go and stocking these three bags with just those basics. Here is how I would pack a bag for the following scenarios:
The Lake
Every year I make a summer bucket list and every year it undoubtedly includes "sit on a floating dock." The first year I added it to the list my husband laughed because, well, I guess maybe sitting on a floating dock shouldn't be bucket list worthy. But it is, and sometimes doesn't it feel good to just write something super obtainable on your to-do list? Give me a dock on a lake and an ice cream sandwich and I'm a happy girl. Throw in a rope swing and it's pretty much the greatest getaway of all time. Comfort is key for the lake so I'm (hypothetically) packing a few tomboyish staples like a chambray top with sturdy shorts, a light jacket or sweater for cool nights, flats fit for an impromptu kickball game, a cute hat and overalls (gasp, I know, overalls, but they're cute trust me).
One Piece (runs large) // Ribbed Cami // Akumal Fringed Hoodie // Belted Chino Shorts // Chambray Sleeveless Shirt //1969 Denim Jacket
// Whale Logo Baseball Hat // Conversational Pouch
The Beach
The beach is probably the least challenging packing scenario for me. I try to keep things light and crisp and remember that I will most likely have to combat sunburn and/or funky first tan lines. I always go into the weekend with visions of styled hair (until Lindsey's recent advice) and great accessories but after a day in the sun it's impressive if I can change out of my cover-up for happy hour let alone use a hot tool on my locks. This season I'm attempting to be a little more realistic in my packing plans and include items that will travel without wrinkle and be gentle on my skin after a day in the sun.


Linen V-Neck Pocket Tee ( or if you want something a little fancier ) //
Denim Shorts // Mosiac Square Scarf  // Twisted Leather Belt // Knotted Maxi Dress //Tesoro Layered Necklace //Panama Hat
The City
If I'm planning on spending time in the city over a holiday weekend I want to look put together but still be comfortable enough to walk twelve blocks in a sea of people with no issues, because sitting in traffic is just not worth that increasing cab meter. The perfect outfit is going to take me from morning sites to afternoon bites without much fuss. A loose top matched with funky flats or a breezy skirt paired with a structured top should do the trick.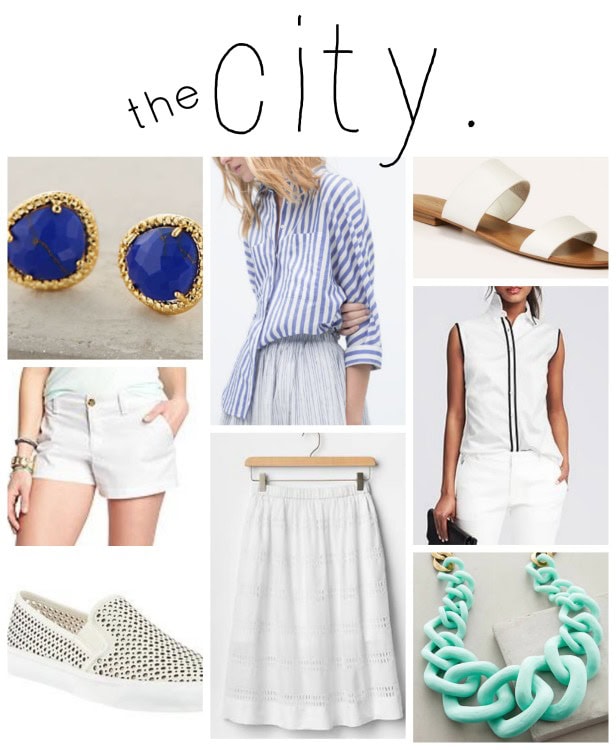 Striped Shirt with Kimono Sleeves // Stretch Twill Shorts
Crescendo Link Necklace // Brena Slip-on Sneaker //
Eyelet-stripe Full Skirt  // Fitted Non-Iron Piped Sleeveless Shirt //
Banded Sandal  // Ultramarine Posts
Also, these were too cute not to share (See. I'm even virtually over packing) – Navy Espadrilles (or the similar, much cheaper but probably not as durable version)
Happy Memorial Day!