There's just something about dads that make them so cool. So cool that we feel the need to slow clap and stomp our left foot and chant: "Da-ddy! Da-ddy! Da-ddy!" when our dad walks in the door from work each day. And I have a feeling mommy gets a little irked, you know, since she is the one who made us dinner and everything (sigh), but dads are just SO cool. Wanna know why?
10. They can reach really high things. Things that even mommy can't reach.
9. They like eating those orange peanut butter crackers for breakfast, too.
8. They let us get the bathroom as soaking wet as we want when we take a bath and we don't even have to wipe it up when we are done.
7. And it gets better – when we make a mess with our toys, daddy doesn't make us clean it up before we begin our next activity. Cleaning up once at the end of they day is a-okay with dad and its a-okay with us too!
6. If we are too tired we don't have to brush our teeth – we just can't tell mom.
5. He knows EVERYTHING! Like who won the world series in 1981 and that there's a game on at 7 pretty much every night. I know….!!!
4. Don't tell mom, but he is a waaaay better pitcher than she is. Oh, and not really related, but when he let's us watch a half an hour of tv, it seems so much longer than when mommy let's us watch a half an hour of tv!
3. He does really funny voices when we read books and gets us all crazy and stuff right before bedtime. It's pretty awesome.
2. When he makes us chocolate milk, (insert devilish laugh), he puts in like A MILLION scoops of chocolate!!!! He always takes a sip too, but it's ok. It is so so good that I let him.
1. He LOVES to play with us. I can tell. And that's our favorite thing of all.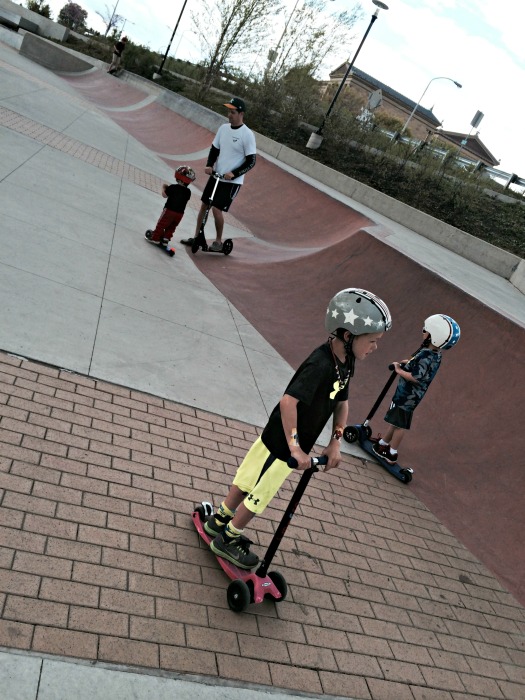 And sometimes we even let Mom in on the fun.
So if you are wondering what you should get your dad for Father's Day, you should get him this grown up toy so he can play with you even more.
~~~~~
And true story, when my kids got their first Micro Kickboards a few years ago, my husband said, "Man, wouldn't it be awesome if they made these things for adults?!" Well, honey, dreams do come true.
Happy Father's Day to the best playmates out there.
Thank you to Micro Kickboard for our amazing scooters. More than being fun, smooth, sleek, and awesome – you've given us memories, and what more can we ask for?