Oh my goodness with after school madness! Yes, I only have one kid in sports right now (but he is playing two) and all of you veteran parents with multiple kids involved in after school activities are nodding your head saying "Uh huh, uh huh, uh huh", before I even open my mouth to tell you all that it is MADNESS! Madness I tell you. And like I said, I only have one kid in the thick of it. We are at that point when a 5:30 practice means a 4:45 "dinner" and when the kid doesn't get off the bus until 4 it means that this girl needs to have dinner made ahead of time… or something. Obviously I am still feeling my way through this new, but very permanent stage of life. With that being said, I thought we could all benefit from a make ahead meal that is a favorite in my family – my mom's recipe of course. Take my advice and double it.
Make Ahead Sausage and Peppers
Start by preheating the oven to 350. Put sausage links in a dish with a little water covering the bottom and bake sausage for 20-30 minutes until almost fully cooked. (Turn over half way).
While the sausage is cooking chop the veggies: onion, red pepper and mushrooms (optional).
*Time saver tip: buy the frozen peppers and onions from Traders Joes!
Saute the veggies until onion is translucent.
Remove sausage from the oven and slice into pieces. If it is still slightly pink in the middle, that's okay! You will sauté it more in the next step.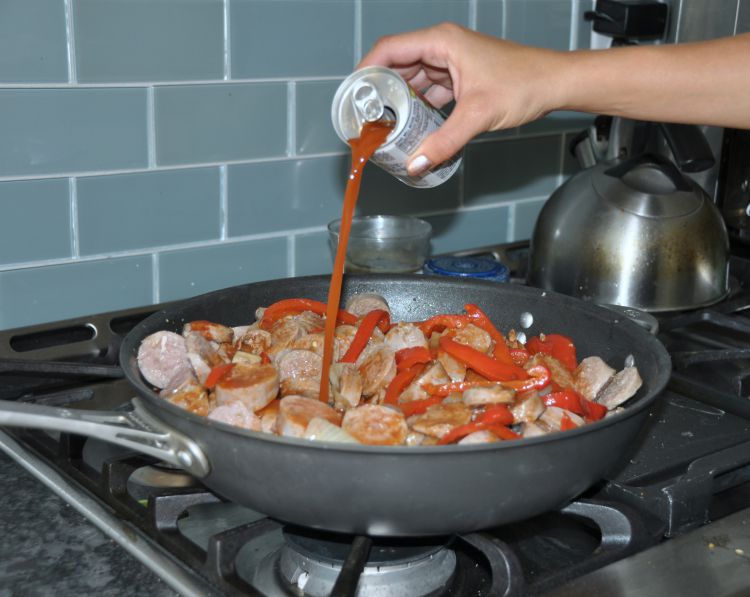 Add the sausage to the vegetable mixture and add one can of V8 juice and some tomato paste (optional) for a thicker sauce. When I was reviewing the recipe with my mom she said that she sometime uses Rao's Homemade Marinara Sauce in place of V8 – both delicious, just preference.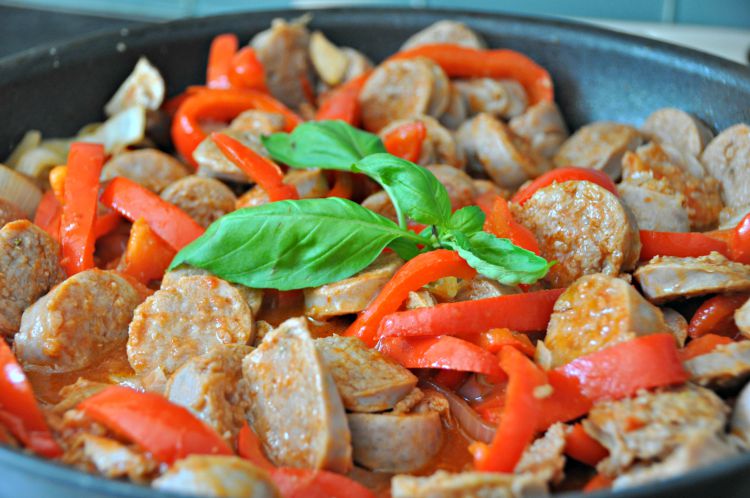 Continue to stir the mixture until sausage is fully cooked.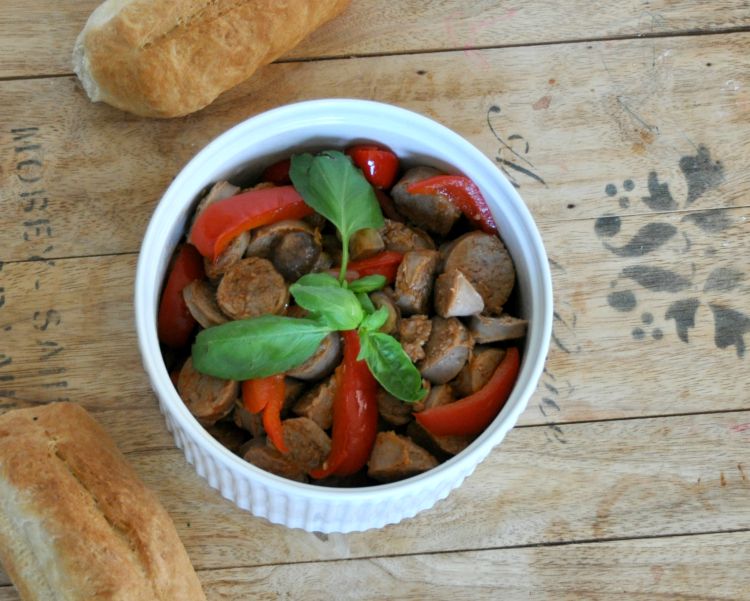 Serve with rolls to make a sandwich, or my favorite way – straight out of a bowl with some parmesan cheese on top.
Make Ahead Sausage and Peppers
Prep time:
Cook time:
Total time:
Ingredients
1 pound sweet Italian or turkey sausage
2 red peppers sliced
1 yellow onion sliced
small container of mushrooms chopped
1 can V8 juice (or marinara sauce)
1 tbsp tomato paste (only if using V8)
Italian rolls and parmesan cheese for serving
Instructions
Preheat oven to 350.
Bake sausage in a casserole dish with water covering the bottom of pan (about 20-30 minutes until mostly cooked). Flip sausage over half way.
Heat olive oil in a large pot then saute peppers, onions, and mushrooms until softened.
Remove sausage from oven and slice into bite size pieces.
Add sausage to vegetable mixture and add one can of V8 juice (or marinara sauce).
Add tomato paste (only if using V8 and desire a thicker sauce).
Stir the mixture and saute untl sausage is fully cooked.
Serve with Italian rolls or in a bowl with parmesan cheese.
Enjoy! (And tell me your secrets for keeping it all together!)