Ahh apple crisp. One of my all time favorite desserts. I thought I'd share this quick and easy apple crisp recipe in case you are in charge of dessert for any upcoming holiday get togethers.
 My grandmother, who is 94 years old, passed this recipe down and it is something that will always remind me of her. She always has one glass of wine with dinner, and always, always, has dessert.  She lives the motto "everything in moderation" and as she reaches her century old status, she has made me a believer. Say yes to the gym, but also say yes to the dessert menu.
So. You did the obligatory apple picking adventure…
You got them apples….
And now all you need to do is slice them,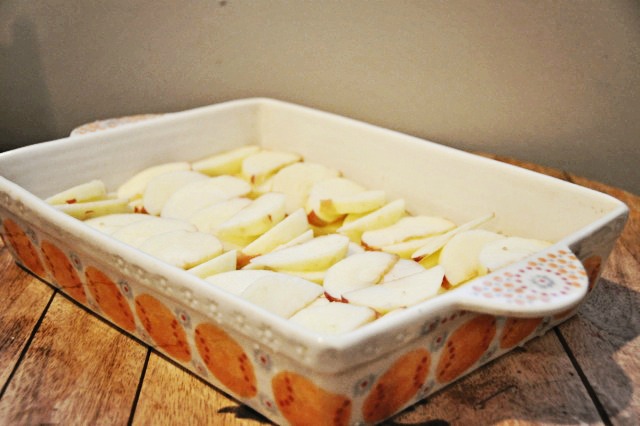 smother them with the delicious (and totally calorie-free;)) topping,
And then bake to perfection.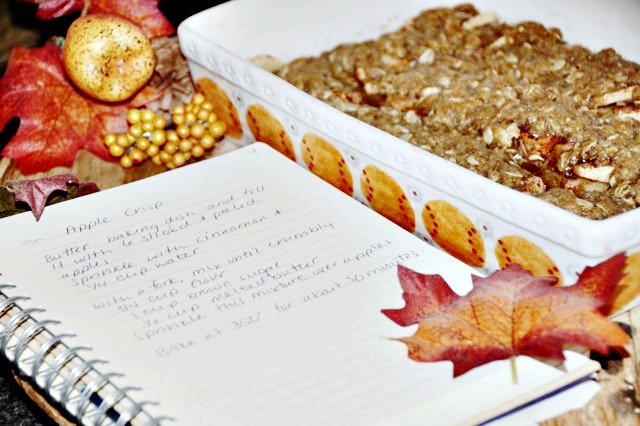 Really. That's it. And your house will smell like the coziest, warmest, apple-iest explosion in the whole entire world. Break out the vanilla bean and try not to eat the whole thing yourself. Remember, everything in moderation 😉
Easy Apple Crisp (My Grandmother's Recipe)
Prep time:
Cook time:
Total time:
Ingredients
5-6 apples sliced and peeled
1/4 cup water
cinnamon
3/4 cup flour
1/4 cup rolled oats (not quick oats)
1 cup brown sugar
1/2 cup melted butter
Instructions
Preheat oven to 350.
Butter baking dish and layer apples in rows.
Sprinkle apples with cinnamon to your liking.
Pour 1/4 cup water over apples.
With a fork, mix flour, oats, brown sugar, and melted butter.
Spoon mixture evenly over apples.
Bake for about 30 minutes.
What are your favorite fall desserts?
And I know someone will ask about the baking dish… sad to say it is old from Anthropologie, but this one is similar and makes a GREAT gift. You can add to cart now and pull the trigger on Black Friday 😉
Speaking of Black Friday – I've been keeping tabs on all the sales that have already started. You can see them all in one spot RIGHT HERE….. some are very, very good. I will post all others late Thursday/Early Friday so be sure to check back for your one stop shop for everything going on on the web.
Happy Thanksgiving to all and if you end up making this easy apple crisp recipe, I'd love to hear what you think? And ok, you got me, I lied. My husband and I ate the entire thing (over 2 days) but sometimes it's okay to forget about moderation, right? Especially tomorrow.