Ok I don't think you are supposed to end a title or a sentence in "for" but there really is no other way to describe this type of person! Everyone has one of these people on their list. People who are impossible to shop for because either they either a) seem like they already have everything or b) they are just plain picky. I have someone who falls into both categories and she may or may not be my own mother 😉 And so, sometimes gift giving can get tricky. A safe bet is always consumables (wine, cheese, fancy sauces, or biscotti flown in from the best bakery in New York etc..) But after looking at Minted's website, I came across some gifts that are perfect for these hard-to-shop-for people. They are meaningful, beautiful, and things that you wouldn't typically buy for yourself. To me, if you can nail those three categories, than you've given a pretty good gift 🙂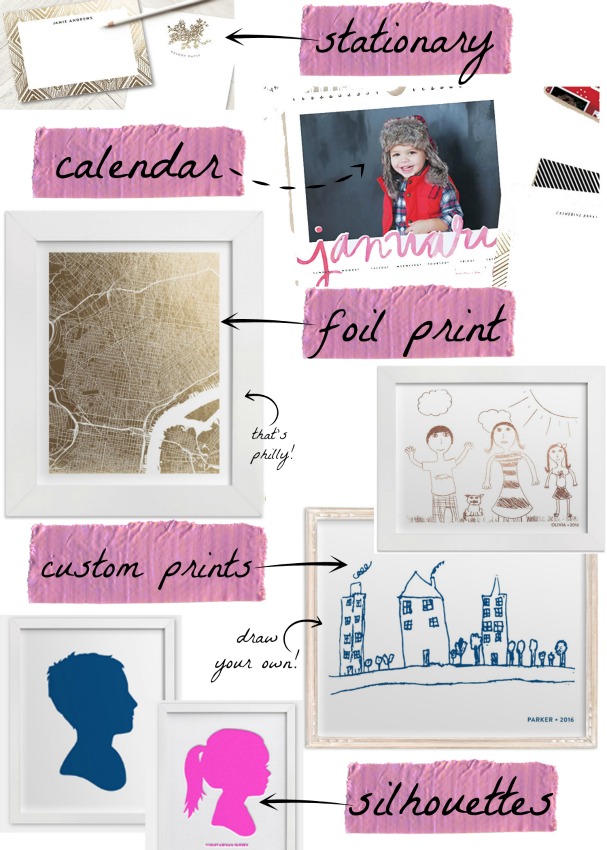 Stationary // A beautiful personalized gift! And long live the handwritten note.
Calendar // The perfect way to brighten someone's morning – they'll think of you ALL year. Literally.
Foil Prints // I went this route for my husband last year. Check out more options here and splurge for the frame. You'll thank yourself when you see the lines at Home Goods 3 days before Christmas because you forgot (me last year).
Custom Prints // These make me so happy! Bust out your kids' sweet drawings  that you've saved and make a permanent home on the wall. You can't not smile when looking at this handmade goodness.
Silhouettes // Your kids, your dog, yourSELF! These are perfection and the color options are too.
Oh, and all of these gifts are now 25% off with code: CM2015
And bonus, you can still get 20% your holiday cards (see my favorites here) with FREE recipient addressing. (mine just came in the mail and they are, well, you'll just have to wait and see!!)
Thank you to Minted for asking me to take a look at their gifts and sharing a few of my favorites! And to my readers, thank you for supporting the retailers that believe in this blog 🙂