Alright friends, break out that rolodex of babysitters because it's time to gear up for holiday party season. What to bring? What to make? What to WEAR?!!!!!! The latter being the main thing that stresses people out according to a study conducted by me and my one friend. Although our subjects were limited, we concluded there is at least a 50% chance that someone else might be struggling over outfit selection and hence determined it warranted a blog post. So here's how it went down. I emailed a few of my sisters and  Kaytlynn (my second cousin by marriage who happens to be terribly fashionably chic) and asked if they could help me out. You know, each come up with a holiday outfit, meet in a festive location, do a photoshoot, and pretend for 5 minutes that we are on the set of Sex and the City. Oh and drink champagne. These little gatherings always include champagne (for 3/4th of us at least… oh pregnancy, womp.) Kidding!
Abby, who is a buyer for my favorite store, came up with a mood board for each look in, oh, about 3 minutes and 52 seconds, because just she has an eye for "looks" like that.
So with her inspiration in mind, we came up with a new take on some holiday party outfits.
We'll start with the designated driver.
That's me;) Because I'm probably the only one who is going to remember what anyone looked like by the end of the night anyway!
Statement Pants + Simple Flowy Top + Pop Color Clutch
Being that I am currently in that is-she-pregnant-or-too-much-beer phase of my life, I went for a flowy oversized blouse paired with more of an edgy pant , leather (vegan) of course, and a fun neutral shoe, with a pop of color in my bag.
Wearing:
Top // Pants (these are also amazing) // Bag (old Hobo) similar here // Shoes (old Rachel Comey) similar here and slightly different look but love these // Necklace

High Rise Cropped Flares + Simple Top + Fun Shoes
Next up is Abby. She opted for a causal vibe dressing up some denim with a simple off the shoulder black top and fun accessories. This look can be intimidating because when people hear "high rise" they think "mom jean"…. I'll let you be the judge of that.
And her shoes are vintage Versace (I believe she bought them at a consignment shop) but I linked some fun options below.
If you aren't ready to shimmy the shoulders (or it's just plain freezing out), here is another way to rock the denim. Turtleneck, military jacket, hat, mules.
Wearing:
Top // Jeans // Shoes (old) but these are great // Scarf (old) similar here 
Look 2: Shirt // Jacket (old) // Shoes (old) similar here // Hat

Printed Dress + Booties + Cape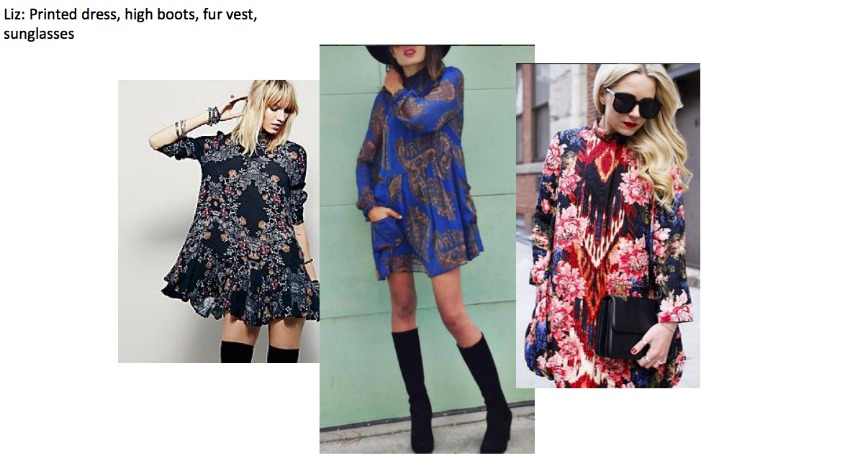 Liz's look is a cinch to replicate. Perfect for a mom who needs to throw something on quickly before running out the door! A dress, booties, cape/jacket. And done. That's the best part about dresses – you can throw anything on top from a jean jacket, to a military jacket, to a furry vest to a cape and look styled and finished.
And because we love when we can wear the same thing two ways, grab your coziest oversized sweater and wear it over a dress, swap the booties out for boots and you have a more casual look.
Wearing:
Dress // Boots // Jacket (old) similar here and here on super sale!
Look 2: Sweater (old) similar here // Boots 

Statement Skirt (many ways)
And then, there's Katylynn's look. Actually the skirt she is wearing inspired this whole post. When I saw it on J.Crew's website, I knew it needed to be in this post. Kayt already had it – of course, and when you wear a skirt like this, it doesn't need much else. It also comes in a longer length and it is equally as stunning. There is SO much you can do with a leather skirt so we created a few options.
It doesn't get more modern day chic than this. The skirt does all the talking so if you have a white button down or even a white turtleneck (for all my fellow turtleneck lovers out there), add some color with a festive scarf, simple pumps and you are done.
If you want to go for a more laid back look – aka a party where your boss won't be there, pairing it with a fun graphic tee and a plaid coat (warmth factor) is another option.
Wearing:
Top // Skirt // Scarf (save version here) // Shoes // Clutch (0ld) similar here
Look 2: Graphic tee (sold out) but this is festive and this is hilarious(!!) // Jacket // Shoes (old) similar here and save version here

And I loved that last look on the mood board too much to not recreate. Do not fear the mini skirt people! Want to know how to wear a leather mini skirt AND over the knee boots and not feel like a….rhymes-with-schmooker? Here's how:
It's all about layering. This is the same shirt I was wearing with the leather pants for length, plus a cozy turtleneck and, heck, throw on a beanie for an even more casual effect.
Wearing:
Skirt // Shirt// Sweater // Socks // Boots // Beanie

Hopefully this provided some holiday party inspiration! Which look is your favorite?
Huge thank you to Besito for letting us shoot outside of your restaurant! Locals, check it out if you haven't already. So good. And make your reservation days in advance. Another shout out to my sisters and Kaytlynn for their fashion expertise and modeling capabilities – biggest smiles were courtesy of Abby's Dennis Rodman jokes – but we'll save them for the actual party 😉
Happy Holidays everyone!!