For those who don't know, I was a 4th/5th grade teacher for many years before deciding to stay home with my kids. If there is one thing I took away from my teaching career, it's that the key to reaching kids is making the material relevant so that it fits into the context of their individual worlds, AND, to make it fun. Simple enough, right? But as a mom, I quickly discovered that I was a pretty awful teacher. Sitting at the table with my kids trying to teach them colors or letters or do workbook pages = total nightmare. My "students" don't listen. They get frustrated. They squirm. And it always ends badly. But I was a teacher. A TEACHER! I should be good at this right? But then I remembered – make it relevant, make it fun. And for any young child, sitting at a table doing flashcards isn't really relevant to their daily life. What is relevant is play. When Kate from Discovery Toys reached out and asked me to take a look at her educationally based toys, I knew that this was going to be my answer. Learning through play is one of the most powerful ways to reach a child.
This Giant Pegboard teaches various math concepts from counting to patterns, to basic geometry with shapes. I especially love this toy because all of my kids (ages 2, 4 and 6) could benefit from it. Not pictured, but if you flip the board over, kids can use rubber bands to form various shapes and angles.
The Motor Works Toy was definitely a favorite (and also a best seller). My kids, who I deem to have THE shortest attention spans in the history of all kids, sat with this drill and assembled and disassembled various motor vehicles for an hour straight. I'm not sure they blinked. All the while, they were strengthening their fine motor skills, learning concepts such as "parts to whole", and using tons of thinking skills similar to the benefits of doing a puzzle. My only criticism of this toy is that it only comes with one drill (oh the fighting!) – but maybe you can buy extra???
The recommended age for this toy is 4 and up, but my 2 year old absolutely loved it. With a little help/practice, he was able to use the toys properly as well (yes, even despite the hair in his eyes).
And call me a "bad mom", but I can't stomach games like Candy Land or Chutes and Ladders, but this Totter Game is a game that I would definitely choose over the dishes (my excuse for avoiding the aforementioned). It's sort of like a pretty version of Jenga and introduces concepts such as balance and weight. You roll the die, and then each player takes turns stacking the logs on the frog trying to keep him from tottering over.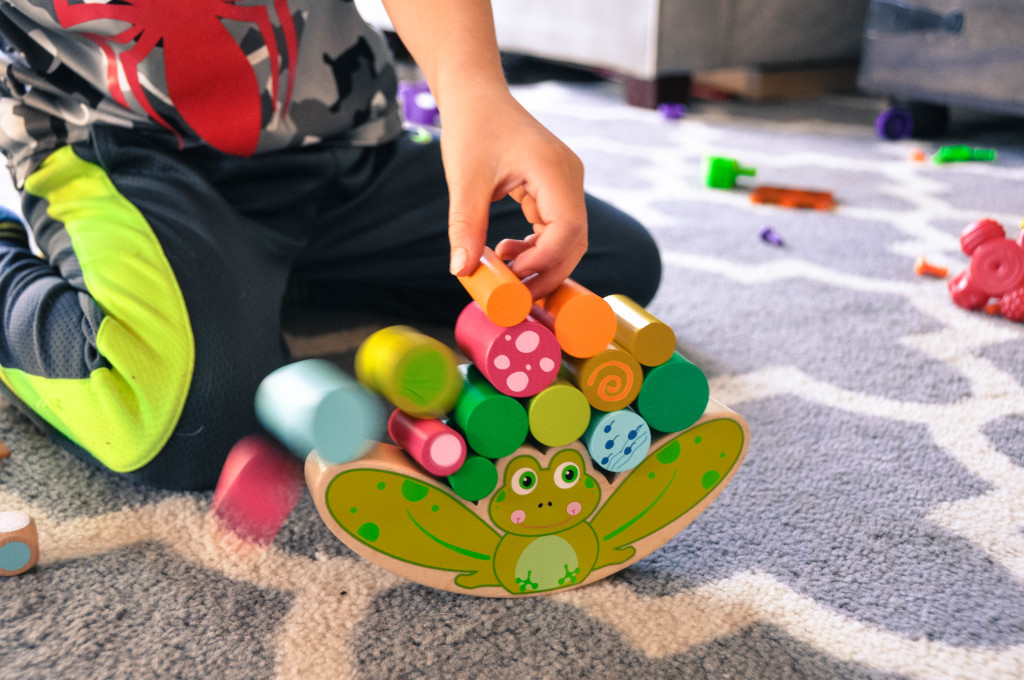 Clearly, I won 🙂
Double whammy is that this toy is all wood, BPA free (as are all Discovery Toy products – plus have a lifetime guarentee!), but it also looks really pretty on a bookshelf. What?!!! That is important to some people who have living rooms that double as playrooms!
Some more of my kids' favorites:
Sky Spin Deluxe – an outdoor fun toy that teaches aerodynamics (physics), force, trajectory, trial and error and hand/eye coordination
Mosaic Mysteries – a great quiet time activity where kids learn shapes, patterns, and develop spatial thinking
Stacking Owls – (another beautiful toy) that fosters the basics of building, and balance, and engineering.
I highly encourage you to take a look at the entire shop HERE, and wrap some up for the holiday season. They have gifts for all ages and also toys made especially for children with special needs and autism. You can take a look at those toys HERE.
Please feel free to reach out to Kate with any questions – she can help you order and help save a bit on shipping costs. Email her at: [email protected]
Hope everyone is having a great weekend!