Santa baby, just slip a crow bar under the tree, for me;
Our kitchen's awful outdated, Santa baby,
So let's draw up some blueprints tonight.
Santa baby, a spacious double vanity too, will do;
Take back the Tiffany's, dear; Santa baby,
And let's call up the builder tonight.
Think of all the years we've missed;
Thinking about new countertops, I can't resist;
Next year our house could be twice as good… if you check off my Christmas list da doom de do…
Oh, haha, pardon me. Just singing a little tune off the top of my head… because, YES, it will come to that point in your life where you look your significant other in the eyes, slowly walk your fingers across the table, grab your Christmas list (because you all write one, right?), and then tear it in half. You can do without the jewels. You will survive without cozy sherpa slippers. You will be okay, if Santa doesn't bring you that new designer handbag, well……. sort of okay. And then your husband does the same because what you truly want for Christmas is to make your home the special place you've always dreamed of. If you ask me, there is nothing wrong with making some home renovations for the holidays. An investment? Yes. But I can tell you from experience that it is best to make your home a space that you enjoy by doing those updates now, instead of waiting until you are ready to sell and letting someone else enjoy the money you've spent to make your home more special.
I've teamed up with Duddy Construction to show you how some of their loyal customers have shredded their lists and focused on their home for the holidays.
The following are images from recent projects and heartfelt words happy homeowners.
Kitchen/Office Renovation:
Comfort and Joy! Our beautiful and spacious addition has already been the scene of a Thanksgiving feast. I'm delighted with both the look and functionality as I finally have the space, the flow, the light and the storage to cook happily in my home. Heaps of high praise from all of our visitors who envied the overall design, the chic powder room, my sunny office and of course the kitchen comfort. Patrick and his team may make me a happy homemaker after all. Their work was perfect."
Having settled in to our new addition I happy to say it exceeds my expectations of home improvement. This project was our first major construction and we're delighted with how beautifully the new rooms, both from an exterior and interior view, integrate with our 1920's bungalow. The workmanship is precise and the comfort exceptional. We'll be giving thanks and making merry over the holidays as we now have the room and the modernity our old house so needed."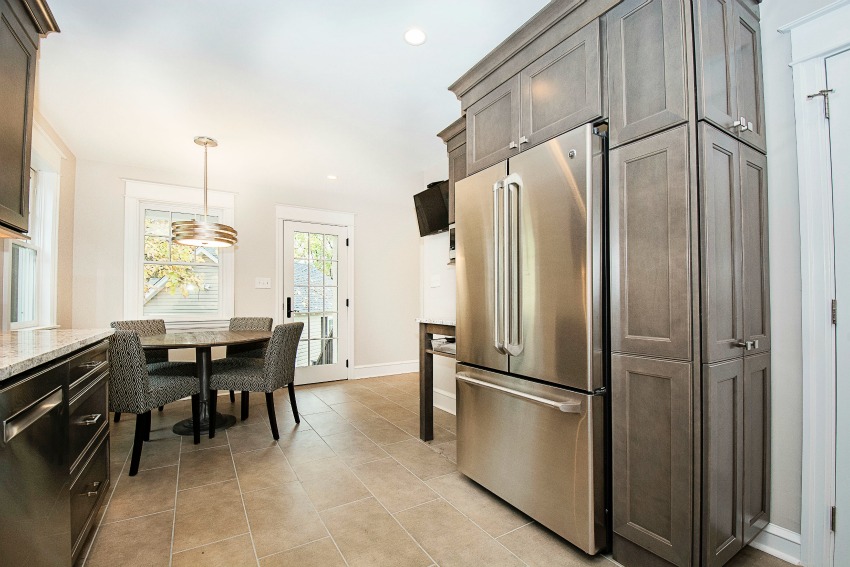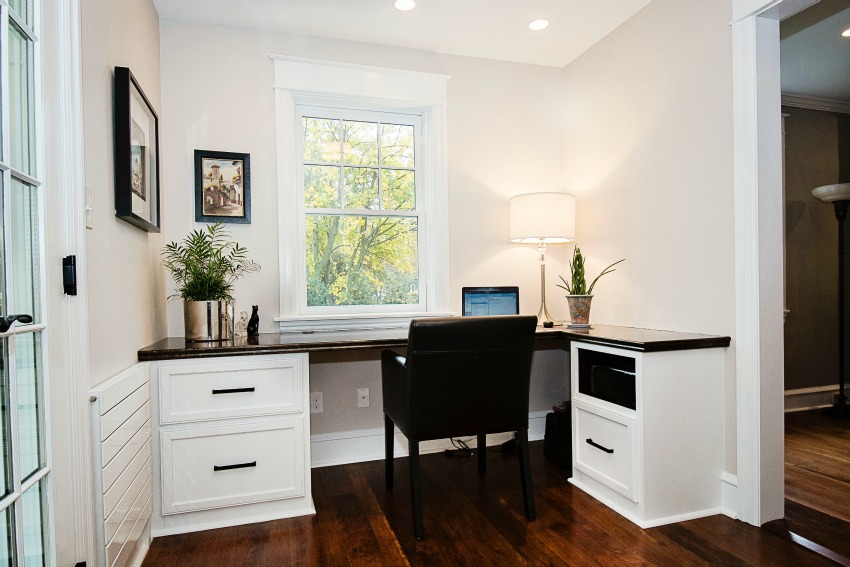 More photos of this renovation HERE.
Kitchen Renovation:
We're certainly in the group that is delighted with our new kitchen! It's such a pleasure when people are over for dinner to work on the meal while being able to chat with wine-sipping, hor d'oeuvres munching guests who are seated at the peninsula. When we do switch over to the dining room table, the room seems so much more open and larger than it felt before.
The built in microwave gives us so much more space, compared to the counter top unit we've always had in the past. The gas cook top and built in wall oven give the kitchen such a clean look. We've gotten lots of enthusiastic compliments, usually including, 'This is what we want!!!!'
…..And on a day to day basis, just coming down to make coffee and read the paper, it is such a pleasure to be in such an attractive, functional space.
And of course, we remain impressed by the many skills of Patrick and his crew of craftsmen who made it all possible.
More photos of this renovation HERE. 
Garage to Living Space Transformation:
Our recent Duddy Construction project was a true transformation… from dingy unused garage to a peaceful family room. The project made great use out of space which is key in an old house like ours- and the custom built-in is fabulous!"
More photos of this renovation HERE.
Master Bathroom Renovation:
And this project speaks for itself. The bathroom we all dream of – double vanity with clean, fresh colors; modern and bright design and decor – and the claw foot tub? Well, now we're just rubbing it in 😉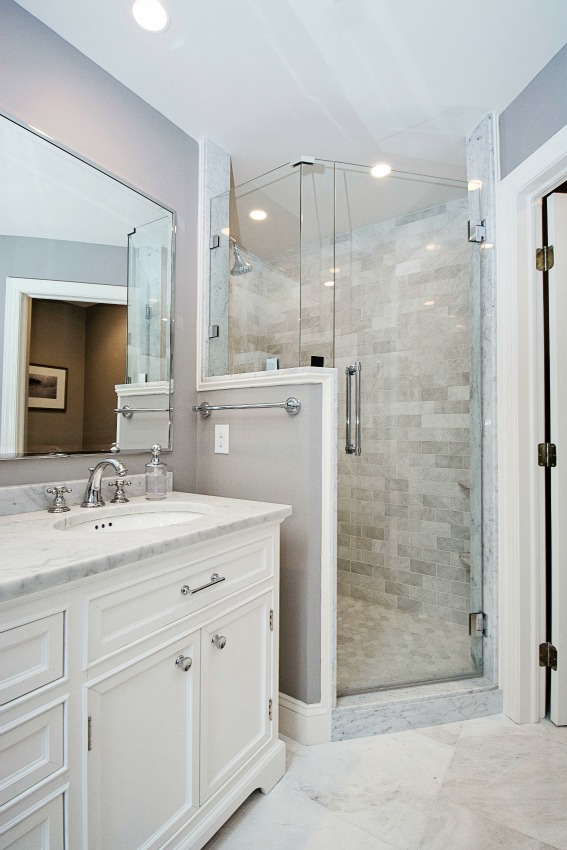 More photos of this renovation HERE.
ohhhh…
Santa cutie, fill my stocking with a check… for the project!
We'll sign our name on the line Santa baby,
So hurry down the chimney tooooniiiiiiight!
And that is all, really, I promise.
What is on your "home for the holiday's" wish list? Spill it. Santa is always listening 😉
This post was sponsored by Duddy Construction. All opinions and pleas to Santa Baby, are my own. Thank you for supporting the businesses that believe in this blog.