Here at the Motherchic, I am all about e-a-s-y. Easy dinners, easy kids (ha), easy outfits – because who has time to think about what we are going to wear in the morning when are kids are awake and need things? Need lots of things. And the "easiness" of the two aforementioned items is, well, it's questionable at times. But easy outfits? That is one thing we CAN control. One of my blogging goals for 2016 is to deliver you all some effortless outfit formulas that require no thinking – accessible fashion that you can throw on and go, but still feel good about yourself. I'll also do my best to find options at all price points because cost shouldn't limit you from wearing a look that you love. Sound good?
Okay. Question for all of you: What is better than plaid?
Anyone? Anyone?
Ok fine I'll just tell you….
Answer: More plaid!!!
Plaid is back from the 90s and more popular than ever. In honor of this timeless trend, this first post is all about PLAID on PLAID – it's an unexpected combo that just works. And pinterest doesn't lie. Check out all of this plaid on plaid amazingness:
Now that we have the proof, let's take it for a road test.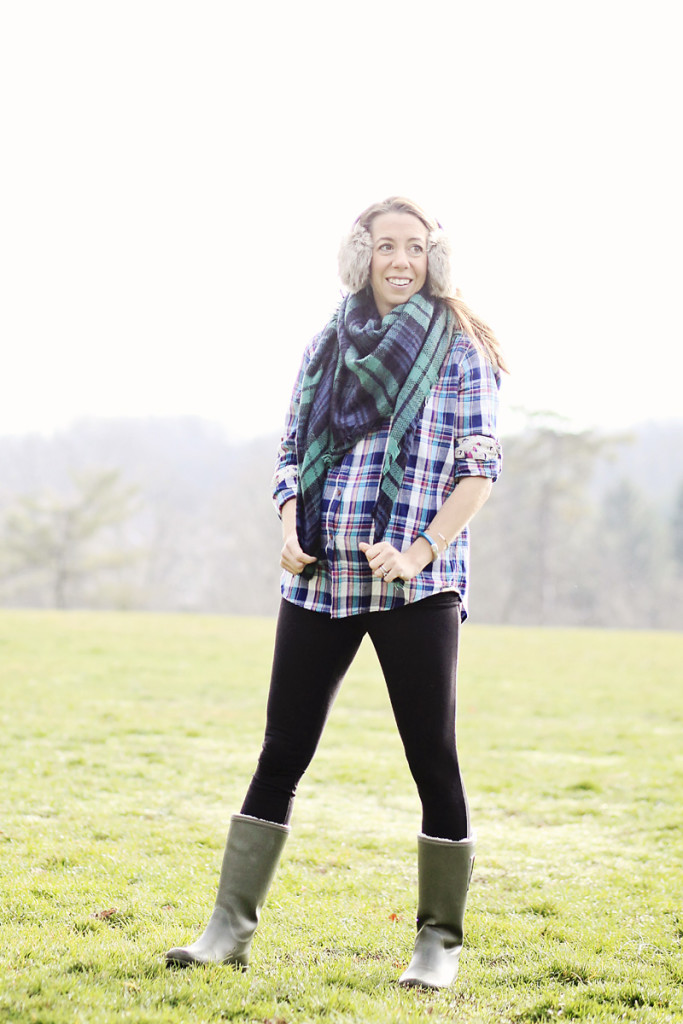 Is more plaid exactly what this leggings + rubber boots + button down combo needed (a combo that we all probably already own?) I think so.
It really doesn't get much easier than that, plus it's a fun way to add color to dreary winter days. Color therapy for the win!
And hey, if the kids can wear camo on camo, than even more justification that our blending of prints works too.
In other news, my sister's stroller started rolling down the hill while we were shooting. NO BABY in it – hence the laughing.
Wearing:
Shirt – Old. I stole it from my mom, but this or this (for a steal) are both similar and see below for tons of options
Scarf – Swirling Honey  (use code MOTHERCHIC20 to get 20% off your order!)
Leggings – Rune Maternity (they have an ankle zip and I'm obsessed)
Boots – Tretorn (fur lined!)
Ear Muffs – Jack Wills (on sale for $13.50!)

And this picture has nothing to do with plaid, but was too cute not to add. Well, now that I think of it, maybe it's just the proof that it's mom-friendly and playground approved. Muddy shoes that inevitably get all over your shirt when your kid NEEDS to be held – no problem. Plaid is the ultimate stain hider.
While this is a simple outfit formula, it can go wrong if you the plaids don't mesh well together. So what plaids are mesh-able, you ask? Ok, for example, I wouldn't pair a red buffalo plaid scarf with the pinks/blues/greens in the shirt I am wearing above. The plaids would compete with each other and you might get strange looks. A plaid on plaid that works is a a combo where it takes someone a minute to figure out "Hey, wait a minute! You are wearing 2 different plaids!". Completely lost? Here is a little cheat sheet to help: (items are clickable in case you love something you see!)
Here are some of my favorite plaids at all price points:
*sidenote: If you are questioning size, I typically size up with plaids. I like the oversized look which leaves room to play around with the half tuck and if wearing with leggings, a bigger size helps with butt coverage.
Budget Friendly (all under $30 – some as low as $14)

Mid-Price Range (under $55 – but mostly around $40):

Splurge:

Maternity:

And here are a few of my favorite plaid scarves (all under $25):

(If purchasing a scarf from the Swirling Honey Etsy shop, remember to use code: MOTHERCHIC20 to get 20% off your order. Offer is good through 3/31 – go ahead, tell your friends!)
Who is ready to try this out or share your style if you've already incorporated this combo into your lift? Follow me on instagram (@themotherchic) and let's see your plaid on plaid – use #motherchicSTYLE so I can find you and others can see some everyday style inspiration!
Happy (almost) Friday!
XO,
Lindsey