This week's installment of upping the wardrobe game is all about an accessory you never knew you needed until now (one that you can add to your wardrobe for as low as $14).
Meet the Skinny Scarf: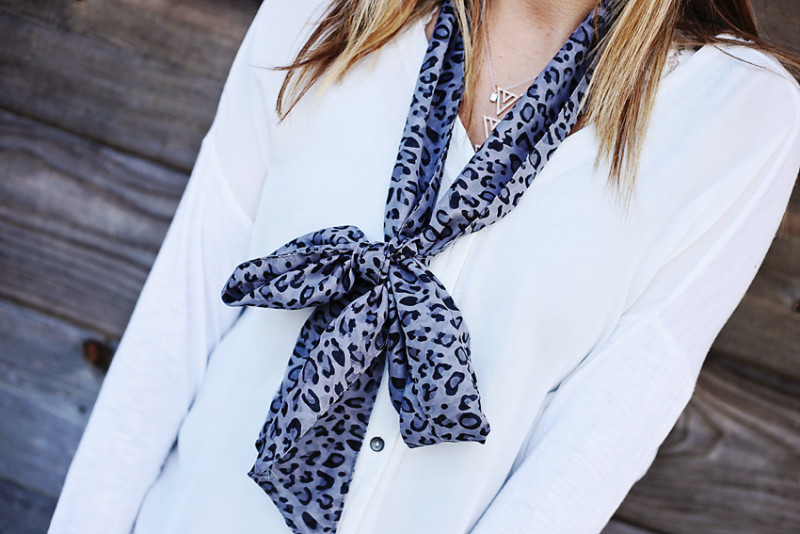 And I know. I know. You all just bought blanket scarves and are reveling in their cozy, cute, oversized comfort. And that's okay! They aren't going anywhere. The skinny scarf gives a slightly more urban/polished look and is a great alternative for people who think the blanket scarf is just too much material. Busty girls, claustrophobic girls, girls who still can't figure out how to tie those things…. the skinny scarf is for you! And for everyone else too.
Jeans + White Button Down Makeover
A simple "jeans and white button down" gets a whole new look when you add the skinny scarf. It adds a pop of color, a little neck interest, and completes the look with minimal effort. And as with the blanket scarf, you can tie this several ways.
Long and Loose
Long and Knotted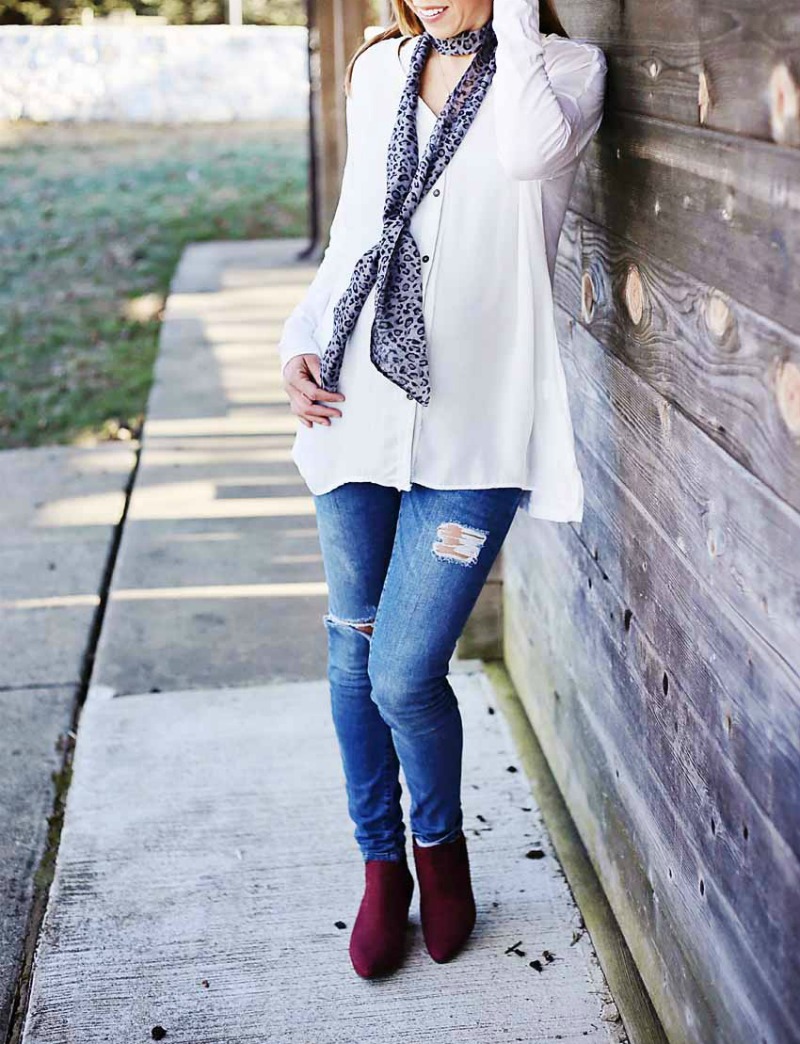 Bow Tied
And where are my working girls?? Swap the denim out for your favorite pair of black pants and now you've got a new outfit to add into the rotation.
Wearing:
Top (old, but this is similar and this one on sale for $25) // Jeans c/o Seraphine Maternity // Scarf // Shoes (old, but these are similar and these are not that similar but too amazing not to mention)
Pregnant mamas?? You are wondering about this shirt aren't you? Because, YES, there is a bump under there. Button downs can be so hard during pregnancy, but this one has been a savior. Sadly it's sold out, but here are some other great options. All non-maternity:

Sweater + Jeans + Boots Makeover
And now for a more casual weekend vibe. The skinny scarf can totally glam up an outfit as seen above, but it also works to give that added "urban chic" vibe.
And leave it to my sister – I asked her what would make a sweater and jeans more "interesting".
Her immediate response: top knot, sunglasses, skinny scarf.
Well, obviously 🙂
Let's try it. Take your basic "sweater boots jeans" outfit and add a neutral skinny scarf.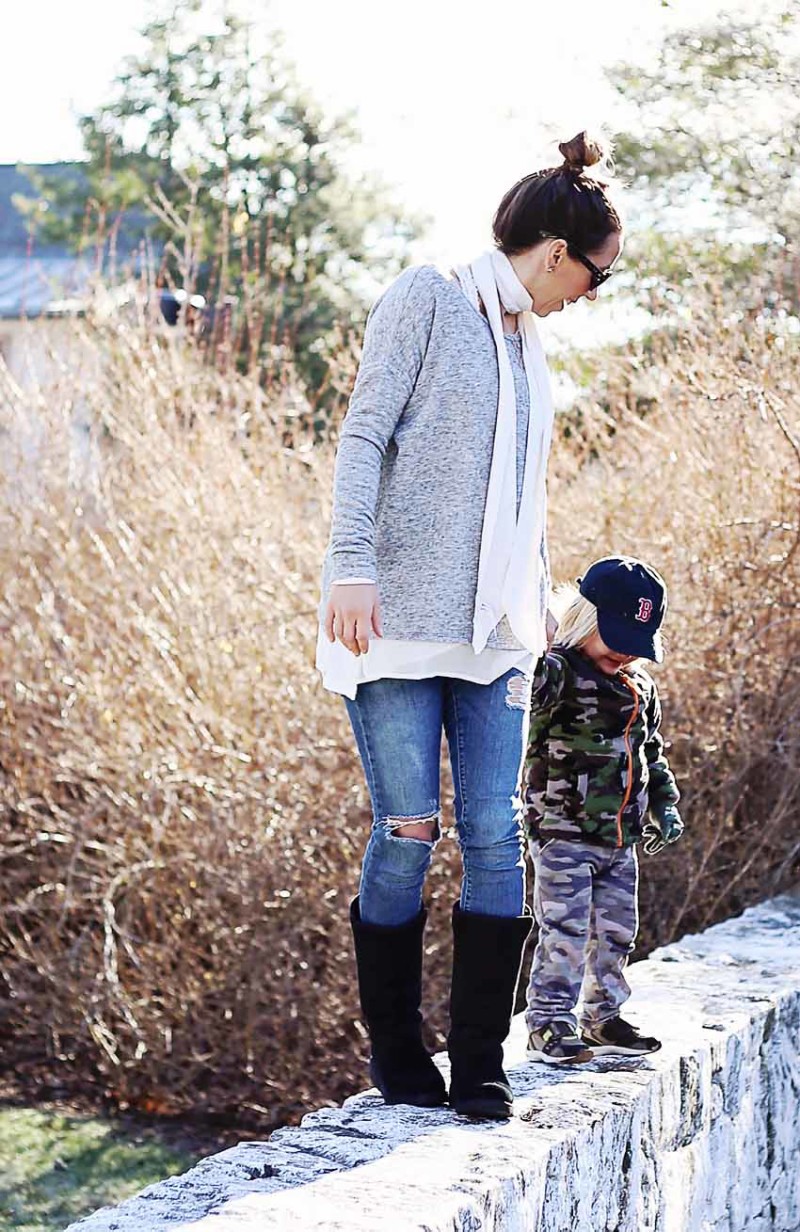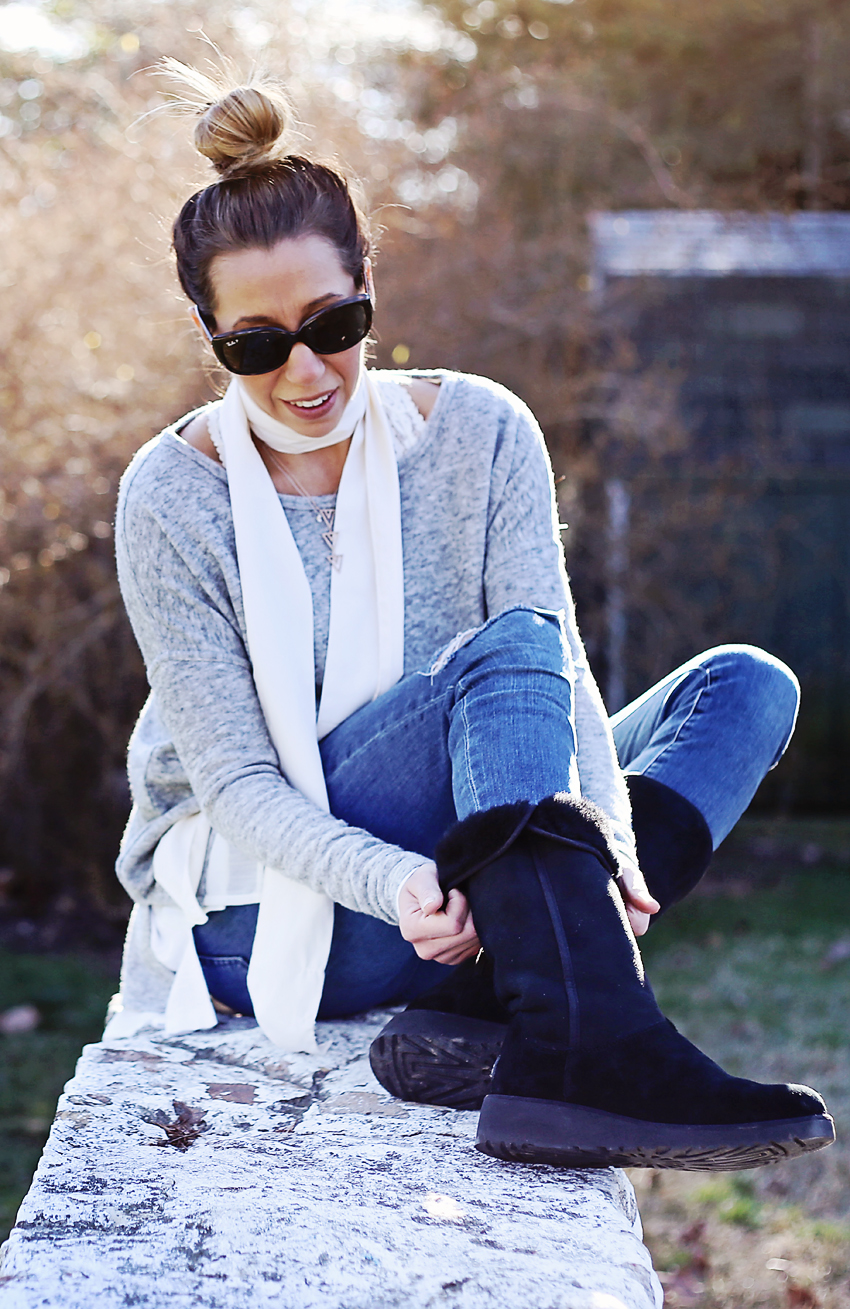 And can we pause a minute to talk about these boots. SLIM Uggs with a teeny tiny wedge that you can wear tall or roll the top to expose the fur. OBSESSED. It took me a day to get used to the snugger (more snug?) fit. I walked around my house in them for a day to make sure they would give and true to Ugg form, they stretch a bit and are keepers. I bought my normal Ugg size even though at first I thought they might be too small. And, they even added a little striped detail for the win.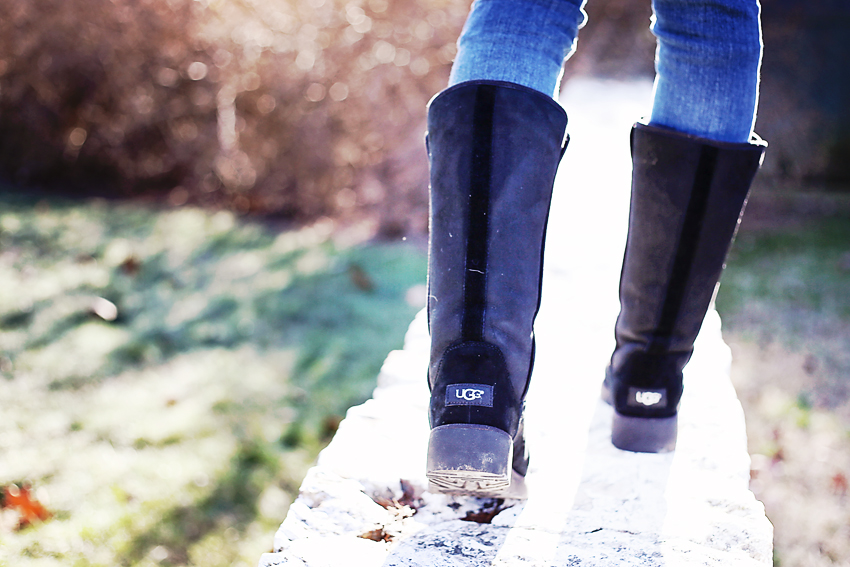 Ok back to skinny scarves.
What else can I say? They are easy, effortless, and fun.
Ok maybe not this much fun, but you feel me.
Wearing:
Sweater (on sale!) // Scarf // Sunglasses c/o Seraphine (maternity!) // Boots // Sunglasses
Shop the Skinny Scarf Here (then rock it like it's NBD):

Okay that's all I've got! Who is ready for snow?!!
xo,
Lindsey