In the mood for a high protein pasta dish that you can make in 15 minutes AND is kid friendly? We recently traveled to Florida and upon our return I always have groceries delivered to our house because the last thing you want to do after traveling (alone!) with 3 kids (and pregnant!) is to take all three of those kids to the supermarket, right? And you probably don't want to make dinner either, but then again….. motherhood. Yeah, mac and cheese would have sufficed, but honestly this is just as easy. It only requires 5 ingredients (plus salt if you are into that). When we were little my mom used to make us "noodles and cottage cheese". I know what you are thinking. Cottage cheese??!! But before you click out of this post I PROMISE you it is super yummy, your kids won't even know what it is, and you'll be thankful for that extra dose of protein disguised in egg noodle goodness. Because what is better than egg noodles? Not much. Here is a an updated version of one of my childhood favorites. A pasta dish with chicken and broccoli (and that special secret ingredient;))!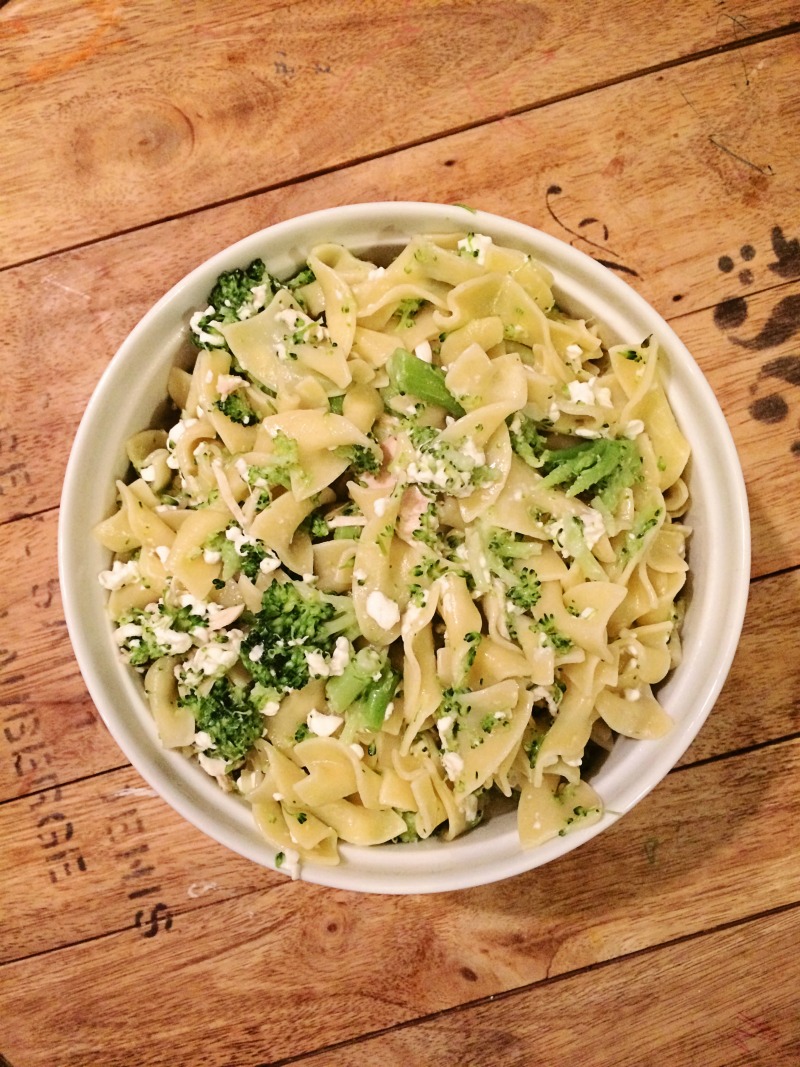 15 Minute Dinner: Pasta, Chicken, Broccoli
Prep time:
Cook time:
Total time:
Ingredients
1 Package egg noodles
2 heads of broccoli – stems removed (florets only)
1 16oz container cottage cheese (I used 4% Milkfat)
1 cup shredded chicken (I used a rotisserie chicken – you can add more/less to your liking)
2 tbsp butter
salt to taste
Instructions
Cook the egg noodles according to directions on package. Add the broccoli to the boiling pasta for the last 4 minutes.
Strain pasta and broccoli together.
Add 2 tbsp of butter to the empty pot and pour pasta/broccoli mixture over the butter. Mix gently until butter is melted.
Pour entire container of cottage cheese over the pasta. Mix thoroughly.
Add salt to taste.
Serve immediately.
So easy! Try it and let me know what you think!
Pin here for later: