As soon as the weather turns warmer my kids are outside playing at what seems like the crack of dawn. Anyone up for shooting basketball hoops at 7:30am? Sure. Why not? But rushing out of the house earlier means less time to get dressed……as if we had boatloads of time before;) And yes, throwing on running shorts and an oversized tee is always an option, but sometimes it feels good to appear "put together". Even if our teeth are only half brushed. Even if we have three days worth of dry shampoo built up on our strands. Even if (insert other semi-disgusting habit you've acquired since becoming a mom). In honor of faking it until we make it, I've put together a weekday's worth of foolproof, 30 second outfits that you can throw on on repeat all spring/summer long. Go ahead, share this with your friend, you know the one, who is always complaining that she has nothing to wear!
(products in above image are clickable)
Graphic Tee + Girlfriend Jeans + Military Jacket + Slides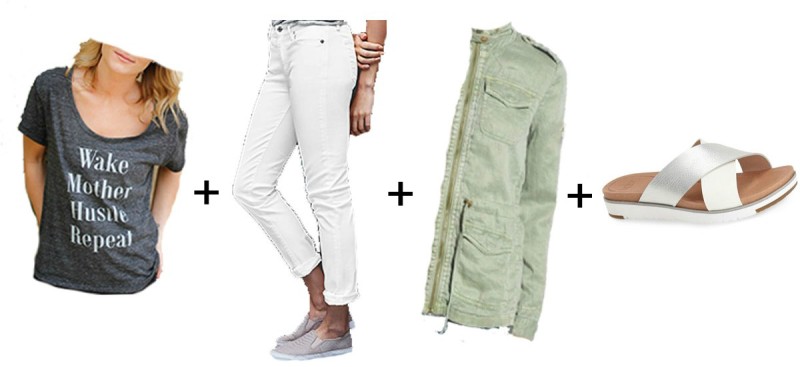 If you are going looser on the bottom half with girlfriend or boyfriend jeans, balance it out on the top with a fitted t-shirt. I am a sucker for graphic tees – especially happy, fun, tongue-in-cheek ones 🙂 Throw on a pair of slides (a.k.a an updated version of a flip flop – the ones pictured above are Uggs!) and add a military jacket or denim jacket for an extra layer. And yes, you CAN tie it around your waist.
get the look:

T-shirt Dress + Sneakers + Bold Watch
T-shirt dresses are just too easy (and most are super affordable too – the one pictured is $34). Make this basic piece look intentional with a playful watch and cute pair of kicks.
get the look:

Tucked Tee + Skinny Jeans + Lace Up Flat
Lace up flats (or espadrilles) are great because they are interesting enough to allow you too keep the rest of your outfit pretty basic. Do us all a favor and front tuck that tee for an instant-cool, effortless vibe.
get the look:

Oversized Button-Down + Ripped Jeans + Aviators
Nothing is more classic than a white button down with denim. Modernize this look by swapping "clean" denim with an edgier, distressed style, and polish it off with a killer pair of shades. Aviators are our favorite choice.
get the look:

Eye Catching Tee + Destroyed jeans + Strappy Sandals
The easiest way to amp up your look is to stock up on not-so-basic eye catching tees. Maybe it has an interesting neckline, or asymmetrical hemline? Either way, snag a few tees are are worthy of a double take. Keep the bottom half simple with your go-to skinnies and favorite sandals.
get the look:

What's your favorite 30 second outfit? More importantly, what are you skimping on so you can get out of the door in a hurry?
If you use one of these outfits as inspiration be sure to take pic and tag @themotherchic on Instagram so we can applaud your cuteness (even despite your half brushed teeth).
xo
Lindsey