Spring and summer is a great time of year to finally get around to those family portraits. I'm a big fan of outdoor photos, natural light, and lush, blooming backdrops…. oh, and the beach is nice too 😉 I had a reader ask for some suggestions for dressing the family for professional photos and I figured this would be a helpful post for all of you so I sort of went a little crazy. We've had our family portraits taken a few times and one of the hardest parts is trying to figure out what everyone is going to wear. Most times (because, like you, I'm an over scheduled busy mom) I wake up the morning of the shoot and scramble to throw something together. But I've learned over time that you need to have a plan IN ADVANCE! Professional photos are not cheap. Wearing a Paw Patrol shirt inside out because it's the only plain white tee your son has is not going to cut it. These are photos that will hang on your wall and make you smile every single day. Yes, the outfits matter.
Here are a few do's and don'ts for what to wear in a family photoshoot:
I asked my photographer, Alison Cornell, (who many of you have also inquired about! HERE is her instagram account with info on the best way to contact her for services) to give her best advice on dressing for a photo session. Here is what she had to say:
First and sooooo important, do not dress everyone in the same exact outfit. The reason you are most likely having your family photographed is to hold on to the memories that you are creating at this time in your life. Having said that, wear clothing that reflects just a bit of your personality but doesn't "steal the show" (you're not posing for a catalogue ad). It's always a great idea to settle in on a color family and then choose your accent color(s). Incorporate different shades of these colors throughout everyone's outfits. Mixing in patterns is a great way to keep the look casual and not too "matchy matchy". Clothing/fabric with texture (eyelet shirts, linen, denim, lace, etc.) photograph beautifully, especially if you are thinking of displaying these photos in black and white. Stay away from clothing with large logos, you're not getting paid to advertise for any brands. Accessories are a super quick way to add personality to everyone's look (scarf or statement necklace for mom, fun headbands for girls, even a cute hat for boys that can be taken on and off super quick to add variety, dad can simply roll up his sleeves to give him a more relaxed/everyday look).
To recap/illustrate…..
Don't…. dress everyone exactly the same way. Why? It's boring and unrealistic. Go for a cohesive look, not matchy-matchy. Below is a photo that my sisters and I took as a  60th birthday surprise for our mom. We went with shades of blue and strung white throughout.
Do….. choose colors that compliment each other and add dimension to the photograph. Mixing shades of a certain color or prints in the same color family are easy ways to add more interest. In the photo below I dressed my boys in three different shirts, but used navy as a common, unifying denominator.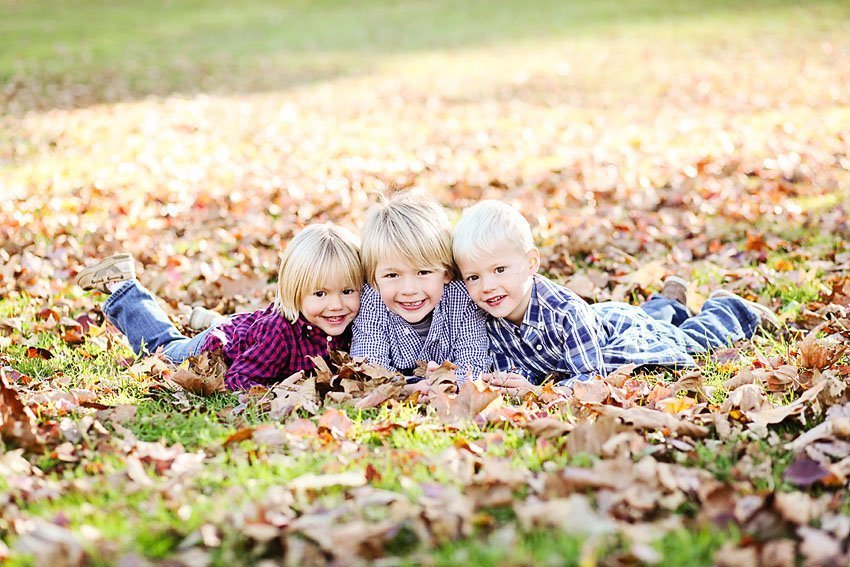 Don't….forget about the shoes. Can you tell what is wrong in the photo below? My kids shoe/sock combos stick out like sore thumbs (or should I say sore toes). These photos were not meant for family portraits (just the nature of being a blogger) so I'm usually not fussed about their feet, but professional photographs are an investment and the details (like shoes AND socks) matter!
Do.….think about your home and where you'd like to hang your portraits. Use the color schemes in your home as inspiration and dress in classic tones that compliment accordingly.
With these tips in mind, I've come up with a bunch of mood boards to serve as inspiration for your next family photoshoot. For each theme you will find a mom/dad look and 4 kids (2 girls/2boys) with the assumption that you could mix and match depending on your own family. I am MORE THAN HAPPY to help you come up with additional options if you have more than 2 girls or 2 boys so just email me ([email protected]) or leave a comment and I'm on it.
Being that this is the year of rose quartz and serenity blue, this first mood board is based on the Panetone Colors of the Year.
Panetone Party
* all mood boards are clickable if you are looking for product information!
Rose quartz conveys compassion and composure while serenity is weightless and airy and brings a sense of calmness. My translation: Soothing, light and happy. These are great colors for a beach photo shoot at sunset.
Get the Look:


Blue Crisp
Blues and whites are all about being bold and crisp. With a slightly nautical vibe, blues and white (particularly navy) are the perfect canvas for adding in a 3rd pop of color (my picks would be nantucket reds or corals – but greens/torquioise or bright colors like yellow and orange will add a sunnier disposition). Don't go overboard if you decide to add in a 3rd color – think earrings, necklaces, hair bows to add just the right hint).
Get the Look:

Plaid Party
Going for a more casual, everyday vibe? Plaid is a timeless print that can surprisingly be mixed and matched very easily. Keep at least one common color to weave everything together and dressing one or two family members in a solid color is a good tip if you are afraid it's too much.
Get the Look:

…. and I love the idea of getting more bang for your buck by wearing not one, but TWO outfits. Unbutton those plaids and have some fun with…..
Graphics
Too. Much. Fun…. as a family photoshoot should be! Let each family member express themselves with a cheeky graphic tee. I can't not smile when I look at this mood board (and yes, those jean shorts with suspenders get me every time). One word of caution when trying something like this – because the words/graphics are "busy" keep the rest of your look simple by sticking with blacks/whites/grays.
Get the Look:

Royals
Anyone obsessed fascinated with the royal family?  While we can't be them, we can easily steal their look. Prim and preppy, timeless and classic. Here are the items to help you out.
Get the Look:

Which mood board is making you swoon? Be sure to PIN it for later! Hopefully this helped make what to wear in a family photo shoot a little less daunting?? Let me know if I can help with any other ideas!
xo's and big "natural" smiles 😉
Lindsey