One of the coolest things about writing this blog is the people it has connected me with. I met Carly a few months ago through Alison (the girl responsible for all of these amazing photos). I have a blog, she has a blog, and Alison thought we should meet and share tips/ideas etc…  Carly writes over at carlyandsloan.com where she chronicles candid life moments with her sweet little 19 month old, Sloan. You must immediately stop what you are doing, and start following her instagram feed – it's hands down one of the prettiest feeds out there. Carly has her hand in on photography and fashion, and not too long ago she left her corporate job to pursue these passions through her blog full time. And while her images are gorgeous, the stories she writes about her adventures with Sloan, well, they might just melt your heart. Oh, and this twosome, BOTH of them, have swoon worthy wardrobes. Carly, like Amanda from our last style series post, has mastered the art of offsetting staple splurge pieces with more affordable accessories. Yes, an Anthropologie dress CAN be worn with Forever21 shoes. See below! It is my pleasure to introduce, Carly…
Name: Carly Landolt
Kids: Sloan/ girl/ 19 months
Job: Photographer/ Blogger @ www.carlyandsloan.com / Instagram: @carlyandsloan
Describe your style in less than 5 words: Comfortably chic
Where would you wear the outfit you wore in the shoot?: This Anthropologie dress is SO comfortable, flattering and easily dressed up or down. I would wear it to do something as simple as running errands but I could also throw on some wedges and statement earrings for a date night.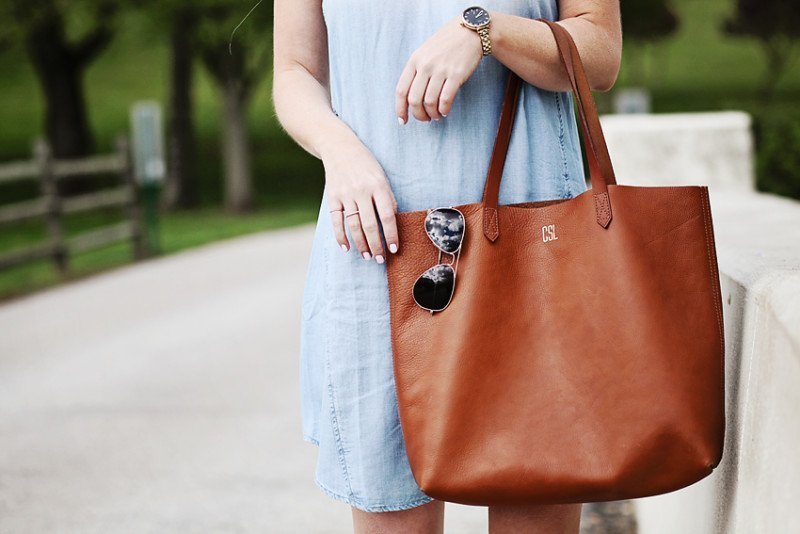 Wearing:
Dress | Shades | Bag | Hat | Shoes
What is the most worn item in your closet: These espadrilles are being worn like everyday right now (and only $19!)
All time favorite pair of jeans? I am a sucker for these Paige Jeans. In my opinion, they are worth every penny when you wear them all the time!
Who is your style icon? There are so many amazing women I look to for style inspiration. My current favorites are Alicia Vikander, Lauren Conrad and Gigi Hadid.
What's on your bucket list? I have so many things to cross off my bucket list but I'll pick one of my favorites: Attend a Wimbledon final!
What is one thing you wish you knew when you were younger? To enjoy and be present in every moment. While planning for the future is important, sometimes life has a way of changing the plans we create for ourselves. Putting too much stock in how you imagine your life should pan out will often lead to wasted energy.
What is the best book you've read in the last year? A tie between Nice Is Just A Place In France by the Betches and #girlboss by Sophia Amuroso
Best way to spend me-time? Some pampering with a mani/ pedi or facial.
Favorite way to stay in shape? I am a huge fan of yoga because it keeps my body, mind and spirit in good health.
Thank you, Carly, for being a part of this series and for sharing a staple summer look that will never go out of style! You are so right – chambray is the perfect canvas for any occasion and can be easily dressed up or down. I can't decide if I am more obsessed with your dress or your bag 😉 #decisions….
Shop our favorite chambray dresses here: