Does everyone remember that final scene in Pretty Woman? The one where Kit says good-bye to Viv and tells her that "she cleaned up good" and reminds her that she says "who" and "when" and "WHO"… and then she leaves and Richard Gere pulls up in his white stallion limo and climbs the fire escape to win her over? Of course we all remember that scene. It was at that moment that our hearts smiled and one of our favorite movies of all-time was born. But what else do we remember about that scene? I'll tell you what we remember. We remember her outfit. A blazer with jeans, a casual white tee, a loose, low pony tail… is any of this ringing a bell? And that's the moment I became a fan of the classic piece – the blazer that adorns practically every J.Crew cover. It's classic and timeless and there is no other 90s fashion that I'd rather replicate 😉
The thing I like most about blazers is that you can dress them up or down. Wearing a blazer with jeans is a polished, work appropriate look that translates easily into the weekend. I've created two looks – one more refined that would wear perfect for a "causal Friday" and one that is more dressed down for weekend fun or a girl's night out.
Blazer with Jeans on Casual Friday:
Blazer | Shirt (sold out but similar here) | Jeans (mine are a few years old and have faded a bit) | Booties (I'm wearing these in 'grey leather', but I might even like the perforated version more)

Yes, this blazer is a bit of a novelty item with the gold trim, gold butto and victorian (but totally on trend) ruffles, but it's fun and I sort of love it. But don't fear, many more tradition blazers are linked in the boutique below. With blazers it's fun to play around with proportions, so definitely try out a longer top as your base layer.
Blazer with Jeans for Weekend Fun:
The best thing about a blazer is that you can throw it over t-shirt and it just works. Just  "jzuzz" the sleeves (as my sister always says) – meaning, roll and scrunch them. And have a little fun – a blazer with jeans and a camo tee? Why not?!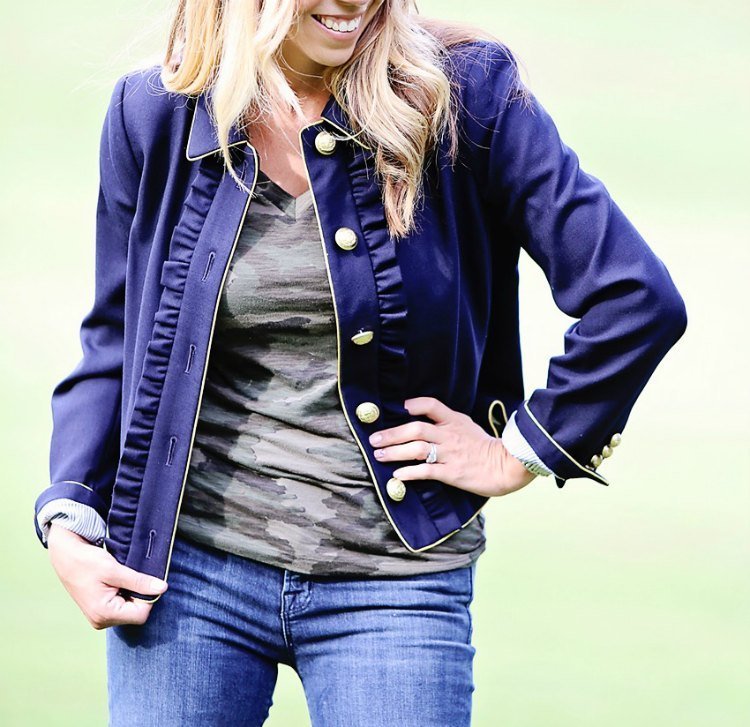 Shop Favorite Blazers:


What's your favorite blazer to wear with jeans?? More importantly, what's your favorite Pretty Woman outfit?!
Photography by Alison Cornell of The Photography Co-op