What's the hardest part about September? Getting out the door in the morning, right. Why is there always 8:18 drama? The missing shoes, the forgotten homework, the uneaten breakfast, the marker up and down the little brother's leg (don't ask), the inappropriateness-of-lunch-snacks argument, the unseasonal-ness of the clothing on the children. Why, 8:18, why are you so miz? And prior to this September I had fears, big ones, of getting out the door and all of the chaos that ensues minutes before the "ideal" time of departure especially with an infant in the mix. And yep, you guessed it, turns out he's an 8:13 pooper, which gives me juuuust enough time to deal with that situation before the 8:18 climax. But enough about my crazy mornings, I'm here to make your life a little easier. So on the days that you feel like getting dressed, maybe you're meeting friend for coffee or maybe you are spending a Saturday at a local fall festival, give yourself one less thing to worry about and go monochrome. Maybe not all purple. Maybe not all orange. Yeah definitely not all orange. But shades of gray intermixed? Totally works. It's an easy fall outfit that anyone can pull together. 
Light Gray Top | Dark Gray Jeans | Medium Gray Booties
And maybe the underlying message of this post is the case for gray wash jeans. Ok it might be. I alternate between workout pants and jeans. I have dark wash jeans and light wash jeans and everything in between, but there is something super cool about gray jeans. I think Sincerely Jules would approve. I bought these when they were a part of the Nordstrom Anniversary Sale and they have gone up to some ridiculous price, but I've linked some gray wash jeans at all price points in the boutique below. Oh, and I've found myself drawn to simple tops with a little "back interest" this fall. This shirt totally fits the bill. I'm wearing a cami underneath, but if you want to expose a little flash of skin – by all means!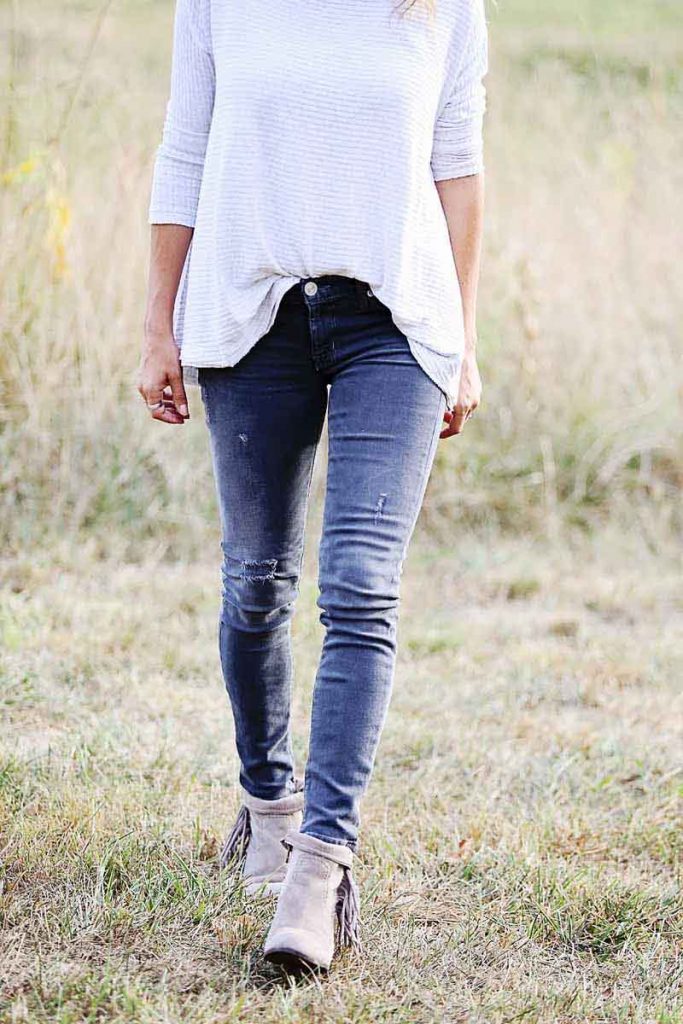 The key, I think, to pulling off a monochrome look is twofold. 1) Since the color family is all the same, one piece in your outfit should have some texture (i.e. my shirt is ribbed). 2) Play around with shades of a color to achieve a tonal look. Confused? Think paint swatches.
A few gray jean stand outs:

And, ok ok ok, I know what you really want to know (besides why is this chick twirling in a field and where are her KIDS?) Actually that's a good question. But the other thing you want is some more tops with "back interest". Here are a few on my radar…

….and check my fall shop page for everything else you need to go with. Oh, and here are some fall favorites that are already on sale.
Happy Mono-chroming, y'all.
xo
Lindsey
Photography by Alison Cornell