Is it just me or did fall weather arrive overnight? I have successfully swapped out the summer wardrobe for two of my boys only to find that my seven year old literally has zero pants that fit. Zero. Good thing he wears shorts until December, but really, they grow out of things so quickly. But that's a story for another day (note to self, order a few of these today – the sale is good!)….Any who, what I'm really here to talk about today is classic fall outfit: high waist flares and turtlenecks. Personally I am obsessed with both, but I know some people are skeptical. Most people think they are styles they can't pull off and/or they remind them of their first grade school picture (turtlenecks I'm talkin' to you).
Let's start with the high waist flares. They instantly elongate your legs, so tell me again, what is not to love? Do NOT hem them. Save these jeans for shoes with a decent, but walkable heel. Thank goodness block heels are in. And as for turtlenecks, they have come a looong way and I view them as a super cozy, classic style. Heck. I even think they are kinda sexy in a "more is more" kind of way. My grandmother (the one who's leather skirt I borrowed for NYFW) definitely approves. So I thought it would be fun to style a simple, everyday fall outfit incorporating both pieces.
High Waist Flares + Modern Turtleneck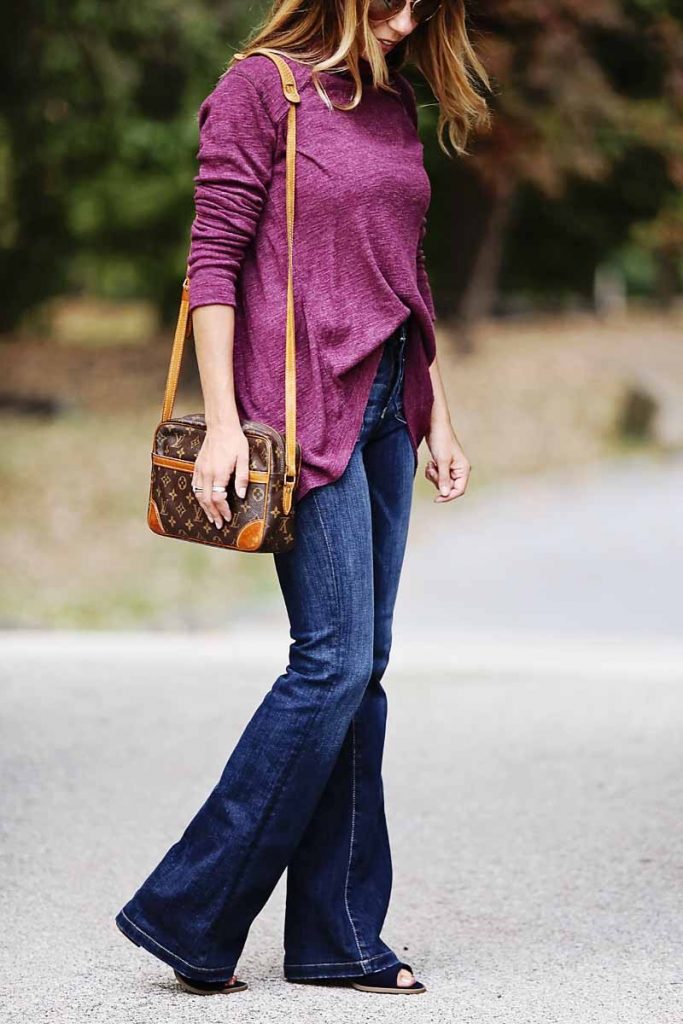 Turtleneck (on sale – will sell out fast!) | Jeans | Shoes | Bag (old, similar here)
I love the modern cut of the turtleneck. The split back (see picture below) with an upper pleat is a fun detail and you can wear it with a cami underneath or without (maybe save that for a date night). I front-tucked it to show the high waist of the jeans, but it drapes really nicely. It is a bit shorter in the front than in the back. If you click through to the product link, you can view it at different angles. The "stone" color shows the drape best untucked. For reference, I am wearing a size small. I probably could have fit into the XS, but I don't mind more of an oversized fit.
The jeans are a few years old (Pilcro from Anthropologie), but the new version is essentially the same. The only difference is the front pocket detail, but I might even like the new one better? These do have a bit of a stretch so if you are between sizes, I would size down. Otherwise I'd say they are true to size.
And these Mari A. navy peep toe booties are a fun alternative to the classic bootie. I actually scored them when I was in New York and I can't find them in navy, but these cognac ones are nice.
Oh, and this bag…. it is making it's way around my family. It was my moms 20 years ago, then she gave it to my sister and I have been "borrowing" it for the past month. I'll give it back next week. Maybe.
Get the Look: