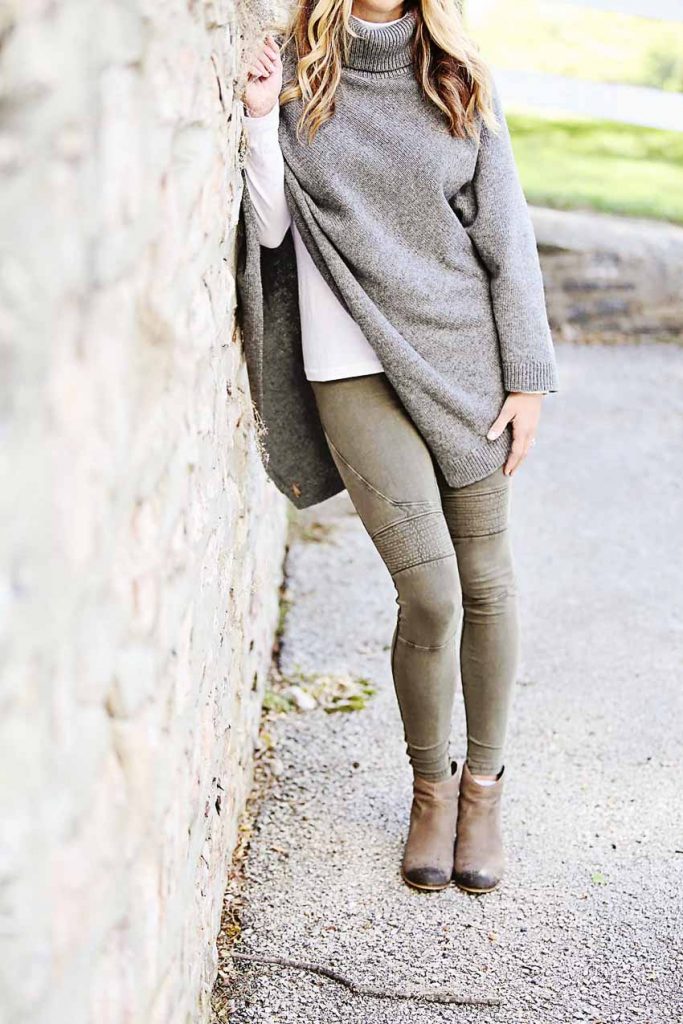 With the holidays upon us, it means moms across the world are about to enter their typical, yet unavoidable "tizzy": holiday decorating, planning, cooking, shopping, parties, parties, parties which means we need like 10 more hours in each day and, more importantly, we need a few effortless, but "put together" go-to outfits. I can only help with the later. Nordstrom asked me to take a look at their women's apparel (when am I not looking;)) and the good news is, I found an outfit that fits both of those criteria, is well under $250 head-to-toe, AND is nursing and baby bump friendly. This look would be perfect for any casual get-together with friends including, but not limited to holiday shopping that involves lunch with wine, girlfriend gift exchange (a.k.a. a good excuse to get a babysitter on a Wednesday night) and Friendsgiving (because that's a thing now, right?).
Asymmetrical Poncho + Moto Leggings
Poncho | Moto Leggings ($39!)| Turtleneck | Booties (wearing last year's version of these)
These moto leggings are everything. If you only own solid black (it's okay, prior to these I did too), these are a fun way to freshen up your I-don't-feel-like-wearing-jeans situation. I am wearing an XS for reference. I think they run a little big so if you are between sizes, I would size down. Of course Nordstrom has free shipping/returns which makes exchanges super easy. I also love that you can buy online and pick up in the store if you want to reserve a size but just can't wait for them to come in the mail. Or if you have a 3 year old. Taking a three year old to a mall never ends well. But I digress…
Let's talk about this poncho for a minute. For me, the perfect poncho has sufficient booty coverage so you can wear it with leggings. It's all about proportion – tight bottoms paired with a draped/loose top. This particular poncho is "one size". I disagree with the review that says it is huge. I am typically a 2-4 on top and I think the fit is great. The size guide says it fits sizes 2-16 so there is definitely room, but by no means is it wearing me.
And it's almost as if this poncho was made for nursing. When we photographed this look, I took a break to feed the baby (as per usual) and immediately called Alison over to capture this impromptu moment. One of the hardest parts about nursing in the winter is bunching up a bulky sweater up and exposing your midsection to the cold. With ponchos you can just slide the baby underneath and keep them cozy as well. Now if only I can find a sock that actually stays on him…..
Here are a few other poncho/legging/bootie combinations:
*image is clickable

And since most of these looks are neutral, add color in bold accessories:


Get the Look:

A huge thank you to Nordstrom to sponsoring this post. Your collections never cease to amaze and I think my readers will agree! Thank you, readers, for supporting the retailers that believe in this blog. Be sure to check out their new holiday dressing shop and stay tuned for more holiday inspired looks and gifts!