This has been a few months in the works, but I am honored to officially introduce MY own personal style icon who will be contributing regularly to The Motherchic. Meet my beautiful, selfless, effortlessly fashionable little sister, Abby. Abby has been doing behind-the-scenes work on my blog for a while – including but not limited to the daily mirror selfies I send her seeking her outfit stamp of approval. Abby's love of fashion runs deep and she is about to become a mom herself. This couldn't be more of a natural fit. Without further adeiu, meet Abby.
Hi my name is Abby. A little about myself – I am the fourth of five girls. I named my dog after the best hangover food that exists. I have a Master's degree in fashion design, but also a degree in food marketing (just in case). I enjoy coloring in coloring books with my 12 nieces and nephews. I used to be really good at tennis. I probably still could be if I tried. I married a boy that I met in kindergarten. When I played lacrosse in college my signature hairdo was two pigtail buns. I am 25 weeks pregnant and counting…and no, I don't know what I'm having, but one of my sisters does (not Lindsey).
I am excited to share my fashion tips and style inspiration with you guys! Be sure to follow me over on instagram at @the_sisterchic. I am also happy to answer any of YOUR fashion questions just as I do for my own sisters. We are still working on getting my email set up, but for now email Lindsey ([email protected]) with subject: DEAR ABBY. Since I am pregnant, I thought it would be fun to do my first official post on a classic staple pregnant or not – the little black dress.
The Little Black Dress (maternity style)
Pregnant but don't want to spend your money on maternity clothes? Or maybe… you just want to get some use out of your other clothes first? Or… mean I could think of a million reasons why you just aren't ready for maternity clothes. Whether you want to show off your bump or not, here are two outfits that use non-maternity clothes, but are still comfortable enough to where in your second and even third trimester. The LBD or shall we say MBD (maternity black dress). A classic staple. The key to both of these looks is proportion.
Look 1: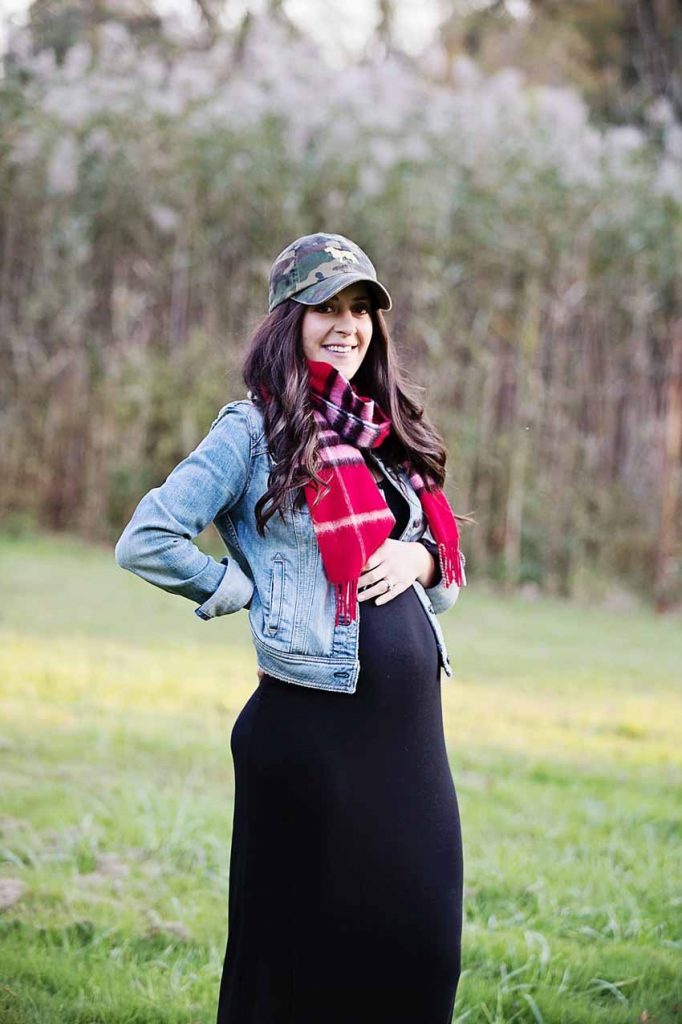 Denim jacket | Maxi dress | Plaid scarf | Black bootie | Camo hat
First, the maxi dress with shrunken jacket. Add length and dare I say "slimming effect" with a black body hugging maxi dress and balance the look with a structured jacket. Add accessories that reflect your personal style. In this case. I chose black booties, a camo printed hat and plaid scarf. For a more dressed up look I would swap out the hat and scarf for statement jewelry, such as a tassel earring and choker. I would also swap out the denim jacket for leather or faux fur vest.
Look 2:
Vest | Dress | Belt | Hat | Booties | Cuff
Second, the shirt dress. This is a typical wear to work outfit for me, pregnant or not. I found this shirt dress with a detachable belt. You know those little thread loops on the sides of dresses that hold the belt? Yes, you can cut them off. They are only there to hold belt on the dress while merchandised in the store. Now, I can belt this dress or not based on my growing belly.
For midi styles it is important to look for a layer of similar length, this will help to elongate your look. Since both of the garments in my look are quite voluminous I added a belt to create a fit point within the look.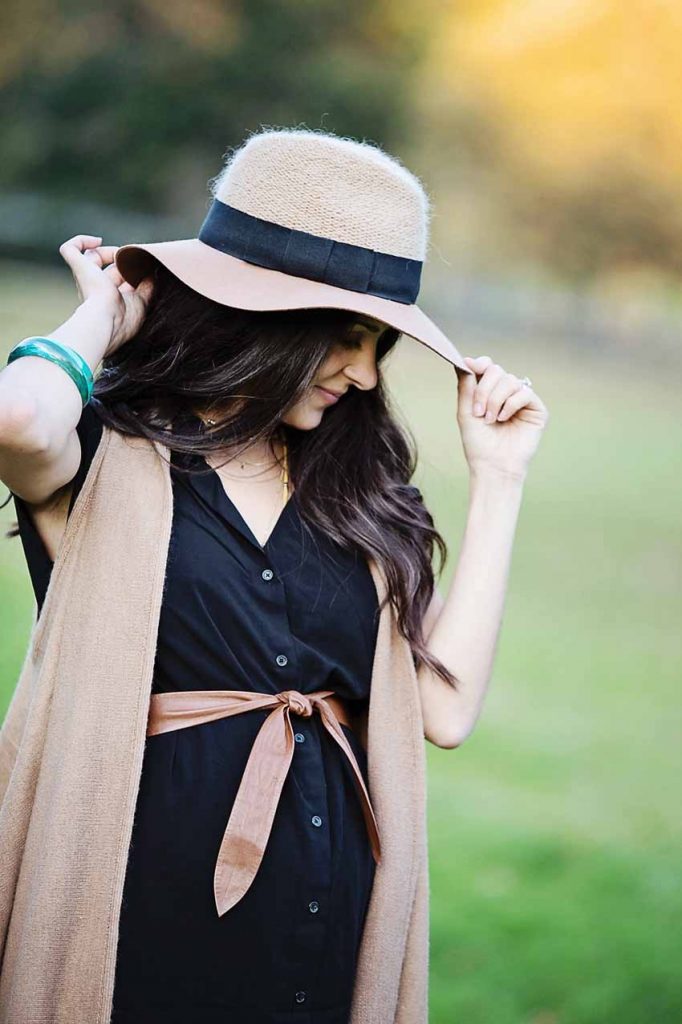 I played with mostly neutral accessories in this look. I love the pairing of black and brown for a timeless look. Again you can play with accessories. A patterned cardigan or embellished belt would be a great layer on this dress.
And that's it! SO happy to be here and I mean it when I say, please send me your "dear Abby" fashion questions!
Shop these looks: