I distinctly remember the day, over 7 years ago, when I brought my first baby over to my sister's house so I could go for a run. The doctor said I could start working out 6 weeks after giving birth. I waited 13. Six weeks for my body to recover, and another 7 for me to even fathom letting someone else take care of my baby. Four kids later, I've learned, that the mental and physical break is more therapeutic than, than, than…. I don't know, say a full night of sleep? Sleep is overrated, right? My workout of choice? Running and barre. For me, running is the fastest and most effective way to get a workout in, and barre is great for toning (and, uh, human interaction?!).
Over the years, my sister and I have developed this tag team where we watch each other's kids so we are able to squeeze in a workout (and maybe even and errand). Yes, we are moms so we are always squeezing things in. And speaking of squeezing, three words for you: high waisted leggings. Based on a little Facebook poll I gave, you guys wanted to see more "athleisure" so I'm sharing my favorite workout clothes AND how to rock them all day. No shower required. Well, maybe at some point, but I'm not one to judge.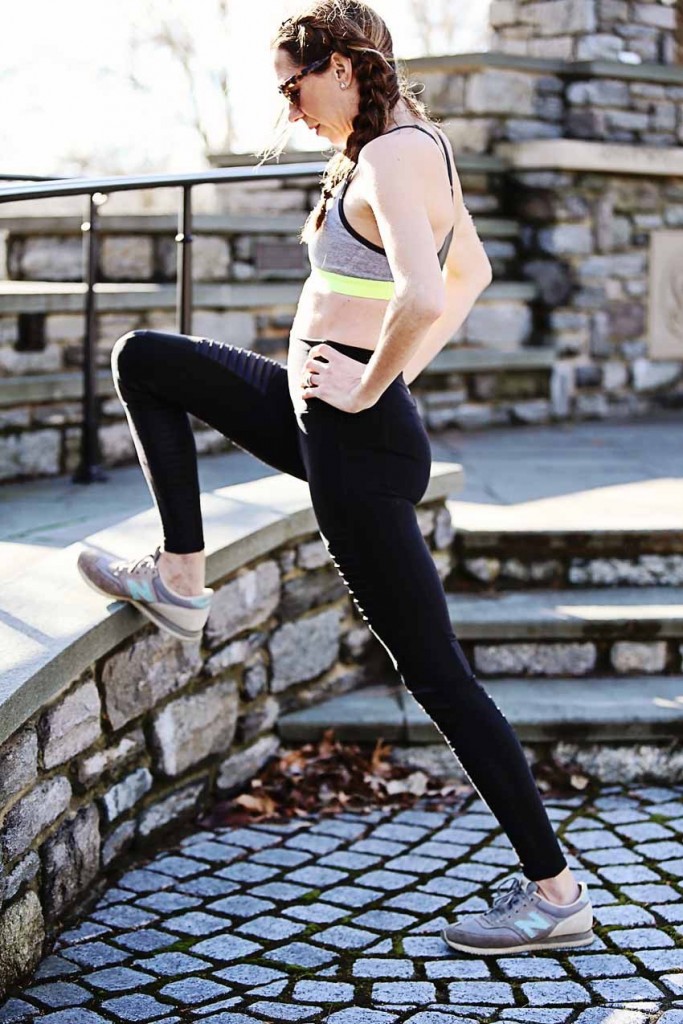 Back to the high waisted leggings. I'm pretty sure these were made for women who have had babies and need a little help keeping it all "in" and/or who's "cute" belly button is a faint memory of their early 20s. I lived in high waisted leggings postpartum, and now that I've gotten back in shape, well, I still wear them because unfortunately there isn't much you can do about that un-cute belly button situation.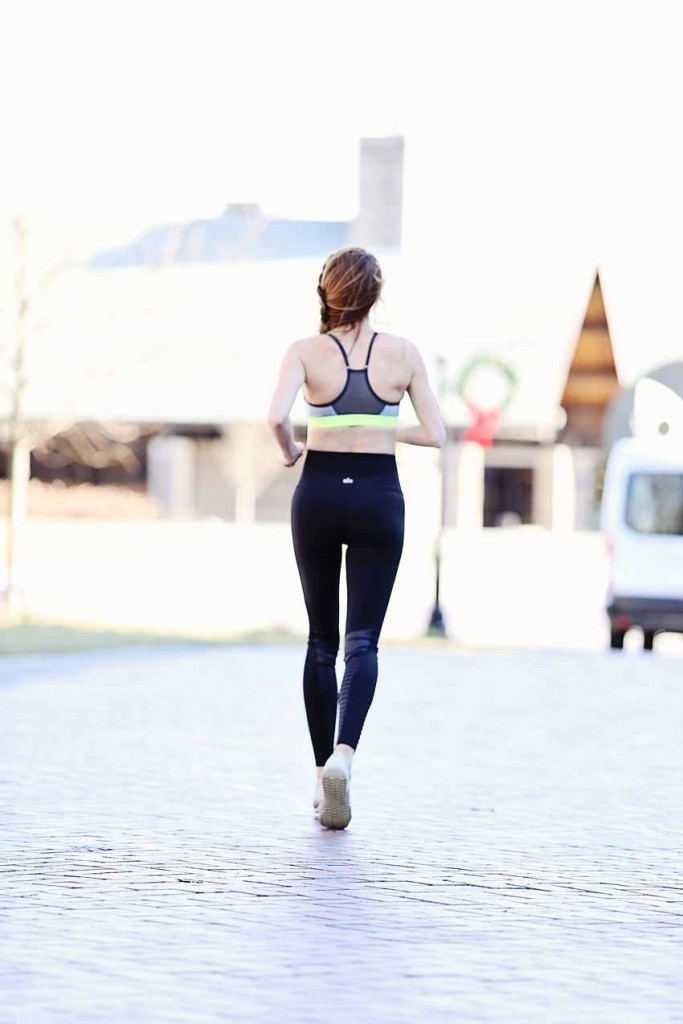 Thirty minutes of pure, mind-clearing bliss. Okay, and some minor panicking about what instruction about the baby you forgot to give and some praying that the pain in your lungs will eventually go away. But eventually it ends and when you get back….the baby? What do you know! They did just fine without out you. They greet you with one of those smiles that vertebrates through their whole body (you guys know the ones I am talking about) and you realized, yes, someone else is capable of taking care of my baby. Asking to watch them while you shower and do your hair? Ok now your pushing it. So you sweaty nurse like champ, douce yourself with a little dry shampoo, slap on some lipstick, wrap your self up in a scarf, and be on with your day. For me, it looks a little something like this.

Hoodie (sold out, similar) | Leggings | Bra |  Scarf | Bag | Sneakers (newer version)| Shades
This is my to and from workout outfit. The formula is simple. It starts with awesome leggings (ones that are so cool that you want to workout just so you can wear them, only slightly obsessed with these moto inspired ones!), a cute hoodie and printed scarf. Oh, and shades, because who has time for makeup?

Favorite High Rise Leggings:

Favorite High Rise Leggings under $65:

My sister is an X-Force trainer (insane workout – if you are local you should totally check it out!) so naturally she has the athleisure game down pat. Post-gym, her go-to is adding a textured vest and scarf or a fun hat.
 Top | Vest | Bottoms | Shoe | Hat | Scarf (old – similar)
It's all about adding layers from your "normal" wardrobe, to give your outfit a sporty, yet pulled together look. Then you can hit the park (or let's be honest, Target) feeling like you are wearing a real outfit and not just yoga pants.
And who else is happier for the workout? These guys. Healthy snacks all around!
Shop our looks and some of our other favorites: