I've been working on a Q&A post and most of you have asked food/exercise related questions so I figured I would dedicate an entire post to this topic. I consider myself to be a generally healthy person, but this wasn't always the case (I might have weighed more in college than I did 9 months pregnant). Over the past few years, I've finally figured out what works for my body and I never feel like I am missing out. Here are 5 healthy habits I live by…
Eat whatever you want, just don't eat a lot of it. For me, nothing is off limits. I stay away from highly processed foods only because I don't think they taste "real", but I never say never. Chocolate cake, ice cream, wine, chips, pizza, burgers… yes I eat it all. I just don't go crazy on it. Yesterday I bought a muffin (a big one), but I only ate half of it (thank goodness for my sons who were more than willing to finish it). Restricting myself only makes me want it more.
Slow down. I eat verrrry slowly. This is not intentional, but at the first sign of feeling full, I take a break which gives my stomach time catch up with my mouth.
Take your pick. It's either wine or ice cream. I usually have one or the other, but never both.
Graze all day. I eat small meals all day long i.e. 9am: Greek yogurt, 10am: Cheese stick, 11 am: apple with peanut butter, 1:30pm: avocado toast, 2:30: cookies etc…. this way I am never starving which can lead to unhealthy choices. Apparently this also keeps your metabolism in check.
Move and Remember. Structured "workouts" are few and far between these days, but with 4 kids under the age of 7, I rarely sit down (even to eat). It is my goal to run more this year because it is my favorite mind clearing, efficient form of exercise. Sometimes it is hard to find the motivation to workout, but I've found that if you internalize the feeling of being finished a workout, you'll be more motivated for the next go-round. Cute workout gear also helps (for motivation, that is).
Wearing:
Adidas Sweatshirt (comes in regular length as well – logos are BACK, my friends)
High Waist Leggings (old, similar here) – a.k.a. GAME changers. Once you go high-waist, you will never go back. Here is a less expensive version.
Sneakers (old custom NikeID's – Pegasus)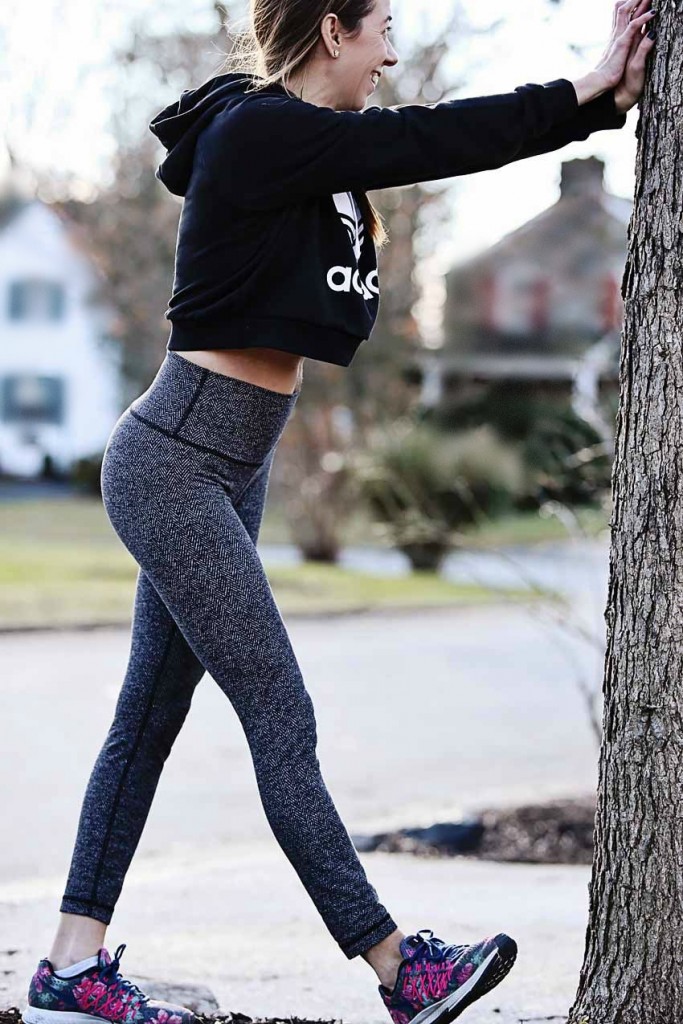 Photography by Alison Cornell
Share the love! What are your healthiest secrets?