I'm not sure about you guys, but the weather in Pennsylvania is dreary enough to have us all dreaming of a tropical getaway. I just had the privilege of going to Miami with some girl friends (it was one of those late night, on a whim "we should plan a trip to Miami" conversations that somehow actually happened). Being able to close my eyes, in a beach chair, for more than 10 seconds, with a glass of rosè in hand no less was…..it was a gift. This is the first time I have left my kids to do something for myself. It was equal parts terrifying and amazing. A quick recap the trip…
I left 87 lists for my husband and babysitters (including but not limited to hidden notes in the pantry that said something to the effect of "no stealing cookies – mommy is always watching"). What can I say, I have a hard time not being in control.
We stayed at 1 Hotel in South Beach (highly recommend) – not swanky/trendy "Miami". One of my friends described it as "eco chic".
We ate at Yardbird (southern goodness) , Katsuya (sushi), and Beachcraft (Tom Colicchio's restaurant)
We did one ridiculously hard workout (hello, Spartan gym)
We sat on our butts and read a little. Drank a little. Talked about our kids a little. Talked about how happy we were to be relaxing. Wondered if our husbands knew how to start the laundry machine. Danced a little. Slept past the crack of dawn. Repeat. Repeat. Repeat. It was a wonderful three days.
Since that trip I've had some requests for a swimwear post. It's no surprise that swimwear sells out fast me so it's best to buy early to ensure your size is in stock. I usually get one (okay, maybe two) new suits each season mostly because my body has changed so much in the past seven years – between being pregnant, postpartum, nursing, not nursing – I never what suit or which style is going to work best. What I do know, is that every girl needs a great black one piece swimsuit – it's the one type of suit I think is worth investing in. A full swim guide will come out closer to spring break, but here is a preview of some of my favorite modern, classic black one pieces, including the one I wore on my trip (the perfect one/two piece hybrid – for those who can never decide!) I particularly like this suit because it is double lined. I recommend sizing up in swimwear. 
Suit (sold out but similar here and this suit is similar too) / Book / Sunscreen / Shades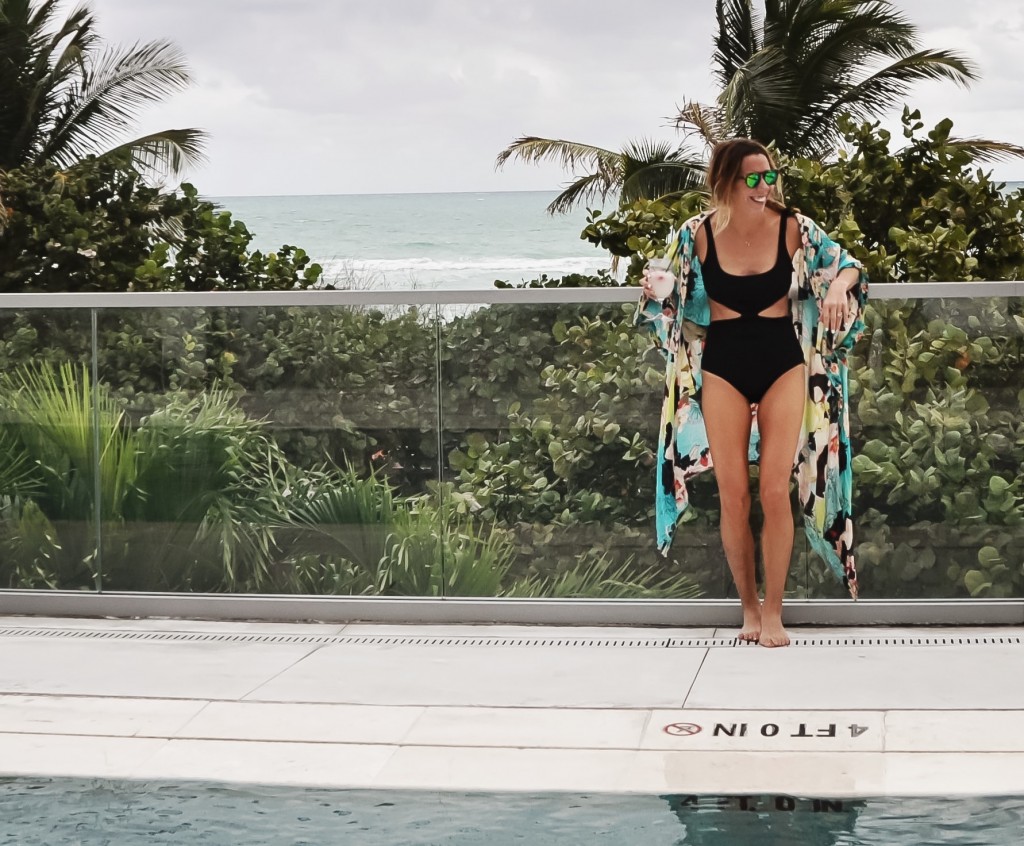 The suits linked in the images below are all made by my favorite swim designers and are built to last.
Oh, and for the record. My house was still standing when I returned. My husband DOES, in fact, know how to use work the laundry machine. And my kids were even more delicious than I remembered them before I left. If you are contemplating a little getaway. Do it. Everyone will be better for it.
The cover up I am wearing is sold out, but here are a few similar.