Many of you expressed interest in seeing some more "everyday mom outfit" posts. What are we typically wearing? Something to the effect of leggings + Uggs + long cardigan? Sound about right? It's uncomplicated and comfortable – exactly what we should be wearing when herding three year olds, running to and from sports practices, sitting on the floor at playdates etc… But if your tried and true "mom uniform" is starting to bore you, here is a simple and equally comfortable classic refresh.
Replace:
……Leggings with comfortable skinny jeans
……Long cardigan with layered crewneck pullover
……Uggs with cute sneaks
I wore this easy jeans/sweater/sneaks combo on a little mother/son date to one of our favorite local spots, The Malvern Buttery. The sea salt cookies? Heavenly. The behavior of my little man? Less than heavenly, but I did mention he is three, right? Regardless, it was an outing that broke up a rainy afternoon that would have otherwise been spent at home likely picking play dough out of my carpet. This is much more my speed….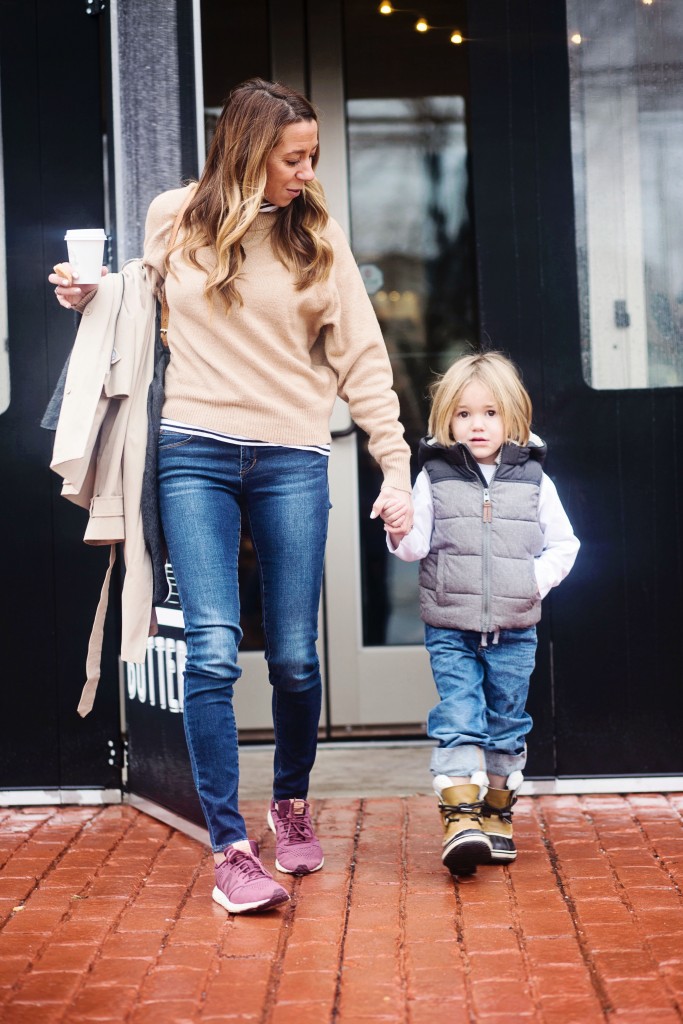 I love the classic colors of this outfit with a playful pop of color in the sneakers. The striped turtleneck layered underneath the crewneck sweater adds a subtle preppy vibe and a little extra warmth. A J.Crew tissue turtleneck is definitely a wardrobe staple. I wear them under everything. My favorite way to polish off any outfit (even yoga pants) is a classic trench.
Wearing
Me:
Sweater ($39!) | Turtleneck | Jeans ($59!) | Sneakers | Trench (on sale!)

Him:
Shirt | Jeans | Vest | Boots (on sale!)

Cute Sneaker Inspo…


What's your go-to comfy/cute mom outfit? Locals, what's  your favorite Malvern Buttery treat? Does anyone else dream about those sea salt cookies? I can't be the only one….