Confession. My name is Lindsey and I am hot mess. Ok, well, more specifically, my house is a hot mess. On the surface, it looks just fine. Some people are even shocked to learn that four boys live in my quaint little home. However, open the closets and….. well, I am sure you can only imagine. My husband always complains that too much stuff comes in and not enough stuff goes out. It should be a one-in-one-out sort of thing. But who has time for that? Answer: no one. But everyone has their breaking point.
You know when you dread putting laundry away because you know it means stuffing clothes into drawers that are already bursting at the seams. I needed to do something about it. And so I did. It was time to bring in the professionals – a professional organizer, that is. A reader once asked to see a picture of the inside of my closet. Well, here you go…..
It literally pains me to look at that disaster. For someone who writes about clothes for a living…. YIKES!! And that's where Carrie from Carrie's Essential Services came into the picture. She reassured me that, no, I don't have to move, that I have more than enough space, and that I just needed to declutter. Four hours and three closets later, I realized she was right. Fast forward to the after:
To quote one of my sisters when I sent a text with the photo above: "That is the most beautiful thing I've ever seen." I couldn't agree more. I also could have never done this alone. I've learned that getting help can save you time (and money) in the long run. If you've never considered hiring a professional organizer to streamline certain aspects of your life, here are a few reasons why you might….
4 Reasons to Hire a Professional Organizer
1. They Jumpstart the Process
Getting started is half the battle. Looking at my closet has stressed me out for the longest time. I've looked at it day after day and just could never bring myself to jump in with both feet. After a quick once over, Carrie had a plan (and the best part, was that she's seen worse!).
2. They  Will Save You Time
Your time is precious. Organizing your home is not always the way you want to be spending it. Hiring a professional organizer will save you time. In this particular case, I worked with Carrie because we had to make decisions about which clothes I was keeping, donating or consigning. But we cut through the clutter in half the time.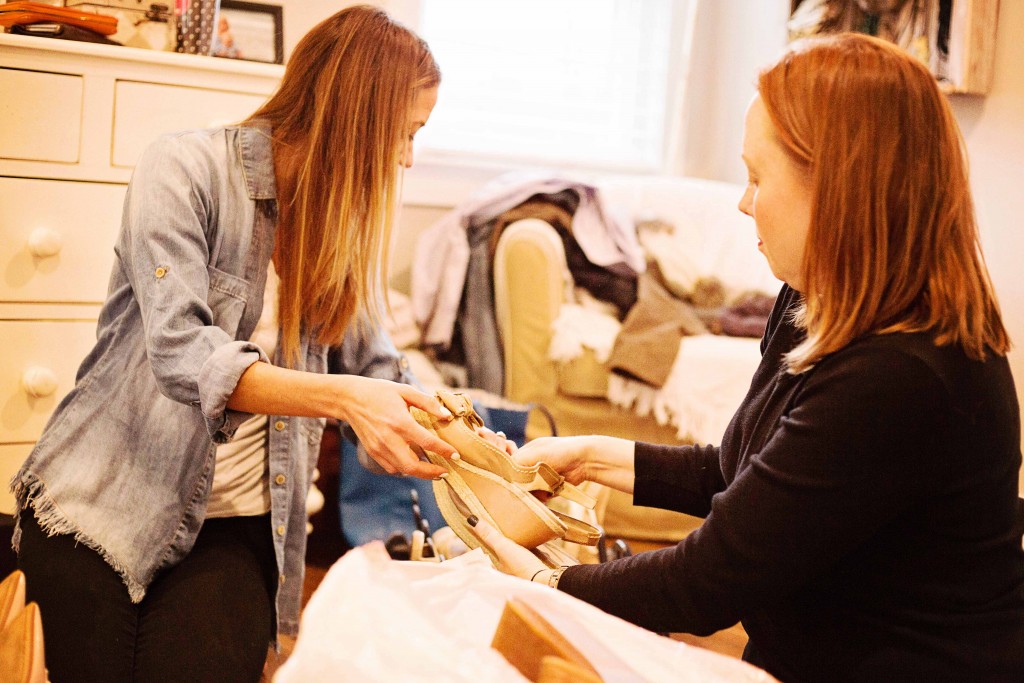 3. They Will Keep You On Track
Sorting through your things can be emotional! It's easy to pause and reminisce and get lost for 10 minutes hugging an old sweatshirt! A professional organizer is an objective third party. Carrie asked me all the right questions to help separate the memories from the stuff and, ultimately, decide what will stay & what will go.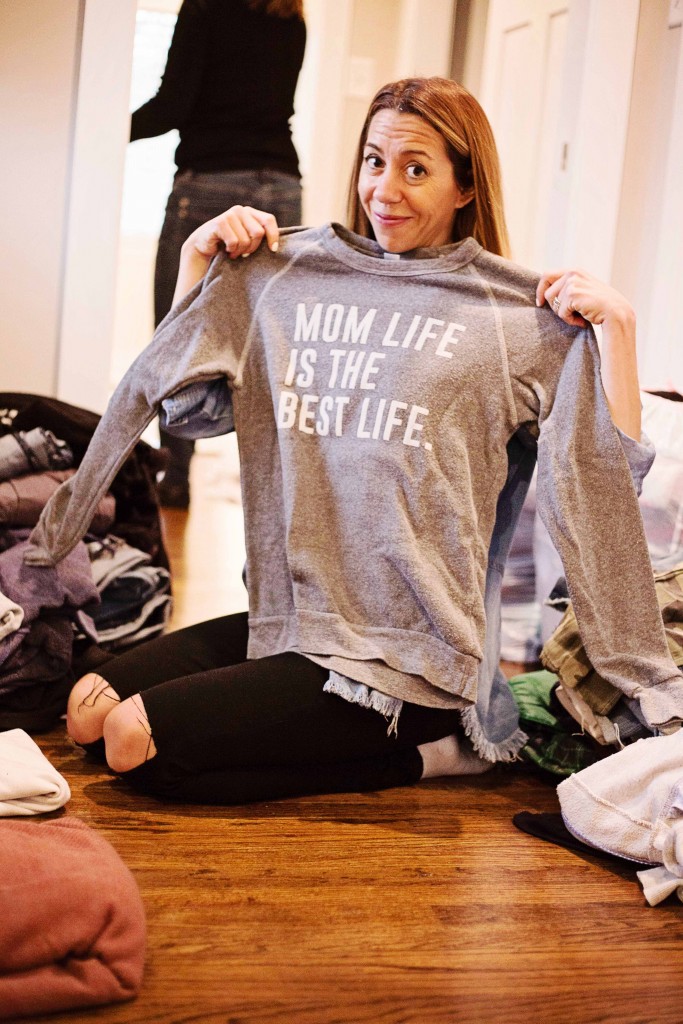 4. They Will Take Your Stress (& Your Stuff) 
You will feel lighter – physically & emotionally! Clutter breeds stress for you and the whole family. All that stress you've been carrying around will go right out the door when the project is finished. Your space will be streamlined, organized, and all the extra stuff will be gone!
And here are a few things I learned about myself during this whole process.
I literally had about 6 hot pink tank tops. I'm thinking this might be some subconscious way to stand out amongst the sea of blue from having 4 sons?
I had enough nude sandals to inventory a small boutique.
Most importantly, I've learned that less is more. Ironically, it is EASIER to get dressed now that I have fewer, higher quality options. I wish I hadn't waited so long to do this. Carrie, you are GOOD. So, so good.
Here's a little 50 second behind-the-scenes look at our morning together!
About Carrie Kauffman
Carrie Kauffman is an award winning professional organizer, member of the National Association of Professional Organizers, Greater Philadelphia Chapter (NAPO-GPC) and owner of Carrie's Essential Services, LLC. Carrie Kauffman provides organizing services, in homes & offices, on the Main Line and surrounding communities. Carrie's Essential Services specializes in moving & packing, preparing homes for sale, office setup including filing systems as well as general organizing & de-cluttering.